FFT's wry season review pt.2: Everton's big crossroads, Steve Bruce's time-travelling comeback
Back of the Net present the second part of their alternative Premier League season review, involving eagles, tigers and biggest beast of all: Steve Bruce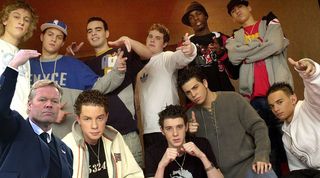 Crystal Palace (14th)
Previously unpublished Back of the Net pre-season prediction: 14th
The lowdown: Sam Allardyce will take the credit for avoiding relegation, but his feat of escapology was only possible thanks to unsung hero Alan Pardew steering Palace into trouble in the first place.
The best: Spending only £50m last summer saw the Eagles dangerously under-resourced. January arrivals Mamadou Sakho and Luka Milivojevic demonstrated the value of having players who have never sat through a tactical briefing by Alan Pardew.
The worst: Wilfried 'Traitor' Zaha opting to play for Ivory Coast, his country of birth, rather than accumulate 20 caps over the next decade for England, was a slap in the face for Gareth's Brave Lions who lay down their lives every day for Queen and Country.
Need to do for next season: Success in this sport is all about making the most of your resources. Club mascot Kayla the Eagle is an apex predator, and every opposition goalkeeper who leaves Selhurst Park unmaimed is a failure of imagination on the club's part.
Everton (7th)
Previously unpublished Back of the Net pre-season prediction: 7th
The lowdown: Ronald Koeman's Everton finished miles behind the top six, and miles ahead of the bottom 13, as befits the team that are unquestionably the seventh best in the country.
The best: In the midst of a season of serene seventh-placed inevitability, beating Manchester City 4-0 briefly distracted fans from the sheer pointlessness of the other 37 games.
The worst: Youngsters Tom Davies, Mason Holgate and Dominic Calvert-Lewin all showed sensational promise, and therefore look set for long careers with slightly better clubs than Everton.
Need to do for next season: Everton are at a crossroads: if Koeman invests wisely, and Romelu Lukaku stays, the Toffees could potentially finish as high as seventh. If, on the other hand, an injury crisis strikes, or key players get complacent, they might end up as low as seventh.
Hull (18th)
Previously unpublished Back of the Net pre-season prediction: 18th
The lowdown: Hull pursued a bold strategy of selling all their best players and replacing them with rubbish players in an attempt to confuse the opposition, which worked for about two weeks. The board remain committed to rebuilding the club from the bottom up, albeit as a tiger-themed petting zoo.
The best: Marco Silva, widely ridiculed upon his arrival, proved that you can know nothing about the Premier League and still make a success of it, vindicating countless football bloggers.
The worst: Relegation after losing 4-0 to Crystal Palace, a game in which several key players suffered inexplicable talon-related injuries.
Need to do for next season: If Silva leaves, the club will need to bring in an experienced replacement like Steve Bruce, thus slipping into a time loop where it's 2012 again. Will Bruce use his foreknowledge of the next five years to pick up some bargain signings, ignoring the slow collapse of western civilisation? Or will he focus on trying to prevent Donald Trump from becoming president, to the possible detriment of Hull's promotion chances? Find out in his new novel,Steve Bruce: Time Tactician, coming in early 2018.
Leicester (12th)
Previously unpublished Back of the Net pre-season prediction: 12th
The lowdown: A TEMPESTuous season was A COMEDY OF ERRORS under Claudio Ranieri, until Craig Shakespeare's BRAVE NEW WORLD proved that ALL'S WELL THAT ENDS WELL (and provided journalists with plenty of inane headline opportunities).
The best: After Leicester's WINTER OF DISCONTENT, Shakespeare had GREATNESS THRUST UPON HIM and restored the champions' LEAN AND HUNGRY LOOK.
The worst: While Wilfred Ndidi was SUCH STUFF AS DREAMS ARE MADE ON for the team of RICHARD III, big-money signings Ahmed Musa and Islam Slimani proved that ALL THAT GLITTERS IS NOT GOLD.
Need to do for next season: If Shakespeare is to lead Leicester ONCE MORE INTO THE BREACH, he must prove that this season's struggles were MUCH ADO ABOUT NOTHING, or fans will be saying DO I AS YOU NOT LIKE THAT.
Shall I compare thee to Part 1 of this review? Keep a watchful eye out for parts 3-5, coming very soon.
Quizzes, features and footballing fun
Get the best features, fun and footballing frolics straight to your inbox every week.
Thank you for signing up to Four Four Two. You will receive a verification email shortly.
There was a problem. Please refresh the page and try again.