The FourFourTwo Preview: Chelsea vs Arsenal
By Nick Ames published
Premier League | Stamford Bridge | Sat 19 Sep | 12:45pm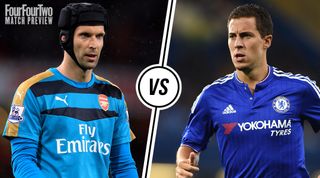 Billed as
Tottering giants both look to make their first big statement.
CHELSEA FORM
Chelsea 4-0 M Tel Aviv (CL)
Everton 3-1 Chelsea (Prem)
Chelsea 1-2 Palace (Prem)
WBA 2-3 Chelsea (Prem)
Man City 3-0 Chelsea (Prem)
ARSENAL FORM
D Zagreb 2-1 Arsenal (CL)
Arsenal 2-0 Stoke (Prem)
Newcastle 0-1 Arsenal (Prem)
Arsenal 0-0 Liverpool (Prem)
Palace 1-2 Arsenal (Prem)
ALSO ON FFT.COM
The lowdown
Crisis, what crisis? A 4-0 win over Maccabi Tel Aviv was exactly what the doctor ordered for Chelsea, and perhaps the fact that their opposition was not up to much at all didn't really matter. Sometimes the cobwebs just have to be blown away and Chelsea, with Jose Mourinho doing a fine "no really, don't thank me" impression when lauded by the crowd late in the game, did a decent enough job of reminding their supporters that there can be happiness beyond life down in 17th – yes, 17th – in the Premier League table.
Arsenal's situation is at the very least equally complex, and the encouraging signs shown in last weekend's win over a Stoke team that would admittedly have struggled to give Maccabi a game were offset when Dinamo Zagreb, a time-honoured Champions League group stage whipping boy, sent them home from Croatia with nothing. Should Arsene Wenger have reshuffled his pack to the extent he did? How big a toll will Olivier Giroud's red card, and Theo Walcott's subsequent goal, take on the Frenchman's claim in the utterly stultifying "Giroud vs Walcott" debate?
We might find out on Saturday lunchtime, when Arsenal will restore one or two fresh legs to their line-up and Chelsea might be tempted to wonder whether the likes of Baba Rahman and Ruben Loftus-Cheek deserve some involvement after doing well against the Israelis. It is more likely that Mourinho will opt for the tried and trusted, but much more of their recent league form and one or two – notably Branislav Ivanovic, whose creaky start to the campaign has come as a surprise ­– will be on very thin ice.
This feels like a huge game for Chelsea, who generally dispose of Arsenal with the minimum of fuss at Stamford Bridge but would be nine points behind them with a defeat and far, far adrift of leaders Manchester City. Mourinho is never averse to a fight, but to lose this one would be to risk consigning this season to a battle to root themselves back in the top four – surely a skirmish that Chelsea would consider beneath them and one that would ramp up the "third season syndrome" argument that the manager says search engines can dispel.
Not that this makes it a free hit for Arsenal. While they should have battered Stoke for five or six, it was the first time they had really hit any kind of stride this term and they could do with the kind of performance that bears out yet another summer of earnest talk that things have changed in N5. The Community Shield victory wasn't a bad early way to make the point – but if we really are in for a changing of the guard among the Premier League's elite, Arsenal will rarely have a better chance to force home their six-point advantage.
Team news
Petr Cech Nacho Monreal, Francis Coquelin and Theo Walcott can all expect to return for Arsenal, with Cech making his first appearance at Stamford Bridge since his summer move. Jack Wilshere and Danny Welbeck remain long-term absentees. The smart money is on Mourinho restoring Ivanovic, John Terry, Nemanja Matic and Diego Costa to his side, with Ivanovic the most vulnerable to a shock omission. Willian is set to miss out after leaving the fray with a hamstring injury on Wednesday, while Pedro and Radamel Falcao are unlikely to be ready on time. Thibaut Courtois, of course, will be out for the next three months.
BACK OF THE NET Worrying percentage of Wilshere held together by blu-tack, Arsenal confirm (opens in new tab)
Key battle: John Terry vs Theo Walcott
This could go one of two ways, assuming the relatively in-form Walcott – who tends to fare well against Chelsea ­– starts ahead of Giroud. In one scenario, Terry gobbles Walcott up for Saturday lunch, nothing sticks for Arsenal up front and Chelsea have the perfect platform to dominate the game. In another, Terry's ageing legs are cleverly exposed at exactly the right moments by Walcott's directness and further fuel is added to the notion that Chelsea's captain is, finally, entering a decline. Mourinho was forced on Wednesday to deny a claim by Steven Gerrard that relations between him and his skipper might not be perfect (opens in new tab); this is usually the kind of situation in which Terry responds fierily with a point to prove and a rock-solid display, and anything else would only intensify the question marks.
LAST FIVE MEETINGS
Arsenal 1-0 Chelsea (CS, Aug 15)
Arsenal 0-0 Chelsea (PL, Apr 15)
Chelsea 2-0 Arsenal (PL, Oct 14)
Chelsea 6-0 Arsenal (PL, Mar 14)
Arsenal 0-0 Chelsea (PL, Dec 13)
ALSO ON FFT.COM
The managers
The antipathy between these two seems as old as the hills and there was certainly a spring in Wenger's step after he defeated Mourinho for the first time in August. Of course, that may not be counted as a "competitive" victory and it's a point Mourinho might be expected to raise if circumstances dictate. You would think, though, that Mourinho has enough on his plate for now: the winning feeling he admitted to having forgotten before Wednesday needs to be sustained and Chelsea's league situation is such that any stirring of the pot with his old rival might be best put to one side. That might not be enough to stop him, and if things begin unravelling for Chelsea on Saturday then events on the touchline might be as compelling as anything occurring on the pitch.
Facts and figures
The Gunners have won 7 and lost 0 of their last 8 Premier League away matches.
Eden Hazard has scored in the Blues' last 2 Premier League clashes with Arsenal at Stamford Bridge, with both goals coming in the first half from the penalty spot.
Only David James (169) has kept more clean sheets than Petr Cech (165) in Premier League history and the Czech has not been beaten in his last 3 league outings.
More FFT Stats Zone facts
FourFourTwo prediction
Chelsea aren't out of the woods yet. Arsenal to take this 2-1, Wenger beaming as the storm clouds gather.
Chelsea vs Arsenal LIVE ANALYSIS with Stats Zone
STATS ZONE Free on iOS (opens in new tab) • Free on Android (opens in new tab)
Thank you for reading 5 articles this month* Join now for unlimited access
Enjoy your first month for just £1 / $1 / €1
*Read 5 free articles per month without a subscription
Join now for unlimited access
Try first month for just £1 / $1 / €1