How did this happen? Behold, the most embarrassing day in U.S. Soccer history
By Paul Tenorio published
Change president. Change coach. Change how players are developed. Everything should be on the table after the USMNT's failure in Trinidad, says FourFourTwo USA's Paul Tenorio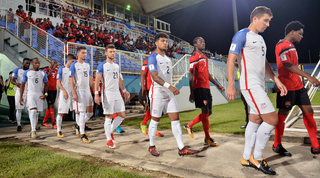 The change cannot wait.
It can't begin after a time of reflection. It can't take place after an academic evaluation of what went wrong. The change has to start now, and it has to begin at the top.
SEE ALSO
The U.S. men's national team will miss the World Cup for the first time since 1986. After playing in seven consecutive tournaments, the U.S. went to last-place Trinidad and Tobago in need of only a draw to secure a place in the World Cup. But with everything on the line, the team looked listless, slow and lackadaisical. The result was a deserved 2-1 loss and a stunning smack in the face when Panama found a late winner to knock the Americans out of next summer's tournament.
It is the most embarrassing day in U.S. Soccer history, and perhaps one of the most damaging.
"This game was perfectly positioned for the U.S. team and we failed on the day," Arena told reporters after the game. "We have no excuses. We failed today."
Go, Gulati
Arena said to make crazy changes would be foolish. U.S. Soccer president Sunil Gulati struck a similar tone in some of his comments to reporters.
"You don't make wholesale changes on a ball being two inches wide or two inches in," he said, according to ESPN's Jeff Carlisle. "We'll look at everything."
But that comment minimises the failure, as if it was caused by one moment, or one game. It wasn't – and in an era where the sport is growing at a rapid rate in this country, the U.S. will not be a part of the sport's biggest event.
This isn't a result that stands on its own. It traces back to the beginning of qualification under Jurgen Klinsmann. It transitions to the second Bruce Arena tenure. It carries over both, because the players never changed and the results never improved. This falls on two coaches and a group of players who should have been better. And ultimately, it falls on Gulati.
SEE ALSO
The president of U.S. Soccer runs an organisation whose most visible products are the senior national teams. To miss the World Cup is the most epic failure of all, and Gulati must now consider resigning his position ahead of an upcoming election. After a failure this massive, the organisation that runs the sport in this country needs new leadership.
What's the point?
This shouldn't even be considered a controversial statement. If this was Argentina or England, Germany or France, the resignation letter would come in the hours after the result. The U.S. is not yet a footballing nation – Tuesday night proved that. But if it wants to move the sport forward, it needs to start holding leadership accountable as though it is.
"If we don't change it, everyone in U.S. soccer, what are we doing?" ESPN analyst Taylor Twellman said in the minutes after the loss. "What's the point?"
Tim Howard sounded the same notes after the game.
"Every time you have a setback you have to look at things, re-evaluate and get better," Howard said. "This program, we have to get better. This Hex proved that."
There is a sort of overconfidence that exists around U.S. soccer – capitalised S or not. It's a sureness that permeates throughout the whole of the game in the country, where despite massive problems from youth development through the pro game, there is a belief that things are headed in the right direction.
In some ways, they are. The game is growing at a rapid rate. Major League Soccer has accelerated in its maturation over the past decade. Academies and USL have given the U.S. a development path that literally didn't exist 10 years ago.
And yet, major problems remain. Players slip through the cracks. The pro league is not among the best in the world. The academies do not yet have a consistent enough level of competition for the very best teams.
And there should be real questions about whether enough introspection has occurred at every level. It will begin now. It must.
Bad D.I.Y
Last week, former New York Red Bulls general manager Ali Curtis talked about the sort of deep evaluation that can take place when you hit rock bottom. Winning can mask issues, he said. It can cause a certain level of dismissiveness or for leaders to turn a blind eye. It's like a home owner ignoring the to-do list and failing to patch up a hole in the wall until they put their house on the market.
Except there is more than one hole in this house, and U.S. Soccer has reached the point where it can't ignore those "little" problems anymore.
BOBBY AT 80
"It would force everyone to really reevaluate in an academic way what has been happening with soccer in this country," Curtis said.
The job should start on the youth pitches. The under-15 and under-16 kids will be the ones on the U.S. team when this country likely hosts the World Cup again in 2026. U.S. Soccer must find a way to reach them now and to develop them better than it has in every cycle to this point. It must find a way to improve the national team programs in the long term, not the short.
Forget about a coaching hire and firing Bruce Arena. The person roaming the sideline won't help soothe anything until 2022. That's a long way away.
The work has to start right away. The transformation has to start right away. On a night when the USA had its most historic failure in the sport's history, it has to be the start of epic change.
Thank you for reading 5 articles this month* Join now for unlimited access
Enjoy your first month for just £1 / $1 / €1
*Read 5 free articles per month without a subscription
Join now for unlimited access
Try first month for just £1 / $1 / €1
Quizzes, features and footballing fun
Get the best features, fun and footballing frolics straight to your inbox every week.
Thank you for signing up to Four Four Two. You will receive a verification email shortly.
There was a problem. Please refresh the page and try again.