How Liverpool have improved under Jurgen Klopp – and where work still needs to be done
The early part of the season shows where Liverpool have grown, but more can be done to ensure the Merseysiders challenge for the league title, writes Matt Ladson of This Is Anfield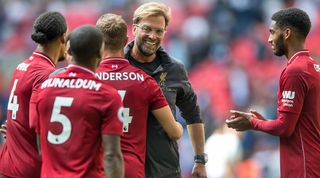 Three games without a win before champions Manchester City arrive at Anfield is not ideal for Jurgen Klopp's Liverpool. But prior to this last trio of results, the Reds had won all seven of their opening fixtures in all competitions, so there are pros and cons to the opening 10 games.
Sunday's visit of Manchester City was already going to be huge, but it is now added to by pressure to ensure that Liverpool don't go into October's international break without a win in their last four matches. It would mean, at a minimum, a month without a win – a momentum-killer after such a promising start.
Klopp admitted after the 1-0 defeat to Napoli in the Champions League that his side weren't good enough. He took the blame for the poor performance, noting that he needed time to assess things but highlighted slow pressing, not being calm on the ball and losing possession too easily in attack. Such issues will need to be rectified quickly before Sunday.
The German manager will assess in more detail where it's gone right and wrong during next week's break in club football, just as he did in the summer when plotting how he can close the gap on City in the league this season.
Narrow gains
Among those areas for improvement would have been a reduction in the amount of draws, with 12 last season being far too many instances of two points dropped. The manner of their only draw of the season so far, 1-1 at Chelsea thanks to Daniel Sturridge's stoppage-time stunner, meant that it felt more like a win from a psychological perspective for fans and players alike.
Prior to that, victories over Brighton, Leicester, Tottenham – and PSG in the Champions League – were all achieved by a one-goal margin. All three of those league victories were the types of fixture that Klopp's side were dropping points in last season. But improved defensive resilience ensured the victories and put Liverpool level on points with Manchester City ahead of Sunday's showdown with Pep Guardiola's side.
Reasons for that defensive fortitude arrive in the shape of the new defensive triad of goalkeeper Alisson plus centre-back pairing Joe Gomez and Virgil van Dijk. While Liverpool's attack has somewhat stuttered in these recent weeks, their defence has been the major positive. It's often said that attacks win matches but defences win trophies, so this is perhaps the most optimistic sign yet for Kopties.
Gomez in particular has been the standout and formed a partnership with Van Dijk in which they complement each other impressively. The 21-year-old is quicker than Dejan Lovren, allowing Klopp's side to play a higher defensive line and therefore squeeze the play in midfield. He also seems more comfortable in possession and able to play vertical passes into midfield and attack that split the lines of the opponents. Such play from deep is crucial when overcoming teams who sit behind the ball looking to stagnate play and force Liverpool to play sideways.
The irony is that that sort of passing is what has been missing from Liverpool's midfield, with the trio of Jordan Henderson, Gini Wijnaldum and James Milner too often not offering enough of a forward threat in terms of passing and dribbling. Naby Keita's slow start hasn't helped in that respect, nor has Alex Oxlade-Chamberlain's long-term injury, while the statistic that Henderson and Wijnaldum only played 12 forward passes out of 87 between them against Napoli underlines why Klopp wanted a line-breaking attacking midfielder in the shape of Nabil Fekir in the summer.
Klopp's cunning plan
One of the areas which Klopp would have identified for improvement is the breaking down of opponents, especially at home, so it was positive to see a varied setup when Southampton visited. Klopp changed to a 4-2-3-1 shape, with Xherdan Shaqiri in the attacking midfield role.
The plan worked excellently, the opponents were taken by surprise and Shaqiri was arguably man of the match despite being substituted at half-time with Liverpool 3-0 up. That game showed both Klopp's approach to unsettle opponents, and his pragmatism to protect a three-goal lead.
Since then, though, Shaqiri hasn't been involved and after the creativity-lacking midfield display in Naples, the Swiss international could perhaps be the man to step into the role that Oxlade-Chamberlain grew into last season as the most attacking player in the midfield three.
Shaqiri's playing time, or lack of it, highlights Liverpool's improved squad depth, and although Klopp traditionally seeks to gradually bed-in his new signings, what the manager must now do is start using that depth effectively. The lack of introduction of Shaqiri or Sturridge (at least until the final minutes) in Naples seemed negative when the midfield and attack were so off the boil. There's little point having improved depth if you're not going to use it.
Shaqiri has looked bright whenever he's appeared, while Sadio Mané has started all 10 games played. We can assume that Klopp will start rotating his pack significantly after the international break, when fixtures arrive in the form of Huddersfield, Red Star (twice), Cardiff, Arsenal and Fulham before the final international break of the season.
One area that has certainly improved this early in the season is Liverpool's threat from set pieces. The Reds have scored five league goals from dead-ball situations (not including penalties); more than any other side. Title-winning sides often have goalscoring centre-backs who contribute in both boxes and Van Dijk in particular will be looking to do that as the season develops.
Another easily identifiable area for improvement was in Liverpool's results in early kick-offs, which has hovered around the 35% win ratio during Klopp's three years at the club and dropped as low as 20% at one stage. This season, though, they've overcome West Ham, Leicester and Tottenham in such games. It's something that the manager has noted in his press conferences, this season opting not to complain about the timing of the fixture, something he'd regularly done in the past.
The improvements this early in the campaign are there to see, but perhaps what's most promising is that Klopp has clearly identified how his side can improve. Not all those improvements will happen instantly, but the manager has certainly established where and how to take his side to the next level, and that is the key.
New features you'd love on FourFourTwo.com
Quizzes, features and footballing fun
Get the best features, fun and footballing frolics straight to your inbox every week.
Thank you for signing up to Four Four Two. You will receive a verification email shortly.
There was a problem. Please refresh the page and try again.