Manchester United fans' damning opinions of the FA Cup semi-final say so much about theirs of Louis van Gaal
Some supporters have claimed they'd rather lose to Everton at Wembley if it means King Louis is dethroned, writes Scott Patterson – an eye-opening assessment of the Dutchman's standing at Old Trafford...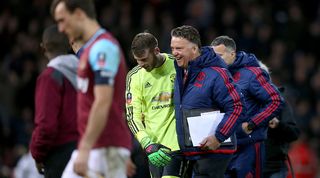 There are conversations going on among Manchester United fans, at Old Trafford, in pubs and on social media, about whether they want to see their team beaten by Everton in the FA Cup semi-final, or by Watford or Crystal Palace in the final.
United haven't won the FA Cup since 2004, when they beat Championship side Millwall 3-0 courtesy of goals from Ruud van Nistelrooy and a teenage Cristiano Ronaldo.
Not a single player in United's current squad has won the trophy before, and last season they were overtaken by Arsenal as the competition's most successful team.
So what on earth could prompt a fanbase, that has seen their team go three years without a trophy, actively support losing in an FA Cup semi-final?
Surprise success
If Louis van Gaal was ever going to get an understanding of how unpopular he is among Manchester United fans, it would be hearing the supporters argue that they would rather be beaten by Everton if that brought about confirmation of his dismissal.
United booked their place in the semi-finals after beating West Ham in the last ever FA Cup tie at the Boleyn Ground. It was a surprising result, following the 1-1 draw at Old Trafford which forced the replay, and the embarrassing 3-0 defeat away to Tottenham the weekend before.
United were the better side, though, as Slaven Bilic conceded post-match, with the unpopular Marouane Fellaini putting in a fine performance and scoring the crucial goal in the 2-1 win.
It had been predicted that Andy Carroll would have been the most dominant physical player, and he did play his part in heading down the cross to set up James Tomkins' consolation goal, but Fellaini was the one to show his strength. Aside from his surprisingly good performance, the Belgian managed to turn in a shot from Anthony Martial that was deflected off Tomkins' arm.
Fellaini has already featured in a FA Cup semi-final between United and Everton, and was on the winning side when David Moyes' Merseyside outfit beat United on penalties after a goalless draw. It's likely that the Belgian will feature in the upcoming fixture, seven years later.
He'll probably be confident of a win, too: United beat Everton 3-0 at Goodison Park very convincingly earlier this season, although less so in the 1-0 victory at Old Trafford.
Sticky for Toffees
There are problems at Everton this season, with Roberto Martinez struggling to inspire the form of his first season when they finished fifth. Leighton Baines has acknowledged as much, although he was forced to apologise for his truthful admission.
The 'School of Science' banners that Everton fans proudly displayed in his first season aren't flying so prominently, the Spaniard's popularity having nosedived.
In his second season they finished 11th, and this campaign the Toffees are 12th, which is some way short of the record that his predecessor boasted. "Stuck with Moyes," was the chant directed at United supporters by Everton fans during the 2013/14 season – but maybe they wish the Scot, who thrived with smaller clubs on minuscule budgets, was in charge of their team now.
One more year?
Still, United fans feel as though they might be stuck with Van Gaal.
Despite the regular rumours linking Jose Mourinho with the Dutchman's job, the power battle behind the scenes at United – led by Sir Alex Ferguson – may mean they snub the Portuguese manager in favour of someone else once again.
Arguments suggesting that Van Gaal has been as damaging for United as Moyes was - or more damaging even - are unfounded. Moyes took the champions of England to seventh in the table, despite adding £70 million worth of talent to the title-winning team and, most damningly, finished below Everton.
Having bought Everton's top scorer Fellaini with him to Old Trafford, United finished eight points below the Merseyside club.
In contrast, Van Gaal took a team bereft of confidence, who finished just above the likes of Southampton, Stoke and Newcastle in the table, to fourth in his first season.
While United have been equally as disappointing as Moyes was against teams in the bottom half of the table under Van Gaal, they have done very well in the big matches that matter most to the fans.
United have won all four games against Liverpool in the league, picked up seven points from 12 against City, and most impressively, outplayed title hopefuls Arsenal with an injury-ravaged team whose bench was made up solely of academy players.
Damning indictment
Despite this, there is an overwhelming feeling that Van Gaal has taken United as far as he can; despite outshining Moyes's dismal reign, the experienced Dutchman hasn't fulfilled the objectives Ed Woodward believed the manager would achieve upon appointment.
While it's been very positive to see so many youngsters tried out, something that has resulted from Van Gaal's decision to have a small squad rather than being forced upon him by injuries as some claim, he doesn't play the style of football United fans demand. Too many games, this season in particular, have been dreadful to watch.
READ THESE
Remembered: When TV darlings Manchester United ruined the FA Cup
6 football tactics that changed the game as we know it
For some supporters, to avoid even the question of whether Van Gaal should be allowed to see out the third year of his contract, they want to see United beaten by Everton at Wembley. Others hope that, regardless of what their team achieves this season – whether it's usurping City in the top four or claiming FA Cup glory – Van Gaal will be relieved of his duties regardless.
But if push came to shove, and success in the FA Cup meant overlooking Mourinho to keep Van Gaal for another year, most supporters would probably take the loss.
For a fanbase spoilt by success, and starved of it over recent years, this is a truly damning assessment of their current manager's performance.
Quizzes, features and footballing fun
Get the best features, fun and footballing frolics straight to your inbox every week.
Thank you for signing up to Four Four Two. You will receive a verification email shortly.
There was a problem. Please refresh the page and try again.