In the name of the father: How the Cruyff legacy hampered Jordi's career
Luke Ginnell on Jordi Cruyff, who turned 40 this year, and a career that was spent attempting to live up to his famous father's name...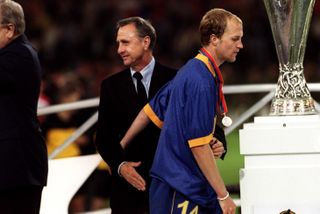 In February of 1974, Danny Coster gave birth to her son Jordi by Caesarean section. The operation was carefully timed to coincide with a short period of time off work that Danny's husband Johan had been granted by his employers. It just so happened that Johan was one of the world's greatest footballers, and his employers FC Barcelona one of the world's greatest football clubs – and who, the weekend that Jordi Cruyff was born, had no fixtures scheduled to be played.
So it was that Jordi Cruyff was predestined to a life spent living not just with his famous surname, but also his symbolic given name. Sant Jordi – Saint George – is the patron saint of Barcelona and Catalonia, and Johan Cruyff had fought with the Francoist authorities of 1970s Spain in order to circumvent a ban on the use of Catalan names and register it to his son in that form (as opposed to the Spanish "Jorge"). It was a name that would forever bond Cruyff junior with Catalonia, and by extension the iconic status held by his father within the region.
Since the 8th century, Saint George has been venerated in Catalonia, with dozens of churches and chapels dedicated to his memory, and the cult of George evident throughout the province. In Barcelona, La Diada de Sant Jordi is a major event, a festival something like a Catalan hybrid of St. Patrick's Day and Valentine's Day. Yet just as Sant Jordi symbolises Catalonia, Johan Cruyff symbolises FC Barcelona. The decision of the latter to name his son after an emblematic figure with which Barcelona was so besotted was a tribute and expression of love for the city, a gesture of affection that tied the family to a place they had come to adore. As pointed out by Simon Kuper in 1994, "the Cruyffs are as good as Catalan."
Like Jordi Cruyff, Saint George had a famous father, Gerontios, in whose shadow he had been born – Gerontios of Cappadocia was a noble, famous and high-ranking officer in the Roman Army – but unlike Cruyff Jr., Saint George would go on to outshine his dad. Although the earnest George progressed rapidly within the army very much on the back of his father's name – even the Emperor Diocletian knew Gerontios as one of Rome's finest soldiers – he achieved a much more lasting fame as a result of his apocryphal slaying of the dragon at Silene. Jordi Cruyff, however, never had his dragon-slaying moment, instead leading a career of relative mediocrity and underachievement – at least in comparison with his father.
Ajax, Barcelona, Cruyff
It wasn't as if Jordi was without talent. In the ranks of the Ajax academy, he stood out despite being treated coolly when Johan inevitably fell out with club management and, upon the family's return to Catalonia in 1988, when Johan became manager of Barça, Jordi joined the club's renowned cantera. Ten years earlier, Jordi and the rest of the family had emerged safely from a kidnap attempt at their Barcelona flat; Johan and Danny were tied up in front of their children and a gun was held to Johan's head.
For several months afterward, Jordi required a police escort to school, yet even memories of that incident were not enough to keep the Cruyffs away from the Catalan capital. At first, things were tough for the young man as he struggled to adapt to life there, but after a number of years within the system, he began to show some serious potential. In 1994, aged 20, he scored two hat-tricks on a pre-season tour of the Netherlands with the first team.
Over the next two seasons, Jordi made more than 40 appearances for Barça, scoring 11 goals and turning in occasional performances of real quality. There was no denying he could play. But his father he was not, and when Cruyff senior was dismissed from his position as Barça manager in 1996, Jordi was caught between a rock and a hard place. The club – more specifically its president Josep Lluís Núñez – wanted him gone, and feared his close association with his father's regime. As had happened at the Ajax academy, Jordi was being punished for Johan's relationship with the boardroom.
Jordi initially refused to train with the team, and was eventually given a staged farewell at the Nou Camp against Celta. When he left the pitch, the fans applauded rapturously, but it was clear to all watching that the ovation in the stadium held much more significance than mere appreciation for his exploits that day. It was a goodbye to two generations of Cruyffs, and a display of gratitude for the 14 years of glorious service Johan Cruyff had given to Barcelona. As Jimmy Burns wrote, the stadium was "reverberating with the name of Cruyff, as if the very name was an inseparable part of its soul."
Benched in Manchester
The next stop for Jordi was Manchester United, a club with a standing comparable to Barça. His time in England proved frustrating, with his form being dominated by injury and his place in the team obstructed by a golden generation of midfielders that had emerged in Manchester.
"I had the likes of Beckham, Scholes and Giggs in front of me in midfield," said Jordi in 2013. "I could also play as a striker but there was Sheringham, Cantona and all these magnificent players. At the time, you don't understand why you aren't playing but looking back, I see the players who were around me and think 'Fair enough'."
On top of this, he had joined a league that was a world apart from the one in which he had played with Barça, one to which his style and physical stature were not particularly well suited. For a number of years, Jordi had worked with his father and other Barça coaches on developing his physique, but the demands of the Premier League were different to Spain, where the emphasis was more on technique.
At every step, he still found himself dogged by the spectre of his father's greatness, with media and fans alike seeming to demand displays of skill reflective of those of the older Cruyff. Such heights were not within Jordi's capability, his stint at Old Trafford ultimately rendering him something of a figure of fun among observers in the UK. The Independent even went so far as to name Jordi as part of its "Worst XI under Sir Alex Ferguson". It's hard to imagine that this would have been the case had expectations of him not been so high.
Back to Spain for a golden era
By the time he left United in 2000, he was 26, an age when players normally approach their footballing peak. Perhaps if injuries and bad luck had not hindered his development to such an extent, Jordi would have been more able to take advantage of his prime years as a footballer. As it was, he returned to Spain with Alavés, a team that had been promoted to Spain's top tier just two seasons before.
While at the Basque club, Jordi was to experience what was probably the best period of his career, in playing terms at least. At a club of fellow outcasts, he found a place in a team that Phil Ball described as "one of those rare cases where several rejected, run-of-the-mill players come together and immediately gel, for no apparent reason."
Jordi became an important part of a side that went all the way to the UEFA Cup Final in 2001, and looked far more comfortable back in Spain than he had in England. He seemed to simply "fit in" at Alavés, where he was freer to just concentrate on football than at his previous clubs; gone was the intense scrutiny of Barça and the harsh competition of Manchester.
The team's manager, Mané, had aimed to create a laid-back, familial atmosphere where the club came before ego, and it was a setting in which Jordi thrived. After three years at Alavés, Jordi returned to Catalonia with Barça's city rivals Espanyol, but because of injury failed to make much of an impact, despite a solid first season. In 2010, an unexceptional career was ended after brief spells in Ukraine and Malta.
Off the pitch and upstairs
For Jordi, the future lies in management, though not necessarily as a coach in the manner of his father. Nowadays, Jordi earns a living behind the scenes at Maccabi Tel-Aviv in Israel as a general manager and sporting director. At Maccabi, he showed no lack of vision by bringing in current Brighton manager Oscar Garcia as head coach, and subsequently by replacing him with former Swansea boss Paulo Sousa.
A shrewd and balanced individual keen to expand his learning, Jordi undertook a post-graduate degree in marketing alongside his close friend Roberto Martinez, and appears to have put many things that he learned there into practice at Maccabi. Time will tell whether he can replicate or even better the off-pitch exploits of Cruyff senior, although this is a task no less difficult than living up to his father's deeds on the field of play.
Johan Cruyff, after all, was a man whom David Winner thought was "not simply the best-known Dutch person alive [but] also the most important." As a consequence, Jordi Cruyff was never judged in his own right.
Good enough to earn nine caps for one of the better incarnations of the Netherlands national team and appear for them at Euro '96, but mediocre enough to end his career playing in the Maltese Premier League, he was neither a great player nor a terrible one. His only 'crime' was to be burdened with unrealistic expectations by an accident of birth – expectations which he was ultimately unable to justify, which is hardly something to be ashamed of.
Writer Ouriel Daskal noted that in recent times Jordi "has adopted a cold, professional outlook on football, perhaps as a method of dealing with the fact that no matter what his achievements may be, he will never be able to surpass his revolutionary father's historic accomplishments."
Jordi's career, however, is probably best summed up by the man himself: "There are two types of football players – the legends and the mortals. My father is a legend and I am a mortal. The legends like my father – they come, they do and they remain. I am part of the vast majority of mortals – we come, we do and we die."
Quizzes, features and footballing fun
Get the best features, fun and footballing frolics straight to your inbox every week.
Thank you for signing up to Four Four Two. You will receive a verification email shortly.
There was a problem. Please refresh the page and try again.