Pseudo News: Jose Mourinho's proposed trip to SeaWorld clearly clashes with Real Madrid game
Manchester United boss has insisted this is a 'crucial chance' for his side to see a manatee before the season starts, Back of the Net can reveal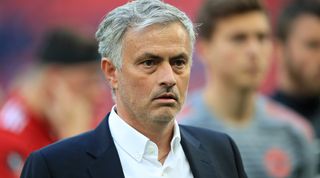 Jose Mourinho's enthusiasm for his side's pre-season obligations is at a low ebb and players have reported that the Manchester United boss has scheduled a trip to Orlando's SeaWorld that clearly clashes with the friendly against Real Madrid.
After a 4-1 loss to Liverpool in Ann Arbor, Mourinho was in typically abrasive form, launching into a three-hour invective against modern society, followed, after a short interval, by a second three-hour critique of his own diatribe, which he freely admitted was a second-string effort.
But while his media hysterics are now familiar, sources in the United camp have indicated that Mourinho is plotting the more controversial move of arranging a team visit to aquatic theme park SeaWorld at exactly the same time his men are supposed to be playing against Real Madrid in Miami.
"At our team meeting, Jose ran through a presentation of what we can expect [from SeaWorld] and you have to say it's impressive," Juan Mata told FourFourTwo.
"The gaffer's thought it all through and presented an itinerary that progresses seamlessly from Shamu's Happy Harbor to Antarctica: Empire of the Penguin with very little possibility for error.
"He's pointed out in no uncertain terms that if we want to see a manatee or a stingray ahead of the start of the season, this is our opportunity."
However, towards the end of his tactical speech, as Mourinho briefed his men on what to expect in the gift shop, Matteo Darmian pointed out that as the players were scheduled to be riding the Kraken, they were also meant to be lining up to play Real Madrid.
"It's not like the gaffer to make an oversight in his match preparations, so it seemed odd that he would inadvertently have played each of us nearly 235 miles out of position," Mata continued.
"When the issue was raised Jose pulled a face and insisted he must've got mixed up, but even as he said that he was visibly clicking 'Check Out' on a non-refundable Day Pass on the SeaWorld website."
It now seems likely that Mourinho will select a second-string outfit for SeaWorld, probably only going on the less taxing rides such as Journey to Atlantis, while sending his senior figures to Miami to face Real Madrid.
Please note: This satirical news story is not real. Clearly. Even Jose doesn't want to visit SeaWorld.
Quizzes, features and footballing fun
Get the best features, fun and footballing frolics straight to your inbox every week.
Thank you for signing up to Four Four Two. You will receive a verification email shortly.
There was a problem. Please refresh the page and try again.