Two big conundrums that Euro 2016 has offered Arsene Wenger
By Felix Keith published
Arsenal players performed strongly at Euro 2016, but it's given the Frenchman some thinking to do. Felix Keith explains why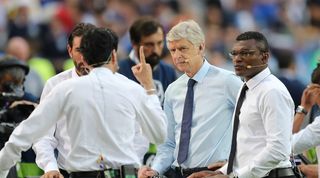 Arsenal had a very good Euros. Arsene Wenger, who was in France working as a television pundit, saw first hand the effectiveness of his players alongside different team-mates in contrasting environments on the international stage.
Only Real Madrid and Atletico Madrid provided more goals than Arsenal players, and a handful stood out for their national sides. Wenger will be proud, but their displays also pose tactical conundrums as he tries to weather increasing pressure and win a first Premier League title since 2004 in possibly his final season at the club.
Arsenal's standout performer in France was Aaron Ramsey, who, given the responsibility of starting attacks, conclusively proved that he is a much better player when given the freedom to drive forward from midfield. The insurance of having two holding midfielders behind him birthed excellent form in Wales's run to the semi-finals.
Joe Allen and Joe Ledley's positional discipline allowed Ramsey to break lines and threaten the back four, and he finished the tournament with four assists – the joint-most of any player – and a reinforced reputation. Stripped of his drive, energy and set-piece delivery in the last four, Wales couldn't achieve another win and lost 2-0 to Portugal. It was Ramsey, not Gareth Bale, who was the focal point of Chris Coleman's side.
Ramsey at his best – as witnessed in the 2013/14 season in which he scored 16 goals in 34 appearances across all competitions – is one of Arsenal's most dangerous players. He looked back to that form. But with so many options in central midfield, will Wenger take heed from what he saw and shape his team around the Welshman?
Xhaka can
Wenger's decision is linked to his latest signing, Granit Xhaka, who was similarly outstanding for Switzerland – full of robust challenges off the ball and composure and precision on it. He showed exactly why Wenger felt compelled to make the 23-year-old his third-most expensive signing behind Mesut Ozil and Alexis Sanchez.
Xhaka offers bite without sacrificing artistry; he never shied away from a tackle, but also finished the tournament with 366 passes completed – the fifth-most of any player despite playing only four games – at an accuracy of 89%. When his performances in France are combined with his sizeable fee, it suggests the Swiss ball-winner will be a starter in the coming season.
However, when fit, Wenger has always bowed to Jack Wilshere's talent. The 24-year-old didn't didn't make any sort of impact for England, though, playing a combined total of just over 90 minutes, but his mere presence was enough. With Francis Coquelin, Mohamed Elneny and Santi Cazorla to also consider, it's unsure how he'll fit in this term.
Although Ramsey was playing in an altered tactical system and in a completely different team dynamic, it would be remiss of Wenger not to factor in his resurgence.
Ozil, creator of 144 chances in the Premier League last season, is undoubtedly the main man, but importantly Ramsey offers a different style of creation – fewer delicate chips and through-balls, but more willing to burst into the box and take on defenders. The Euros showed a continuation of a trend against possession football, and by placing Ramsey at the heart of the team, transitions would become slicker and another string would be added to the bow.
At the beginning of last season, Arsenal had a clear dearth of holding midfielders. The emergence of Coquelin and signings of Elneny and Xhaka now mean Wenger has the components to play two defensive-minded midfielders when the situation calls for it. A 4-2-3-1 formation with Xhaka alongside Elneny, Wilshere, or even Cazorla, and Ramsey flanked by Ozil and Sanchez further forward, is a system that draws on his recent performances and encourages him to play to his strengths.
Conundrum No.2
However, it is not that simple. Another Arsenal player shone sufficiently at Euro 2016 enough to offer a counter-point to a Ramsey-centric lineup.
Mentions of Olivier Giroud are usually preceded by the phrase 'much-maligned', but the striker performed admirably to help France reach the final and his all-round displays improved as the tournament went on. He scored three goals – two headers and one well-taken low finish from a ball over the top – but it was his link-up play with secondary striker Antoine Griezmann that stood out, as both his assists serviced the Atletico Madrid forward.
Giroud generally played as a lone striker for Arsenal last season, tasked with trying to bring in midfield runners with his customary hold-up play and flick-ons. But watching a player of Griezmann's quality reading his knock-downs and mirroring his movement pointed to the way Wenger should utilise him best.
The 29-year-old, as regular Emirates-goers will attest, can be frustrating to watch. He has scored 57 goals for Arsenal at an average of 0.42 per game, but supplied with presentable chances from the likes of Ozil, it is those he spurns that stick in the memory.
With Danny Welbeck injured, surely Wenger is targeting a new forward. Griezmann himself has been priced out of the market, having signed a new five-year deal with Atleti. But having seen the possibilities presented over a seven-game period at a high standard, Wenger might fancy searching for a high-quality new recruit to fit the model France displayed.
Reinforcements required
As has been reiterated by every pundit over the past two seasons, Giroud is not capable of firing a side to the title by himself – his greatest strength lies in unselfish approach play. Alexandre Lacazette, Mauro Icardi and the more expensive Gonzalo Higuain have all been linked with the Gunners, and all would surely improve Arsenal's squad.
If Wenger can secure a player of this ilk, a genuine two-striker system would suit Giroud better and help improve upon last season's nine-year league low of 65 goals scored. Arsenal were fairly one-paced and one-dimensional last season, and a partner for Giroud would help answer such criticisms.
Away from his control Wenger watched on as two of his most cherished players made the most of their ability in altered systems. The Frenchman has proved himself to be stubborn in his tactical shape and playing philosophy, but upon investigation both Wales and France offer realistic and workable alternatives for Arsenal.
Wenger's actions in in the transfer market and on the training pitch in the next few months will prove crucial to Arsenal's fortunes in the coming season. The Euros offered valuable advice – and he shouldn't be afraid to take it.
Thank you for reading 5 articles this month* Join now for unlimited access
Enjoy your first month for just £1 / $1 / €1
*Read 5 free articles per month without a subscription
Join now for unlimited access
Try first month for just £1 / $1 / €1
Quizzes, features and footballing fun
Get the best features, fun and footballing frolics straight to your inbox every week.