Who is Sardar Azmoun? Meet the Liverpool-linked striker who wants to play for Arsenal
By Hamed Momeni published
Hamed Momeni explains why the rising Iranian star is being touted for a possible Premier League move that the player himself is craving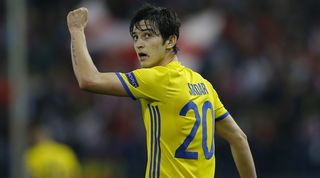 The 60-second story
FACT FILE
Date of birth: Jan 1, 1995
Place of birth: Gonbad-e Kavus, Iran
Height: 6ft 1in
Position: Striker
Current club: FC Rostov (55 apps, 17 goals)
Former club(s): Rubin Kazan, Sepahan
International: Iran (22 caps, 16 goals)
Iran's talismanic striker Sardar Azmoun began his career at the age of nine, but could very well have been lost early on. Despite being called up to Iran's U12 national team, the sports enthusiast took a break from football a year later, opting to play volleyball instead. It was a sport his immediate family excelled at — particularly his father, a former player with Iran's national volleyball team. Fortunately for the youngster, his family supported the decision to switch back to football.
Azmoun was subsequently offered a place with a local team by a talent scout. His progression was swift, and he was soon called up to Iran's U17 and U19 national teams. The youngster participated in the Commonwealth Cup held in Russia back in 2012, where he finished top scorer for the tournament having netted seven times in six matches. That grabbed the attention of Russian talent scouts, and led to his move abroad with Russian outfit Rubin Kazan in January 2013.
The Iranian striker make tentative progress in the 2013/14 campaign and scored his first goal in Europa League qualifying against Norwegian side Molde, but continued to play a bit-part role thereafter until eventually being loaned to FK Rostov in early 2015. Having helped them avoid relegation with a goal in the 4-1 play-off final win against Tosno, nobody predicted what happened next: with Azmoun in tow again for the new season, Rostov soared from minnows to mercurial title hopefuls and only missed out behind CSKA Moscow by two points. Azmoun netted nine times in the Russian Premier League, after which Rostov snapped him up for good.
Why you need to know him
Quite simply because he's been linked with a switch to either Liverpool or Everton recently, having also attracted interest from clubs including Arsenal, Bayer Leverkusen, Borussia Dortmund and Marseille this season.
Football enthusiasts in Iran yearn for fast-paced football: the pace and beauty of the game is vital in keeping their attention. Defensive tactics are shunned, even if such methods earn them the results they need. It's why the likes of Ali Daei or Ali Karimi have excited spectators with their stunning skills, and are the most popular players in the country.
After Ali Daei's retirement from international football at the end of 2006 World Cup, Team Melli had struggled a talented goal-getter bolster its offensive line. Until now. Azmoun has stepped forward as the heir apparent with 16 goals in 22 caps since his debut in May 2014, including a hat-trick against Macedonia in June.
The 21-year-old's switch to European football at 18 was indicative of the bright future that lay ahead of him. Having scored against the likes of South Korea, Iraq and Qatar in international friendlies, and twice at the 2015 Asian Cup in Australia, he has quickly demonstrated his astuteness at the sharp end that puts him in good stead for a promising future.
Strengths
In Iran, Azmoun is often compared to Argentine ace Lionel Messi. His outstanding dribbling skills, ball control, superb eye for goal and marvellous finishing power are his main attributes. Off the field, he is a personable, down-to-earth young man who always seeks to learn from his coaches.
According to Azmoun himself, he was very lucky to have had the chance to work with former Real Madrid and Portugal coach Carlos Queiroz. Despite not making the squad for the 2014 World Cup in Brazil, Sardar praised Queiroz's technical and managerial abilities and admitted there was much to learn from the Portuguese manager.
Weaknesses
Azmoun has confessed that the Russian Premier League features players who are physically stronger than him. It's is a problem for him in the short-term, as his slender physique doesn't really allow him to win one-on-one challenges against stronger players. For the same reason, he can be easily tripped or brought down.
Still, it's good grounding for him and, taking his young age into consideration, he could easily overcome such weakness through adequate fitness and conditioning improvements.
They said...
Amid the recent interest from Merseyside, Azmoun's agent Mehdi Hagitali has insisted the player is happy for now at Rostov – but admitted that offers wouldn't necessarily fall on deaf ears.
"I read about the interest in Sardar from Liverpool, but I can say that at present there have been no formal proposals from either foreign or Russian clubs," Hagitali said. "Now his main goal is to become the best striker in the Russian Premier League.
"Kurban Berdyev is like a father figure, and he would like to work with the coach. [But] if some proposals come, we will look at them."
Did you know?
Azmoun comes from the Golestan province in Iran's north-east, and his beloved small town won't be forgetting about its most famous son anytime soon.
"When I scored against Molde, all the people in my home town celebrated and were happy to see my first goal in a European tournament," Azmoun beamed.
Back in Golestan, car number plates feature the number 69, which is why the youngster proudly dons the No.69 shirt for Rostov.
What happens next?
Bigger clubs started to take notice after Sardar's eye-catching performances at the 2015 Asian Cup, and now it seems at least one of them may make more formal advances sooner rather than later. England, the player told FourFourTwo.com last year, is the ideal destination.
"As a player one of my ambitions is to play in the English Premier League," Sardar told FFT exclusively. "I have always fancied playing for Arsenal under Arsene Wenger – he is famous for trusting young players and giving them the opportunity to grow and display their potentials.
"That's where young inexperienced players become big players and a bright future awaits gifted youngsters. I might look quite ambitious, but that's absolutely normal for a player. My greatest wish is to lift the Champions League trophy one day."
More Talentspotter • New features you'd like every day on FourFourTwo.com
Thank you for reading 5 articles this month* Join now for unlimited access
Enjoy your first month for just £1 / $1 / €1
*Read 5 free articles per month without a subscription
Join now for unlimited access
Try first month for just £1 / $1 / €1