Why England needn't fear Uruguay
By Rohan Banerjee published
Group of Death? Rohan Banerjee says Roy Hodgson's men have nothing to fear except fear itself...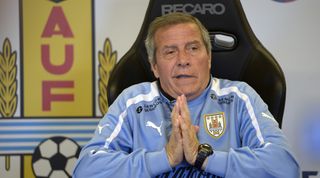 "We know we're not among the favourites," admits the sexagenarian coach. "But we also know that if we prepare well we can be a very difficult team to play against, and that's going to be at the centre of our thoughts," the 67-year-old tells the media conference.
URUGUAY GEAR
ENGLAND GEAR
Using the skills picked up in a 30-year managerial career which has roamed around dozens of countries and clubs, he gives some line about passion and pays tribute to the players who have made his squad, before refusing to answer any further questions on the ones he's left out, no matter how much the press pack pushes him.
Roy Hodgson? No, he's not 67 until August 9. The old hand doing his best to manage expectations is Uruguay coach Oscar Tabarez. In many ways, it's the same coy diplomacy we've come to expect from the England job, a wily pensioner attempting to reconcile a nation's chronic case of hope. So, why then, at the announcement of the World Cup groups, weren't we spared the ignominy of FA chairman Greg Dyke pretending to slit his own throat?
In footballing terms, Uruguay are a country not unlike England. They are haunted by their history and invest themselves almost tribally in the sport. Consider the public outcry when Paul Dummett's challenge risked keeping Luis Suarez out of the tournament – the Newcastle left-back received death threats because he had seemingly quashed the focal point of their attack. It's not hard to imagine something similar would have happened had Diego Lugano injured Wayne Rooney or Daniel Sturridge. The English do like to moan.
Dodgy defence
Suarez has since informed the media that he will be fit for Brazil, inciting fresh panic in Fleet Street and gloom among the England fans. But are La Celeste as terrifying as some say?
For all Uruguay's undeniable prowess going forward – Suarez, Edinson Cavani and Cristian Rodriguez constitute a powerful frontline – there remains the issue of a highly suspect defence. It's worth noting that they conceded 25 goals in their 16-game qualification, just six fewer than bottom-placed Paraguay. For comparison, England conceded four in their 10 qualifiers, while scoring 31.
Uruguay's vaunted forward line scored 25, meaning that they ended a Brazil-free qualification group with a zero goal difference; having finished fifth, they scraped through via an intercontinental play-off win against AFC minnows Jordan. It's also worth considering that their 33-year-old captain and first-choice centre-back Lugano has been released by West Brom after only 11 appearances. And he's not even fit for the game.
Meanwhile, full-backs Maxi Pereira and Martin Caceres spend as much time on the overlap as they do in their own half. This might sound dangerous, but Leighton Baines and Glen Johnson are just as determined to attack; shouldn't any England fan worried about Uruguay's counter-attacking realise that Pereira and Caraces are just as susceptible against the counter-pace of Sturridge or Raheem Sterling?
Man-for-man marking
The midfields are pretty even too. Steven Gerrard's capabilities outstrip both Walter Gargano's and Egidio Arevalo's deep-rooted bases, and even if Nicolas Lodeiro does look more of a handful than Jordan Henderson, the former Sunderland man is obviously doing something right considering how crucial he was to Liverpool's title charge. Meanwhile, if Adam Lallana's combination of industry and intelligence were displayed by a player in a Barcelona shirt, it would cause howls of indignation about the shortcomings of English coaching.
Then there's the forward line. Just as the Daily Mail's online readership is dependent upon Kim Kardashian, Uruguay have a troubling over-reliance on their first-choice attack – something that can be easily undone by fitness and form, as Wayne Rooney has found at previous finals. True, Suarez and Cavani are two of the most potent strikers in the world, but even the best players can have an off-game. And, if England do concede, there is little about Uruguay's defensive record to suggest that they won't be able to respond.
Some say the lack of expectation is England's strongest suit, but it will do them no favours to assume an underdog status that doesn't really apply. Factoring in a wholly winnable game against Costa Rica and a difficult, but not impossible clash with Italy, Dyke's indiscretion looks all the more untoward. If Group D is indeed the 'Group of Death' it surely owes as much to England's involvement as La Celeste's.
Still, if Suarez does play well, it'll probably end up 4-4.
Thank you for reading 5 articles this month* Join now for unlimited access
Enjoy your first month for just £1 / $1 / €1
*Read 5 free articles per month without a subscription
Join now for unlimited access
Try first month for just £1 / $1 / €1
Quizzes, features and footballing fun
Get the best features, fun and footballing frolics straight to your inbox every week.
Thank you for signing up to Four Four Two. You will receive a verification email shortly.
There was a problem. Please refresh the page and try again.