Why English clubs are struggling in the Champions League this season
Nearly all of England's lot have been guilty of flimsy midfields and switching off at set-pieces, writes Alex Keble...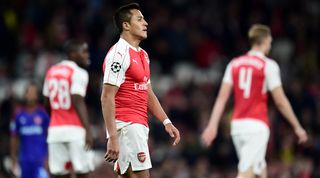 The tactical inadequacies that have defined England's recent failures in the Champions League have continued this season. Eight games, five defeats and three (largely fortuitous) wins reads the record for a league floundering thanks to its primitive approach to tactics.
With all four clubs in danger of failing to qualify, what is it that keeps going wrong, and what can be done to modernise a country behind the times?
Although some delight in the failures of those multi-million pound clubs that dominate English football, another poor showing this season could lead to England losing its fourth Champions League spot, further denting the aspirations of those on the fringes. The pattern of failure is clear, as close analysis of six matches this season (the five English defeats and Manchester United's victory over Wolfsburg) highlights.
Central midfield
RECOMMENDED
A dynamic central midfield partnership is an important base from which the overall cohesion of a team is struck – and it's no surprise that England's top four have struggled in this area in recent years.
Last season, Geoffrey Kondogbia tore through the heart of Arsenal at the Emirates Stadium, Marco Verratti overpowered Chelsea's disorganised Oscar-Fabregas combo and Luka Modric outmanoeuvred Liverpool at Anfield.
This season was supposed to be different. The experienced Bastian Schweinsteiger was signed to pull the strings at Manchester United, Francis Coquelin's re-emergence was supposed to solidify Arsenal's central midfield and the elastic-limbed Fabian Delph was bought as a replacement for the ageing Yaya Toure at Manchester City.
Instead, the pattern is repeating. Arsenal conceded flimsy goals to both Olympiakos and Dinamo Zagreb, with the underdogs walking through the centre of the pitch on both occasions. In Zagreb it was Mikel Arteta (1 tackle, 3 interceptions) proving flaky; against Olympiakos it was Santi Cazorla drifting out of position.
Arteta had a 25% tackle success rate against Dinamo Zagreb (left), and Cazorla offered little defensive support to Coquelin against Olympiakos (right). Key: Xs = tackles; Diamonds = interceptions.
STATS ZONE Free on iOS • Free on Android
Manchester City were guilty of similar weakness for both Juventus goals in their 2-1 defeat at the Etihad. Paul Pogba was not adequately closed down by Fernandinho as he crossed for Mario Mandzukic's equaliser, and Alvaro Morata scored a late winner after Fernandinho failed to track back when Juventus countered.
Note the absence of defensive work from Fernandinho in central areas against Juventus (left), and by the whole Man City team in the same match (right). Key: Black triangles = fouls conceded; Grey blocks = blocks.
Against Wolfsburg, Manchester United's Schweinsteiger pressed high up the pitch to create huge gaps in central midfield between himself and Morgan Schneiderlin (exactly as he did against Arsenal last weekend), and Chelsea's Cesc Fabregas has been infamously underperforming all season.
READ THIS Why Fabregas's Saints display is epitomising Chelsea's current predicament
Schweinsteiger struggled to influence the game against Wolfsburg (left), and Man United made only 5 successful tackles in central areas (right). Key: Xs = tackles; Black triangles = Fouls conceded.
These failings are alarming in themselves, but the consistency of the pattern suggests something far more damaging: English clubs don't possess the craft and cohesion of Europe's most tactically astute outfits. This is difficult to capture in statistics, but all four clubs have been moving in loose defensive formations that are seemingly adequate in the Premier League where counter-attacking football dominates.
The only solution to this problem is more progressive coaching, which will most likely occur only via an influx of European coaches; Jurgen Klopp's imminent appointment at Liverpool should provide an interesting template which may in time help England flourish. Louis van Gaal has similar potential, and Manchester United look generally tighter than under David Moyes' stewardship.
Set-pieces
The second-most notable flaw has been something that is infuriatingly simple to cure – sloppiness of thought that, as well as explaining the high volume of counter-attacking goals against England's contingent, reveals why there have been five goals from corners in the English clubs' five defeats.
Porto scored from a near-post corner against Chelsea, PSV equalised with a header from a simple corner routine against Man United, and Arsenal have conceded from three corners in their two games to date.
Porto's winner against Chelsea (left) and Zagreb's winner against Arsenal (right) were both from corners.
PSV's opening goal against United (left) and Olympiakos's opener at Arsenal (right) also came from corners.
There isn't an excuse for this. Individual errors and poor mentality are always to blame for these patterns, and it's here that we can define England's second-biggest problem in the Champions League: attitude.
Part of the reason why top European teams tend to play with a swarming unified structure is their greater desire towards the collective. It may be overly simplistic to assume that the inflated wages of Premier League stars affect their self-sacrifice, but the pattern must be explainable somehow. Toure is the ambling archetype of a player unwilling to bust a gut for an innocuous tackle, or throw himself in front of a shot for the greater good, but there are plenty of other examples – from Fabregas at Chelsea to Ozil at Arsenal.
Perhaps, however, a lack of defensive urgency is in fact intertwined with the issues in central midfield; scratch the surface, and both factors are connected to quality of coaching and the organisation imposed by Premier League managers. New foreign arrivals in the dugout may soon change this, and as the season progresses – once Schweinsteiger settles down and Delph returns from injury – England may put up a greater fight. But until then, those woes in the Champions League look set to continue.
NOW READ THIS Stats Zone's European Team of the Month: three in from the Premier League, but who?
More features every day on FFT.com • Analysis
STATS ZONE Free on iOS • Free on Android
Quizzes, features and footballing fun
Get the best features, fun and footballing frolics straight to your inbox every week.
Thank you for signing up to Four Four Two. You will receive a verification email shortly.
There was a problem. Please refresh the page and try again.