Nike have remade the Ronaldo Zoom Mercurial boots – and it's made our year
The Nike Zoom Mercurial Vapor 15 Elite SE FG boots take a classic colourway and reimagine an icon from our childhood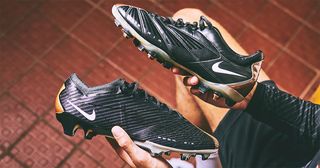 (Image credit: Pro Direct)
Nike have done it again, haven't they? The Nike Zoom Mercurial Vapor 15 Elite SE FG boots have reimagined a classic for 2022 – because you can never have too much Ronaldo nostalgia.
It's 20 years since El Fenomeno took Japan and South Korea by storm wearing Mercurial Vapors – but between wearing the silver/blue/yellow Vapors of '98 and the silver/volt versions four years later, there were the Zoom Air Unit boots that these beauties are based on.
Black with touches of copper colour and with a white sole, Ronaldo wore an inverse version, too, that were copper and black. That's what the current Nike boots are inspired by – including Kylian Mbappe's signature Mercurials that he's wearing for the World Cup knockouts.
The Nike Zoom Mercurial Vapor 15 Elite SE FG boots are a thing of beauty
Mercurial Vapors have come a long way in 20 years, you'll (not) be surprised to hear.
The technology may be a million miles on from what the likes of R9 used to play in but the principles are the same. This is a boot built for slight of foot, it's streamlined and it looks a million dollars.
"This special version salutes the Nike Air Zoom Mercurial VT, our first football boot ever to sport a full-length Zoom Air unit, released in 2001," Nike says. "The hints of synthetic leather, copper hints and glossy finish give this game-changer a distinct retro vibe."
Buy the Nike Zoom Mercurial Vapor 15 Elite SE FG from Pro Direct (opens in new tab)
Image 1 of 5
The tiny touches are the nicest, too. There's the same "Zoom Air" text down the sides, a similar white soleplate and the lines emanating from the laces to the heels like a sunburst are modelled on the leather stitching from the 2001 originals.
They're the best Nike boots you can buy right now… arguably the best boots of 2022, full stop.
Buy the Nike Zoom Mercurial Vapor 15 Elite SE FG from Nike (opens in new tab)
Image 1 of 3
Nike Zoom Mercurial Vapor 15 Elite SE FG
A slice of nostalgia, this tribute to some of the best boots of all time is particularly stunning
Specifications
Colourway:
Metallic Copper/Metallic Copper
Studs:
Firm ground, soft ground, multiground, artificial grass
Reasons to buy
+
Unbelievably light
+
Great traction
+
Beautiful design
Thank you for reading 5 articles this month* Join now for unlimited access
Enjoy your first month for just £1 / $1 / €1
*Read 5 free articles per month without a subscription
Join now for unlimited access
Try first month for just £1 / $1 / €1