10 hardcore Football Manager 2018 challenges you need to try
Looking for a fresh gig on the management sim? Mark Langshaw picks 10 of the toughest tasks to have a crack at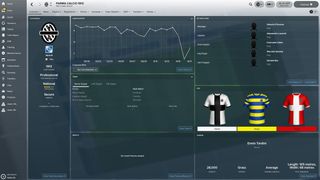 10. Get Stockport County back into the Football League
During the 1998/99 season, current Premier League champions Manchester City were competing in the old Division Two. Little more than 10 miles down the road, Stockport County were playing their football one tier above the Sky Blues.
While the Citizens have been transformed since then, Stockport's fortunes have declined just as drastically and they're now languishing in the National League North, having dropped out of the Football League for the first time in their history in 2011.
Those after a long-term project on FM18 should look no further than the Hatters, a club with history dating back to the early 1900s and that arguably belongs in the Football League.
With a transfer budget of sweet FA behind you, it's a tough first season in the regionalised sixth tier – what with the likes of York City and Salford sure to stake their own claims for the title. But Stockport easily have one of the strongest squads in the division. Back-to-back promotions would be no mean feat, though.
9. Win European honours with Celtic
No disrespect to Brendan Rodgers, but the true measure of a Celtic manager is his ability to compete at a continental level. The legendary Jock Stein was the last Hoops boss to lift European silverware aloft in 1967 when his Lisbon Lions mauled Inter Milan.
Celtic are one of those teams you can take charge of on FM18 and win the league without too much fuss. The likes of Rangers and Aberdeen might offer some resistance, but you should probably consider uninstalling the game and playing FIFA instead if you fail to bring home the Scottish Premiership title.
The real challenge where the Glasgow giants are concerned is making a mark in Europe, and this should be your long-term target. Be prepared to play either counter-attacking football or a containment game at the highest level, as you'll often find yourself outgunned.
Success in either the Champions League or Europa League (should you drop into it) is a tall order in your first season – and even in your second. But keep those domestic Trebles rolling in, invest smartly and youthfully, and the ultimate goal of competing on the continent can be more than a pipedream further down the line.
8. Succeed where Ronald Koeman failed at Everton
Farhad Moshiri's millions fuelled a sense of optimism at Everton last summer, but within 10 matches it had all gone horribly wrong. Ronald Koeman's pre-season spending spree turned out to be money squandered, the Blues were in the bottom three of the Premier League and their Europa League campaign was in tatters.
It sounded like a job for Sam Allardyce – and it was – but fast-forward to the present day and he hasn't exactly brought the glory days back to Goodison Park. Think you can do better? Everton are no less challenging to manage on FM18 that they've proved in real life.
You'll have an ageing squad to contend with, half a dozen failed signings to clear out and just £11m to play with at the start of the campaign. The Toffees are definitely a project, though, and investment trickles in if you keep in line with the board's expectations.
Promising youngsters including Tom Davies, Dominic Calvert-Lewin and Ademola Lookman (who will return from his RB Leipzig loan for season two) give you a solid foundation to build from – but be prepared to bring in new faces if you want to compete at the right end of the table in your maiden campaign.
7. Get Parma back into Europe
Parma were European mainstays throughout the 1990s, rarely finishing outside of Serie A's top six until their troubles set in the following decade. They lifted two UEFA Cups and one Cup Winners' Cup before administration derailed them in 2004.
That was merely the beginning of their financial woes, though, and in 2015, bankruptcy tore them apart and forced them to reform as a Serie D outfit.
The club now known as S.S.D. Parma Calcio 1913's journey back to the top of the pyramid has been relatively smooth. Back-to-back promotions have put them in the second tier this season and, as things stand, a return to the top flight is in their own hands.
Your job on FM18 is to emulate their feats this season by navigating your way through Serie B with a transfer kitty of £2.46m and wage budget of £126,318. From there, it's bound to get tricky – Parma's ultimate ambition is to become a force in Europe once again.
6. End TNS's dominance in Wales
If Celtic are a shark in a goldfish bowl up in Scotland, then Welsh champions The New Saints are like one of those prehistoric megalodons up against similarly helpless marine life. They've won their domestic league for the last seven seasons and have been an unstoppable force in the Welsh football since becoming its only full-time professional club.
Overthrowing TNS and competing with them for silverware is a big ask, but it's doable within a number of seasons of smart resource management at one of their semi-professional rivals. Bangor City, who have several ex-Football League veterans including Gary Taylor-Fletcher and Danny Holmes on their books, are a prime candidate to attempt this feat with.
NEXT: Orange hats at the ready...
5. Emulate Sean Dyche's feats at Burnley
Burnley have been perennial relegation battlers throughout their top-flight existence, yet this season they've secured themselves a Europa League passage for finishing seventh.
Most FM18 challenges involve succeeding where real-life coaches have failed, or awakening a sleeping giant of some kind, but in Burnley's case you'd have to match Dyche's accomplishments with transfer funds of £7.95m and a wage budget of £897k.
Like most pundits in the run-up to the season, Football Manager seems to have Burnley pegged as potential relegation fodder – even the board's expectations are simply to avoid plummeting into the Championship. Going one better than that is a challenge to really separate the men from the boys.
4. Write history with Atlanta United
The Liverpool fans who sing "you ain't got no history" at their Chelsea counterparts would be in their element if they ever played Atlanta United. Major League Soccer's relative newcomers literally have no history, having only joined the league last year. That makes them a tantalising prospect on FM18; a blank slate on which you can carve an identity.
Backed by the vast bank balance of Atlanta Falcons owner Arthur Blank, the club has impressive resources behind it – including the 70,000-capacity Mercedes-Benz Stadium and a sizeable wage budget, though spending power of just £1.2m makes things tough to start out.
Expectations at Atlanta United are high. The board is after an MLS Conference final in season one and expects you to guide the team to at least the semi-finals of the US Cup. That's hard going when you're up against established teams such as the New York Red Bulls, Seattle Sounders and David Villa-fronted New York City FC.
However, with players like Ezequiel Barco, Miguel Almiron, Josef Martinez and former Aston Villa goalkeeper Brad Guzan among your ranks, there's a solid foundation to build your American Dream upon.
3. Get Girona into Europe
When your entire squad is worth just £37m and you're up against teams like Real Madrid, Barcelona, Atletico Madrid and Valencia every week, nobody can blame the pundits for giving your club a heavy tarring.
That was the situation that La Liga newcomers Girona were faced with at the beginning of the campaign, but results such as their 2-1 victory over Real Madrid before Christmas rapidly changed perceptions.
Your mission of FM18 is to go one better than a top-half finish and get Girona into Europe – and there's a good reason why this is doable. The club have an ace up their sleeve in the form of a partnership with Manchester City, which has seen several Sky Blues starlets end up there on loan.
At present, there are a handful of City prospects cutting their teeth in La Liga with Girona, including Larry Kayode, Douglas Luiz and Aleix Garcia. Tapping into this partnership is the key to success at Girona, since that £1.17m transfer budget won't go very far.
2. End Saint-Etienne's trophy drought
Most people are under the illusion that PSG are France's most successful club of all time, perhaps understandably given their dominance in recent years. Technically speaking, though, that honour goes to Saint-Etienne, who have won Ligue 1 10 times thanks to their own period of glory in the 1970s.
Their last silverware was won way back in 1981, though, and it'll take a lot of skill and technical know-how to change that on FM18. The team are on course for a top-six finish in real life this season, so there's potential to work with, but many of their best players such as Stephane Ruffier and Loic Perrin are now the wrong side of 30. New blood is a must.
There isn't a great deal to work with in terms of budget and facilities at Saint-Etienne, so be prepared to strap yourself in for the long haul. Focus on expanding your scouting network and developing youth in the short term. Knocking PSG off their perch is a goal for the distant future.
1. Make the Dutch great again
From Johan Cruyff to Dennis Bergkamp, the Netherlands have been responsible for the greatest players ever to play international football – but recent years have been far removed from such a legacy.
Since finishing third at the 2014 World Cup, Holland have failed to reach two major international tournaments back-to-back, sacked three bosses and sent an SOS to Ronald Koeman in the hope that he can do a better rebuilding job than he managed at Everton.
But there are reasons to be upbeat about your prospects in FM18. Dutch clubs tend to prioritise youth development these days, and there are some fantastic young prospects already in the full international setup such as Ajax trio Matthijs de Ligt, Donny van de Beek and Justin Kluivert.
These three can serve as your vanguard as you prepare to usher the Dutch into a new age where their glory is no longer consigned to the history books. Keep an eye on the talent making waves at under-21 and other youth levels, and there's no reason why your Holland side won't be competitive again by the time Euro 2020 comes along.
How to make awonderkidin Football Manager 2018
Football Manager 2018 tactics: what to do – and what to definitely avoid
The 20 best coaches in Football Manager 2018
Quizzes, features and footballing fun
Get the best features, fun and footballing frolics straight to your inbox every week.
Thank you for signing up to Four Four Two. You will receive a verification email shortly.
There was a problem. Please refresh the page and try again.