How to make a wonderkid in Football Manager 2018
Want to develop your own Kylian Mbappe or Gianluigi Donnarumma in FM 2018? Good news: you can, so long as you stick to our step-by-step guide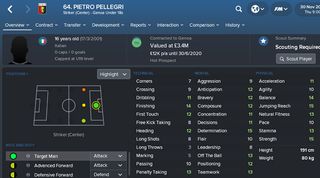 For most virtual football managers, there's no better feeling than developing the next best talent in world football. The tricky bit is not necessarily to spot a gem, but to nurture the prospect so he can reach his full potential.
The good news is that developing youth in Football Manager 2018 is mostly an exact science. So as long as you stick to the following guidelines, you're very likely to be successful...
Is he worth it?
Many times you'll come across young players who seem to have exciting attributes, and therefore we assume they will become world-beaters. But that first impression is often misleading thanks to a couple of things: the youngster might be already close to reaching his full potential, and second, we haven't yet found out what his hidden attributes are like – something that can only be revealed via thorough scouting.
If the player you are evaluating isn't in your team, start scouting him for at least three to four weeks (to give the scout enough time to collect more data and polish his report). Pay attention to your scout's Judging Player Potential attribute – you really want to know who's worth the investment and who's not. However, if the player is already at your club, inspect Coaching Reports and see what the staff member with the best Judging Player Potential attribute says about him.
If he's already 21 and hasn't reached half of his potential, he will never be able to get to that level, so consider dropping such unworthy prospects. Be mindful that, although many of a player's Cons can be fixed using tutoring, Injury Proneness and Natural Fitness cannot be changed.
Get him on the right track
Once you know you've found a worthwhile youngster, it's time to increase his chances of becoming a star. The first thing you want to do is check his Personality and, if you can't find this on his list, then look for a model professional to start tutoring him in: Model Citizen, Perfectionist, Resolute, Model Professional, Professional, Fairly Professional, Spirited, Very Ambitious, Fairly Ambitious, Ambitious, Driven, Determined, Fairly Determined, Charismatic Leader, Born Leader, Leader, Iron Willed and Resilient.
Players with low Determination will never fulfil their potential, so if your prospect happens to be in this situation then you must ensure that he changes his ways as fast as possible. Find an ambitious senior player with a good personality and ask him to 'mentor the youngster off the field'.
Training
The senior and reserve/U23 squads all fall under the same training programme, while U18 is separate. Generally, you will have better coaches in the senior squad. If your youngster's physical attributes are decent and you think he's better than the prospects in the U23 squad move him there, even if he's only 17 – but make sure he gets enough playing time. Of course, you need to weigh in the quality of your youth and senior training facilities – if the former is significantly better the latter, you could give him a season or two there.
Note: Make sure you instruct the managers of your reserve and youth squads to play matches with first-team tactics; this can be done in Staff – Responsibilities – U23/U18.
Now, consider retraining him to play in another position if his attributes better suit other roles, or just to enhance his versatility. Set his training to the role you think he will perform best in and address his weaknesses by setting an Additional Focus – concentrate on physical attributes first and then on the technical ones.
There's one more thing you should try to do with attack-minded players: ask the technical/attacking coach to help them develop their weaker foot. You can do this from the Development panel, under New Player Trait – Technique Training. Remember that this trick is more likely to work with younger players.
Should I loan out my hot prospect?
Besides a player's personality, the club's training facilities and the coaching team's overall quality, an U18 youth will need senior match experience in order to grow. The right time to start giving him senior playing time is when he is capable of getting a decent Average Rating – it has to be over 6.80 to sustain player development.
Begin by granting him 20 to 30 minutes of play with the seniors in cup matches or unimportant fixtures, making sure they won't jeopardise your team's chances of achieving the desired result (for example, bringing a young player on when you are at least 2-0 up against weak opposition). As long as he performs decently and you can afford to give him around five matches per season, keep him in the U23 squad. Otherwise, consider loaning him out.
When a youngster reaches the age of 18, he will require more senior match experience. Again, keeping him in the reserve squad but offering him around 10 matches with the first team should do the trick; otherwise consider options at other clubs.
When thinking about loaning out your talent, check out the training facilities at a prospective club, the domestic league's reputation and the strength of the teams in their division. You want your player to have good morale in order to perform at his best and get good average ratings, otherwise you risk doing more harm than good with a loan move.
Regarding the loan contract, you have to make sure he receives a First Team squad status, otherwise he might not get enough playing time. Even so, it's not a bad idea to evaluate the other options that the team currently has in that position. Nevertheless, include a 'Can be recalled' clause in case you need to end negative experiences as soon as possible. Also, if you aren't concerned about calling him back and the player being cup-tied on his return, add the 'Can play in cup matches' clause to allow him the chance of more playing time.
Finishing touches
Recommended
There's not necessarily one right or wrong way when deciding what to do with your top youngsters. Sometimes the situations aren't easy to anticipate and you might find that one of your hottest prospects is going through a bad experience. Some clubs simply lack the financial power to make it feasible for you to turn a talent into a true superstar.
However, if you do your homework, take your time to go deeper to find the best method and never rush into taking big decisions, you should be able to get the most out of your promising youths.
Football Manager 2018 tips and advice
The 95 best Football Manager 2018 wonderkids… sorted by budget
Football Manager 2018 tactics: what to do – and what to definitely avoid
The 11 best Football Manager 2018 free agents
10 unmissable Football Manager 2018 release clauses
4 essential Football Manager 2018 tips that will make you a better player
14 amazing Football Manager 2018 bargains for under £1 million
Thank you for reading 5 articles this month* Join now for unlimited access
Enjoy your first month for just £1 / $1 / €1
*Read 5 free articles per month without a subscription
Join now for unlimited access
Try first month for just £1 / $1 / €1
Get FourFourTwo Newsletter
The best features, fun and footballing quizzes, straight to your inbox every week.