10 reasons to stay tuned to the Bundesliga despite Bayern's dominance
Bayern Munich have made the Bundesliga title chase more of a leisurely stroll, so Jonathan Harding tells you why to stay interested...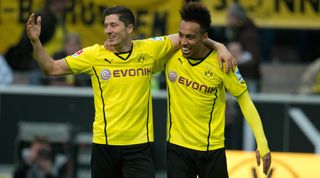 1) The league's wing wonders
Away from Bayern Munich and Borussia Dortmund, there's a lot to be said for the Bundesliga's wide-men. Direct running, intelligent deliveries and nifty footwork lead the way, but it's the goal-getters who are really standing out. Hoffenheim's Roberto Firmino has 18 goals and 13 assists in all competitions this season. Add team-mate Kevin Volland (9 goals, 7 assists) to that and you have one of Germany's most highly rated partnerships. Augsburg's André Hahn, recently called up for Germany duty, has scored 10 and assisted 7, and although Stuttgart's 17-year-old Timo Werner might not boast the best of stats - 4 goals, 4 assists – he's made 25 appearances already for the club this season.
In many of Germany's teams, wingers have become decisive. Freiburg's Jonathan Schmid (3 goals, 9 assists) started his side's comeback in their 3-2 win over Leverkusen at the end of January - potentially saving a seemingly doomed season - while Switzerland hotshot Josip Drmic has rescued Nürnberg (winless before the winter break) with 11 goals and 3 assists from the right wing (mostly). The best thing about all of these players - Mainz's Nicolai Müller and Wolfsburg's Maximilian Arnold included - is that nearly all are under 23. It onky makes Bayer Leverkusen left winger Julian Brandt (17) all the more of an exciting prospect.
SEE ALSO Five Bundesliga youngsters fit for Premier League stardom (opens in new tab)
2) Hahnsinn at Augsburg
It was hard to believe at first, but now Augsburg look set to stay in the top half of the table it really is time to show some love to Markus Weinzierl and his side. With more points (35) after 23 games than in the whole of last season, they deservedly sit seven places clear of relegation. Even a potential disaster doesn't look likely, with 10 games to go.
Looking at their squad, it's miraculous. Their most expensive player is Hahn (valued at around €5 million), whose price tag has only recently rocketed after his fine performances were rewarded by a Germany call-up (making him the first Augsburg player in over 40 years to be involved in the senior squad). In captain Paul Verhaegh, former Arsenal goalkeeper Alex Manninger and Bundesliga veteran Halil Altintop, Augsburg have the right characters in their spine. And although Hahn has become the youthful face of the squad, this is not a club bursting with the usual Bundesliga potential. Leaders like Tobias Werner and Ragnar Klavan have combined well with clever loan signings (Dong-Won Ji from Sunderland and Raphael Holzhauser from Stuttgart) to make this group of individuals click collectively. At the heart of it all is boss Weinzierl, a knowledgeable and intelligent manager destined for much more at just 39. Whatever the outcome, it's worth watching where they finish in this remarkable season.
3) Hyypia's hustlers on the slide
Sami Hyypia's Bayer Leverkusen team were marching in the first half of the season, but because of the phenomenon that is Bayern, their progress was overlooked. They were leading the chasing pack by four points, looked set to make a German Cup semi-final and were ready for the test of Paris Saint-Germain in the Champions League.
The stollen must have been off over the winter break, however, because since then Hyypia's men have added only six points from six league games (12th in a table representing the second half of the season), succumbed to a cup upset by losing 1-0 to second-division hopefuls Kaiserslautern and were embarrassed by PSG in the first leg (4-0) to make their Paris trip all but irrelevant. That's not to say progressing through their group in Europe or giving Dortmund a scare isn't an achievement, but Leverkusen fans now seem resigned to not finishing second - which in the Bundesliga at the moment is certainly something to shout about.
While a potential future stint at Liverpool may be at stake for the Hyypia, for Leverkusen it's about not wasting another strong start. Can the Finn prove his side are laying down the right foundations for future success with a podium finish full of promise?
4) Hoffenheim loving goals more than life itself
If anyone is looking for a Bundesliga club to support, or a reason to watch more Bundesliga football, then Hoffenheim are it. In the team's 23 league games this season, 100 goals have been scored, with an almost even split of 52 scored and 48 conceded. Bayern, the side battering opponents at will, have only managed a meagre 76 (although that's because their defence is really, really good).
The reason for the Sinsheim outfit's 4.3 goals-per-game average is manager Markus Gisdol's outscore-the-opponent philosophy. His defence, affected by a young goalkeeper in Koen Casteels lacking command, are prone to poor positioning and individual errors. But his attack brags two of the most exciting players in the league (the aforementioned Firmino and Volland), and with the assistance of Sebastian Rudy and club veteran Sejad Salihovic in midfield, they're often capable of compensating for their defensive frailties.
But make no mistake - this is a hit-and-miss team. The weekend's 6-2 win against Wolfsburg is balanced out by a 4-0 hiding from Nürnberg (who hadn't won in 17 beforehand), a 2-2 draw against Dortmund (that really should have been a win) and a 6-2 thumping of their own against now-struggling Stuttgart. They are Jekyll and Hyde, but that's why they're so great.
SEE ALSO Everything you need to know about... Kevin Volland (opens in new tab)
5) The Dinosaurs' survival bid
Like an original soap opera, Hamburg have seen characters leave, dealt with left-field developments and upstairs domestics. Having "turned a corner" with a seemingly season-resurrecting 3-0 win over Borussia Dortmund, the northerners were set to seize on the momentum of new manager Mirko Slomka. Then they promptly lost 1-0 to Werder Bremen, a side with the third-fewest goals this season (26).
Unlucky or not, the club's seesawing form won't be enough to keep them out of the relegation battle come May. Add to this a backdrop of traditional values clashing with suitcases of investment, a Dutch captain struggling to see where he fits and a defence bereft of confidence and riddled with injury, Hamburg's fate is a must see.
6) Vorsprung durch coaching
It's well documented that Germany boasts more qualified coaches than England, and the number of young, exciting managers in the Bundesliga is proving it. There may not be that much of a difference between the average age of managers in the Bundesliga (45.3) and the Premier League (49.7), but while Germany's top-flight managers are fresher faces (Gertjan Verbeek aside, perhaps), they've been hitting the books.
The crop of managers who graduated from the 57th class of the prestigious Hennes-Weisweiler Academy (Germany's leading coaching academy built on the concepts of Sepp Herberger – the man behind the Miracle of Bern in 1954) is intriguing: Markus Gisdol (Hoffenheim), Thomas Schneider (Stuttgart), Sascha Lewandowski (Leverkusen's co-manager last year, now a youth coach at the club), Tayfun Korkut (Hannover), Michael Wiesinger (Nürnberg's former manager) and Markus Weinzierl (Augsburg).
As much as we laud the progress and development of players, Germany are attempting to do the same with managers. On the whole, the Bundesliga appears to have found the right balance between development and time. Despite Stuttgart's run of eight straight defeats, the club have stuck by Schneider with faith that suggests it is not the message but the application that is wrong. Freiburg have taken the same approach with their manager Christian Streich.
At Augsburg, Weinzierl has certainly got a number of admirers considering his modest-budget wonders at the club, but it's Mainz manager Thomas Tuchel who stands out. Since his appointment in August 2009, only four clubs – Bayern, Dortmund, Leverkusen and Schalke – have collected more points than Mainz (1.40 on average) in the Bundesliga. His tactical knowledge is underrated, his belief unwavering and his potential exciting. With an excellent level of English and love of the English game, don't be surprised to see him end up at a club near you.
7) The rebirth of the single pivot
After the 4-2-3-1 formation saw its stock rise dramatically in recent years, Pep Guardiola has sporadically integrated the 4-1-4-1 formation this season. Watching Bayern domestically has now become more about the details than the result, and so attentions have turned to how Philipp Lahm occupies the solitary defensive midfield position.
The rest of the league is included in that list of spectators. Exactly half of the teams in the Bundesliga have also used the single-pivot system at least once this season. Of those nine, Schalke and Dortmund have only once tried it and with no success – Jens Keller's former got hammered 5-1 by Bayern (failing to play them at their own game) and Nürnberg held Dortmund (1-1). In fact, Nürnberg manager Verbeek has seemingly fallen in love with the formation. His side's form has taken a dramatic turn for the better since former-winger Mike Frantz converted into a solid single-pivot prospect. Under Markus Weinzierl, Augsburg have flirted with the formation six times this season (2 wins, 3 draws and 1 defeat), with Daniel Baier doing an admirable job.
The other nine sides have either stubbornly stuck with the coveted 4-2-3-1, a variation of 4-4-2 or swapped between the two. Interestingly enough, Leverkusen have not wavered from a 4-3-2-1 formation in the league this season. It's worth watching on to see whether or not more than half of the league will have tried out Guardiola's version by the end of the season.
8) Jürgen Klopp
Need we say more about the league's most charismatic manager, who recently became Dortmund's most successful manager in Bundesliga history? Didn't think so.
9) The battle for the golden boot
Leverkusen striker Stefan Kießling's defence of his golden boot, or 'cannon' as it's known in the Bundesliga, was on course after nine goals in his opening 14 games. Since then, though, he's added only one in nine, allowing his scoring rival Robert Lewandowski to take charge (15 goals). A surprise contender this season is Hertha Berlin's Adrian Ramos, who has found the net 14 times, which is enough to share second with Bayern's Mario Mandzukic.
Dortmund's speedy winger Pierre-Emerick Aubameyang (13) has also adjusted swiftly. Hoffenheim's Firmino (12), Nürnberg's Drmic and Hamburg man Pierre-Michel Lasogga (both 11) have been pivotal to their respective clubs but remain outsiders for the award. Thomas Müller's odds would also be tempting (10 domestically, 20 in all competitions). If Kießling gets firing again, the battle against Lewandowski will be interesting. If he doesn't, it seems unlikely that anyone will catch Lewandowski, who is clearly not lacking motivation to finish in pole position before swapping Dortmund for Bayern.
10) Finale frenzies elsewhere
Although the title race won't last until the final day, the races for Europe and survival seem destined to go the distance. One of the best features for this in Germany is the Konferenz – the action-automated channel changer - the equivalent of Soccer Saturday - in which you are taken from game to game depending on where the action is. It can leave the viewer feeling a little disjointed, especially if they are keen to watch a certain battle unfold, but for final-day drama it's the perfect platform. And the best part? The final two set of fixtures in the Bundesliga will all kick off at the same time (15:30 CET). Synchronised mayhem.
Thank you for reading 5 articles this month* Join now for unlimited access
Enjoy your first month for just £1 / $1 / €1
*Read 5 free articles per month without a subscription
Join now for unlimited access
Try first month for just £1 / $1 / €1
Get FourFourTwo Newsletter
The best features, fun and footballing quizzes, straight to your inbox every week.