5 things Wenger should do to finally win the Premier League again
The Premier League has been infiltrated by super-gaffers over the summer, so where does that leave its veteran? Robert O'Connor explains how the Frenchman can keep up with the new kids on the block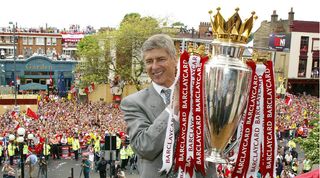 This will be the 13th season since Arsenal were last crowned champions of English football. If it is to be Arsene Wenger's lucky number, possibly even rounding off a 21-year career in the Emirates hot seat with one final open-top bus ride through N5 with the Premier League trophy hoisted high, there are a few boxes that need checking. Otherwise this chapter may be brought to a close at Arsenal with the muted fanfare of a barren, trophyless and all-too-predictable finale...
1. Handle the future now
Whether this is Wenger's last season or not, the club's management must learn from the destabilising effect that the announcement of Manuel Pellegrini's successor in February had on Manchester City's season.
The longer the club – and the man himself – goes without making their position on the future clear, the more frequent and probing the rumours will become. The board must have cringed over the awkward way the situation at City panned out, knowing full well that the same scenario could befall them too. Their next move will be the most crucial and heavily scrutinised decision they ever make; one wrong step could wreak havoc.
2. Invest in Gabriel
There were times last season when Gabriel looked every bit the skilful, composite defender that Wenger recognised at Villarreal in La Liga. There were other times he certainly didn't. But the Brazilian is technically excellent on the ball and tailor-made for helping Arsenal move the ball from back to front in a way that is so necessary to their style. He's also quick across the ground, which is invaluable when paired with the tottering Per Mertesacker.
But it will all be for nought if someone at Arsenal isn't able to teach him the virtues of a cool head and measured discipline in dealing with the breakneck speed of the Premier League. During two games when Arsenal's season was most conspicuously on the line – at Old Trafford in March when they sought to cement their title credentials, and at Upton Park a month later when they sought to rescue them – the Brazilian let his side down badly, gifting preventable goals to Marcus Rashford and Andy Carroll. Gabriel has the potential to be brilliant but also naive. He needs to decide what kind of defender he wants to be.
3. Take care of Giroud
To suggest that Olivier Giroud is anything less than an excellent player would be churlish and fundamentally unfair on a player who grabbed 24 goals last season, but something isn't right. The Frenchman went missing altogether for three months after scoring a sublime goal at Anfield in January, and Arsenal's stuttering title challenge took its toll on the confidence of a striker whose mental state is more fragile than many realised at the start of last season.
Giroud needs the love of the Emirates crowd
With no obvious sign of reinforcements on the horizon, Wenger needs to find a way to get Giroud going from August to May, and finding someone in his squad who can support him at the sharp end (just as Antoine Griezmann did for France) could buoy his confidence – and his numbers. Otherwise expect more of the same from this frustrating, frustrated maverick.
4. Will the next Gilberto please stand up?
In truth, it's not the only position that has looked threadbare at Arsenal since the mid-noughties. The same can be said for the spaces vacated by Sol Campbell, Thierry Henry and Robert Pires, none of whom have been replaced by a player of comparable quality. But it's the area of the pitch ahead of the central defence, Arsenal's soft underbelly, which exposes them season after season.
There have been steady improvements. The rock-solid 2-0 win at Manchester City in January 2015 was a prime example of Wenger's team standing up to a challenge, one that had floored them with a 6-3 defeat 12 months before, and it's been some time since they've looked like a team that could ship six on any ground in the Premier League. And yet, Southampton won 4-0 at St Mary's on Boxing Day, there was a catastrophic collapse at West Ham, and the team failed to turn up entirely at Old Trafford against a weak-looking Manchester United.
Francis Coquelin tries, and is effective when straining every sinew, while Granit Xhaka has the potential but remains unproven in the Premier League. As a unit the team is crying out for a Gilberto Silva or Patrick Vieira, someone who will take two steps backwards and head away everything that comes near the back four, or who can turn defence into attack in one devastating yet balletic manoeuvre. N'Golo Kante came and went from the transfer market and will seek a second Premier League winners medal in blue rather than red, and Wenger is again left with a bundle of cash, a gaping hole and a ticking clock.
5. Don't crowd out the youth
Theo Walcott and Alex Oxlade-Chamberlain have been worthy servants for Arsenal, and they deserve the respect of the club and fans despite their more recent performances. Both looked on the verge of an exit at one stage earlier in the summer but talk has since been extinguished, and unless someone with deep pockets steps forward both look to be sticking around.
What cannot happen is both to be left in the side to perform duties they have long since ceased to fulfil, while the next generation rots on the vine. Alex Iwobi showed everyone his promise last season and can be excused the inconsistencies of youth, while Chris Willock has whipped up a frenzy of excitement around London Colney and beyond through his performances with the under-21s. Both look ready – Iwobi much closer, admittedly – to assuming the mantle that weighs heavy on the shoulders of Walcott and the Ox. Neither should find opportunities limited while the first team stagnates.
Quizzes, features and footballing fun
Get the best features, fun and footballing frolics straight to your inbox every week.
Thank you for signing up to Four Four Two. You will receive a verification email shortly.
There was a problem. Please refresh the page and try again.