9 of football's best penalty-saving goalkeepers
Fulham's Marcus Bettinelli saved two spot-kicks in as many minutes in the Cottagers' 4-1 FA Cup win over Hull. Tim Ellis identifies some more net-minders who somehow had the upper hand from 12 yards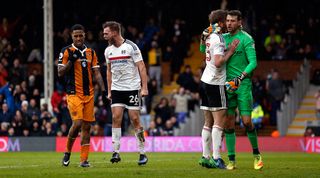 1. Paul Cooper
In the early 1980s, Ipswich Town went desperately close to landing the old First Division title under Bobby Robson. A key part of that team was goalkeeper Cooper, who saved eight out of 10 penalties he faced in 1979/80.
Net-minders weren't allowed to move their feet back in those days of tight shorts and dodgy mullets, so Cooper instead leaned to one side and swung his arms about to put the taker off. "I remember mimicking him in the playground," David James said years later. "It was a bizarre technique, but it worked."
2. Diego Alves
Valencia's Diego Alves has saved an incredible 20 of the 42 penalties he's faced in La Liga, and 23 from 46 overall for los Che. He broke the Spanish top-flight record previously held by Andoni Zubizarreta when he denied Leganes player Alexander Szymanowski in September, before pulling off a remarkable double against Atletico Madrid in October 2016 by keeping out both Antoine Griezmann and Gabi at the Mestalla.
"It's great that players fear taking penalties against me," the Brazilian said after the game, which Atletico still won 2-0. "I try to wait as long as I can before committing and put doubt in the taker's mind. And by contrast, I never have any doubts."
Cristiano Ronaldo, Lionel Messi, Diego Costa, Ivan Rakitic, Mario Mandzukic and Fernando Llorente are among his lengthy list of victims.
3. Cammy Bell
The Dundee United keeper is thought to be the first man in world football to stop three spot-kicks during a single half of football, with Dunfermline's Gary Reilly, Nicky Clark and Paul McMullan all denied within the first 33 minutes of a match in September.
His saves proved pivotal, with the Tangerines going on to win 3-1 despite being reduced to 10 men in the second period. For those who worry about such matters, his feat was snubbed by the Guinness Book of Records because they don't recognise lower-league matches. The snobs.
4. Will Norris
Cambridge man Norris had an outstanding start to 2015/16, saving five penalties in the first two months of the League Two campaign. The most memorable spot-kick dramatics were the two injury-time stops he pulled off in a 2-1 win over Accrington at the beginning of October, with Chris Eagles and Terry Gornell both failing to score.
Norris wasn't named man of the match, though, with the award instead going to team-mate Leon Legge, who gave away the first penalty and was sent off as a result. Those sponsors really do need to hold on before deciding.
5. Samir Handanovic
At one point in his career, Handanovic had saved 26 penalties from the 57 he had faced in competitive play. In the 2010/11 season, the Slovenian stopped six penalties in Serie A while playing for Udinese, before repeating the trick for Inter in 2014, keeping out half a dozen consecutive spot-kicks in all competitions.
"When a player takes it properly, it's impossible to save it," Handanovic admitted. With a save ratio of 67% from all shots last season, he probably has a better chance than most.
43.8% - Samir Handanovic has saved seven of the 16 penalties faced since 2014/15 for Inter (43.8%). Savior.November 3, 2016
6. Jean-Marie Pfaff
Pfaff made a name for himself on debut for Belgium by saving a penalty against the Netherlands, with his reputation then growing across the continent when the Red Devils reached the final of Euro 1980.
The permed shot-stopper thwarted 64.3% of the spot-kicks he faced at Bayern Munich, saves which played a big part in the Bavarians scooping three Bundesliga titles.
7. Kevin Trapp
The German goalkeeper's technique is centred on remaining as composed as possible, Trapp recently admitting that he decides which way to dive long before the kick is taken.
When PSG's No.1 kept out a Marseille effort from 12 yards in October 2015, he received a very special commemorative award – a kiss from pop princess Rihanna, who was pictured in the crowd alongside those other famous football luminaries, Kendall Jenner and Gigi Hadid.
8. Mickael Landreau
Landreau retired in 2014 after a distinguished career that included 11 international appearances for France. The ex-Nantes and PSG custodian was nicknamed 'Monsieur Penalty' in his homeland after keeping out six straight spot-kicks between 2006 and 2009. Given that he halted almost 40 takers in his career, the epithet was well deserved.
His most memorable moment of kidology came against PSG's Ronaldinho, when Landreau stood just two metres away from his right-hand post in a French League Cup tie. The Brazilian aimed for that corner and Monsieur Penalty duly saved.
9. Kenneth Vermeer
Vermeer was unbeaten from the spot from between February 2012 and March 2014 while playing for Ajax, saving seven penalties in total – including an excellent stop from Borussia Dortmund's Mats Hummels in the Champions League.
"It's good to be important again," he said after the final stop, in a semi-final success against AZ Alkmaar. "But we did it all together."
Thank you for reading 5 articles this month* Join now for unlimited access
Enjoy your first month for just £1 / $1 / €1
*Read 5 free articles per month without a subscription
Join now for unlimited access
Try first month for just £1 / $1 / €1