Arda Turan move just the latest sign that Barcelona are no longer 'more than a club'
Declan Warrington analyses the fallout following the Catalan side's purchase of the Turkish attacker...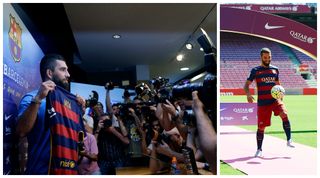 Should the £24 million arrival of Arda Turan be followed by the departure of Pedro, it would be just the latest sign of Barcelona's abandonment of the philosophy so carefully constructed by Pep Guardiola until 2012, and by Johan Cruyff a generation before him. Barca's success during their four years under Guardiola – and it was staggering; their masterful 2010/11 team was arguably the greatest in history – and the style in which they pursued it were far from the only reasons they were so widely admired.
Observers acknowledged a club philosophy like almost no other: La Masia's prolific nurturing of world-class talents – with an unrivalled on-field intelligence and understanding – had been rediscovered by their manager, a disciple of Cruyff, after years of unnecessary neglect.
Damaging debts
Like most during the modern era, Barca had accumulated huge debts – funding vanity signings like Patrick Kluivert – when all they had required was an individual, like Guardiola, with the vision, faith and stature to reconnect the club's separate elements and balance them with the needs of the first XI.
It is often overlooked that, when the risk was taken to employ the inexperienced Guardiola to succeed Frank Rijkaard in 2008, Jose Mourinho – very much the Spaniard's managerial antithesis – had also been seriously considered, and that Andrey Arshavin, in a different philosophy, was a potential recruit.
Equally that in the victorious Champions League final against Arsenal just two years earlier, when the Barca side between the eras of Cruyff and Guardiola reached its peak, Iniesta, at 23, only played as a substitute and Xavi, 26, remained on the bench. Rijkaard's midfield that night comprised of Deco, Edmilson and Mark van Bommel; Guardiola instead signed £5m Gerard Pique from Manchester United's reserves, combined Xavi, Iniesta and Lionel Messi as La Masia had intended (showing the conviction to sell Deco and Ronaldinho when almost no other would have done) and built Barca's, and the world's, greatest ever team.
ALSO ON FFT.COM
La Masia graduates
His resignation at the end of 2011/12, after 13 trophies including three La Liga titles and two Champions Leagues, understandably disrupted, but there is little justification for the considerable changes that have occurred since.
In Cesc Fabregas and Thiago Alcantara, Pep had already identified the successors to Iniesta and Xavi. The core of his team remained young and there were other Masia graduates – Cristian Tello, Isaac Cuenca, Martin Montoya, Gerard Deulofeu – swiftly progressing.
To suggest they were not of the level required is to forget that, in a different era under a different manager, Pedro and Sergio Busquets – hugely influential when Spain won the World Cup in 2010, the former a world-class talent, the latter perhaps the best defensive midfielder on the planet – also would have been sold because of the presence of Yaya Toure and Thierry Henry, who previously occupied their positions.
Four years on, Fabregas and Thiago are no longer at Barca. Alexis Sanchez has left, and the suspicion remains that Xavi, Victor Valdes and David Villa would still be in Catalonia if their manager was.
Bad buys
It was ultimately Guardiola's decision to resign in 2012, to take the admirable option of a year's sabbatical to learn German in New York before succeeding Jupp Heynckes at Bayern Munich. He left Barcelona against their wishes but with an exceptional legacy for any successors.
The late Tito Vilanova was taken by throat cancer less than a year after his appointment; since then, Gerardo Martino and Luis Enrique have overseen expensive regimes almost unrecognisable from what Guardiola had in place.
Of those signed since 2012 only Jordi Alba, Aleix Vidal and Neymar would have been certain to get Pep's approval: Claudio Bravo and Marc-Andre ter Stegen are both quality keepers but at least one would not have been needed had Valdes been retained.
The classy Ivan Rakitic, at £14.5m, and Turan would similarly have been unnecessary had Fabregas and Thiago been used as Guardiola intended (their presence would have meant Iniesta occasionally occupying some of the advanced positions Turan will). He would also have found alternatives to Thomas Vermaelen, at £15m an eye-watering waste of money and, signed at the age of 30, £16m Jeremy Mathieu.
Panic measures
No doubt Luis Suarez, one of the world's finest players, would have tempted Guardiola – whose transfer policy is hardly flawless, as the expensive-yet-disappointing arrivals of Alexander Hleb, Zlatan Ibrahimovic and Dmitro Chygrynskiy show – but the £75m spent on him felt a panic measure after a year of decline.
Admiration for the Treble-winning triumvirate of Messi, Suarez and Neymar is perfectly natural, but whether they are collectively superior with Suarez than they would instead have been under Guardiola with Sanchez, or Pedro, or possibly Villa, Cuenca or Tello, is certainly in doubt.
The Spain national team has similarly suffered. Unexpectedly, they are not what they were when winning Euro 2012 at the end of Guardiola's reign. The decline of Carles Puyol and Xavi had been foreseen, and Vicente del Bosque continues to have almost-unrivalled strength in depth, but he no longer has a core at one club, under one philosophy, as he previously relied upon. If Guardiola's departure, at club level, has cost in excess of £125m on transfers, a greater collection of trophies and inhibited the world's finest production line, has it also cost Spain a major trophy and short-term success?
The romance is over
Until 2012 Barca complemented their core Masia players with suitable Latin recruits; they had a style of play no other could replicate, and their formula was so refined they demonstrated the perfect system.
Three years later the football still delights and the trophies are still coming but Barcelona are unrecognisable: the romance replaced by pragmatism, their transfer policy unlike any other; even Messi is more direct.
"Barca has lost [their values] and before anything else there should be principles, values," Cruyff said earlier in July.
"Values like La Masia have been lost. Before it was a magical word, now that has disappeared."
Read great features every day on FourFourTwo.com
Quizzes, features and footballing fun
Get the best features, fun and footballing frolics straight to your inbox every week.
Thank you for signing up to Four Four Two. You will receive a verification email shortly.
There was a problem. Please refresh the page and try again.