Bouvet Island's World Cup qualification chances receive welcome boost
The subantarctic island is now eyeing 2026 glory, Back of the Net can reveal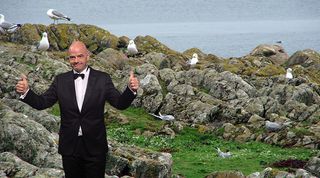 FIFA's decision to increase the World Cup to 48 teams from 2026 has been enthusiastically received by the Bouvet Island Football Association and several other uninhabited atolls.
While critics have suggested that the new format will devalue places in football's flagship competition, it has provided much-needed encouragement to many potential competitors who have so far been thwarted by a lack of international fixtures, a structured league system or a resident human population.
Qualification assured
Just hours after FIFA's announcement, Bouvet Island issued a statement congratulating the game's governing body on their forward thinking and making its case for hosting future tournaments.
"For far too long we've been overlooked just because literally nobody lives on Bouvet Island," a spokesman for the Bouvet Island Football Association told FourFourTwo.
"But looking at this new 48-team format, I can hardly see a way that we won't make it to the 2026 World Cup.
OFFICIAL: FIFA confirm World Cup will have 48 teams from 2026

Groups: 16

Days: 32

Matches: 80

#WorldCuppic.twitter.com/5pdf9UkpxH
— FourFourTwo (@FourFourTwo) January 10, 2017
"I believe that if we can get a point off Clipperton Island and beat Palmyra Atoll home and away then we're pretty much there.
"That said, Palmyra Atoll is a tough place to go and get a result, largely due to the complete lack of any flights there and the erosion of its airfield since World War II."
Future hosts
Bouvet Island has presented its dossier for hosting future World Cups, which would be contested largely on pack ice and dormant volcano craters.
"I know some people will say that a World Cup shouldn't be played in extreme weather conditions in a location where nobody will come and watch and there's no local interest in the game, but they're forgetting that Qatar are hosting it in 2022," the nation's dossier begins.
The rest of the document appears to contain breeding statistics for southern elephant seals and Antarctic fur seals.
Zavodovski Island has also registered its interest in entering future FIFA competitions, but has hit out at the governing body's stubborn insistence that players must be humans rather than chinstrap penguins – a rule that will be debated at FIFA's next conference.
Please note: This fictional news story is not real. Like, obviously.
Thank you for reading 5 articles this month* Join now for unlimited access
Enjoy your first month for just £1 / $1 / €1
*Read 5 free articles per month without a subscription
Join now for unlimited access
Try first month for just £1 / $1 / €1
Get FourFourTwo Newsletter
The best features, fun and footballing quizzes, straight to your inbox every week.