Baffled statisticians find chances of Arsenal drawing Bayern Munich were 100%
The Champions League draw doesn't abide by the law of averages, Back of the Net reports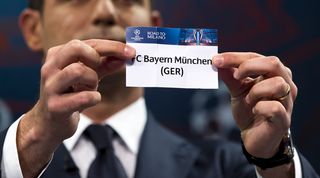 Extensive research from Europe's leading mathematicians has revealed that the likelihood of Arsenal drawing Bayern Munich was 'at least 100%', suggesting that the way we understand probability is fundamentally flawed.
Statisticians had set out with the logical hypothesis that Arsenal could draw Bayern Munich, Benfica, Bayer Leverkusen, Real Madrid, Porto or Sevilla in the last 16 of the Champions League, but when researchers set up a computer programme to simulate the draw they found the Gunners were paired with Bayern in every one of the 100,000 draws they performed.
Even when Bayern were deleted from the draw simulation, Arsenal still managed to be drawn against them.
This apparent statistical anomaly led the team from the European Institute of Statistics to suspect a fault with their algorithm, but they found that manually attempting to override the system and putting Arsenal alongside Sevilla caused a potentially devastating ripple effect.
"As soon as Arsenal's name was written next to Sevilla, the entire computer system started to crash," researcher Professor Damien Byrne told FourFourTwo.
"Then the lights in the building started to flicker and the ground shook.
"We looked outside and the sky had turned blood red. So after that we put Arsenal back playing Bayern and everything went back to normal."
Glitch
Observers have reported that at exactly the time Arsenal were paired with Sevilla, manager Arsene Wenger appeared to lose his material form and briefly took the appearance of Pep Guardiola, before reappearing as the draw was righted, insisting that he hadn't had a good view of his brief sublimation.
"It appears that we may have opened a portal to a parallel universe where Arsenal had a decent shot at getting through to the quarter-finals," Byrne admitted.
"It's my belief that this is the strongest evidence yet to support the multiverse theory that our universe is just one of an infinite number of universes simultaneously playing out.
"We've always tended to rule that out because no rational mind can conceive of a universe where Arsenal don't disappoint in Europe any more than it can imagine someone apart from Wenger on the touchline, or the fans at the Emirates putting together an audible chant."
Please note: This satirical news story is not real. Obviously.
Thank you for reading 5 articles this month* Join now for unlimited access
Enjoy your first month for just £1 / $1 / €1
*Read 5 free articles per month without a subscription
Join now for unlimited access
Try first month for just £1 / $1 / €1
Get FourFourTwo Newsletter
The best features, fun and footballing quizzes, straight to your inbox every week.