Brazil's slow-motion enigma: How Paulo Henrique Ganso went from hero to zero and (most of the way) back again
Sevilla's new signing has enjoyed plenty of highs and endured many lows in recent years, but Jack Lang explains why he might finally be ready to take Europe by storm...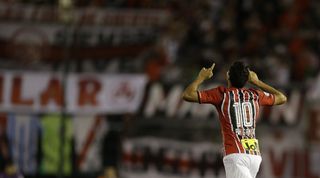 Even in the early days, before the hype and the hardship, he was different. Otherworldly, almost, drifting nonchalantly through matches and through life. While others scurried around making work for themselves, everything looked so easy for Paulo Henrique Ganso.
He was a first-team player at 17; a year later, his contract at Santos included a €50million buyout clause. Soon there were trophies, awards and Brazil caps. Ganso took it all in his languid stride, collecting assists as though they were going out of fashion, yet rarely operating at anything beyond walking pace.
Brazilian midfields can be battlegrounds, all sound and fury. Ganso, though, played as if he had exclusive access to a pause button, floating into space and spinning intricate webs of passes from behind the strikers. Tall and impossibly elegant, he was a throwback to golden age of the playmaker, a Gérson or a Sócrates refracted through Juan Román Riquelme's wonky Technicolor lens. He scored goals, but that felt like little more than a necessary concession to modernity; through-balls were his business, and business was good.
Sudden downturn
Sure, Neymar hogged much of the limelight. That much was inevitable: he was a walking J-pop haircut with the words 'joy' and 'daring' stitched onto his boots, whereas Ganso looked like he read Nietzsche in his spare time. But the midfielder seemed to thrive in his team-mate's shadow, plotting a more calm, cautious course through the early stages of what looked destined to be a glorious career.
A number of the world's biggest clubs were hovering with intent. Superstardom seemed inevitable. And then... nothing. Ganso's career fell off a cliff.
At first, it seemed like nothing more than a bump in the road. Ganso disappointed at the 2011 Copa América, but then so did most of his Brazil teammates. Besides, he had an excuse: a cruciate ligament injury had sidelined him for seven months and his progress had been further disrupted by a series of niggles in the weeks that followed. Nor was Ganso alone in underperforming when Santos were humbled by Barcelona in the final of the Club World Cup, although that game would provide ample fuel for critics who questioned whether such a cerebral talent could cut it against top-level opposition.
Protracted struggles
But the dip became a malaise. The gala displays that helped Santos to state championship and Copa do Brasil glory in 2010 became ever more rare, with Ganso at times cutting a frustrated figure. Perhaps the novelty value had worn off: Brazilian defences wised up to his subtle stylings and combatted them accordingly, often with force that he never quite figured out how to withstand.
Away from the field, Ganso angered Santos fans by refusing to deny rumours linking him with a transfer to rivals Corinthians. Some suspected foul play on the part of DSI, the investment group that owned a portion of his economic rights and was known to have links to power-brokers at Corinthians. Slowly but surely, his status as a model 'Menino da Vila' – as the products of the Santos youth system are known – was eroded.
Gradually, too, the comparisons with Neymar began to cast Ganso in a less positive light. While the forward, two years Ganso's junior, was gregarious in interviews and TV appearances, his cohort was gruff. (The pair once appeared in a Brazilian approximation of Hollyoaks. Neymar was in his element; Ganso looked like he wanted to die.) When the good times were rolling, his detached persona came across as cool and aloof. When they weren't, he seemed grumpy and a bit weird.
By the time Neymar signed for Barcelona in 2013, Ganso had already swapped Santos for São Paulo, hoping to start again after burning his bridges once and for all. (Peixe supporters, disgusted at the manner of his exit, defaced his image on a mural at club's training ground and showered him with coins when he returned to the Vila Belmiro with his new team.)
But things would get worse before they got better: Ganso struggled to make an impact and it wasn't long before his fitness and commitment were called into question – both by the press and by teammates, who, it emerged later, would secretly joke that having Ganso in the side was like playing with 10 men.
Dichotomous dilemma
For a couple of years, no player in Brazil would take up as many column inches as the man from Pará state. Ganso's struggles became an odd proxy for all sorts of causes and complaints, from laments about squandered potential to sympathetic missives about the waning importance of intelligence in the modern game.
Ganso became two different people: a lazy, unfit waste of space to his critics and an omniscient creative savant to his supporters. "I miss a Ganso that never existed," wrote former Brazil striker Tostão in one of his frequent meditations on the midfielder, neatly capturing the dilemma.
The reality, of course, was somewhere in between the two extremes. Certainly, Ganso is no natural athlete and can look disinterested and detached when the juices aren't flowing and the system's not calibrated to his needs. He's undoubtedly a player who requires a level of indulgence and sacrifice from teammates. But when he gets it right, there are few more enchanting, as São Paulo fans discovered when Ganso began to rediscover his mojo.
Ganso scores for São Paulo
In the second half of 2014, under Muricy Ramalho (who also coached him at Santos) and alongside Kaká and Alexandre Pato, the passes began to flow again. Balls zipped between centre-backs and looped tantalisingly over full-backs. Ganso made Placar magazine's team of the season and there were signs that some of the old bullishness was beginning to return: "I don't see anyone who is above average like me," he opined after being overlooked for Brazil's World Cup squad. He followed that up with 14 assists (equalling his record tally) in 2015, some of them genuinely beautiful.
European adventure
2016 has brought Ganso's best run of form since 2010 and a recall to the national team. Now, at Sevilla, he belatedly embarks on an adventure that once looked destined to remain in the hypothetical. "It's the perfect moment to tackle the challenge of playing in Europe," he said in a goodbye letter to São Paulo, and he's probably right: his skin is thicker now, his convictions more firm. Expectation levels, which reached stratospheric heights during his Santos pomp, have been tempered; that he is heading to Sevilla, rather than Barcelona or Paris Saint-Germain, should also work in his favour.
It may all end in tears, of course: his has been a career defined as much by missteps as by mastery. But after going from hero to zero and then most of the way back again in his homeland, Paulo Henrique Ganso finally looks prepared to go from cult concern to genuine star. Any lover of football's creative arts will have their fingers firmly crossed for him.
Thank you for reading 5 articles this month* Join now for unlimited access
Enjoy your first month for just £1 / $1 / €1
*Read 5 free articles per month without a subscription
Join now for unlimited access
Try first month for just £1 / $1 / €1
Get FourFourTwo Newsletter
The best features, fun and footballing quizzes, straight to your inbox every week.