British football still reassuringly crap
English and Scottish football has been hailed as a beacon of stable incompetence in a rapidly changing world, Back of the Net reports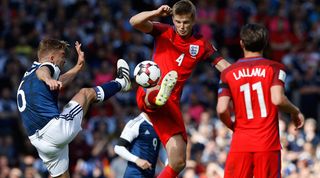 The auld enemies drew 2-2 at Hampden Park, in a match that proved that no matter how chaotic and unpredictable British politics might be, the whole country can take comfort in its football teams being useless.
Alex Oxlade-Chamberlain's goal looked like securing a barely-merited victory for England, until Leigh Griffiths' free-kick seemed to have scraped a point for Scotland that their performance hardly warranted. 
Griffiths' second goal seemed to have put the Scots on course for three thoroughly undeserved points, until Harry Kane's late equaliser gave the Three Lions a draw they had done little to earn.
"When [Leigh] Griffiths scored his second [goal], it looked like we might have something to celebrate [a victory], which filled me with uncertainty and fear," said Scotland fan Barry McLeod.
"When [Harry] Kane equalised, I was gutted but strangely comforted, as though normality had returned. There'll always be a Scotland, and we'll always be shite."
England fan Linda Stockley said: "Part of me thinks [Joe] Hart should be dropped for being a bit rubbish, but Joe [Hart] always being a bit rubbish is one of the few certainties I can still cling to.
"Politics-wise, sure, the old world is dying and a new one struggles to be born. But football-wise, we'll always have a one-paced midfield, an accident-prone defence, and a striker to partially mask the failings behind him. Good times."
Elsewhere, Wales failed to hang on to a lead against Serbia and Northern Ireland just scraped past Azerbaijan, thus proving that an increasingly divided kingdom will always be united by footballing crapness.
Please note: This satirical news story is not real. Like, obviously.
Quizzes, features and footballing fun
Get the best features, fun and footballing frolics straight to your inbox every week.
Thank you for signing up to Four Four Two. You will receive a verification email shortly.
There was a problem. Please refresh the page and try again.