Champions League: 11 things to look forward to in the knockout stages
Europe's premier club competition returns, and there are plenty of intriguing things to watch out for for the rest of the season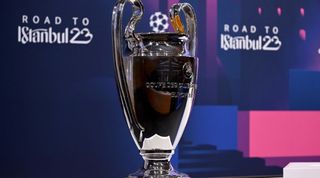 (Image credit: Getty Images)
After a longer break than ever - cheers, World Cup 2022 - Europe's biggest club competition returns for the knockout stages with a self heralded Swede on the warpath and one English manager looking to prove his doubters wrong.
There are still plenty of games to be played in the Champions League, with glory to be had and despair to be felt - and, quite literally, FourFourTwo cannot wait for the drama ahead to unfold.
Delving deeper into the most fascinating storylines ahead of the Champions League knockout stages resuming with PSG vs Bayern Munich and AC Milan vs Tottenham, anything and everything can happen as the last-16 ties kick-off.
1. Mohamed Solah (definitely this time) exacting revenge
"Now it's revenge," Salah said, before Real Madrid were even confirmed as Liverpool's 2022 Champions League Final opponents. The Egyptian couldn't resist making his intentions clear after disposing of Villarreal – either Madrid or Manchester City came next.
"We have a score to settle," he posted on Instagram with the former guaranteed.
That score specifically was 3-1 – the margin by which the Reds lost the 2018 final, Sergio Ramos strong-arming Salah off the field not to return, and in the 2021 last eight.
Paris was supposedly the moment Salah laid his ghosts to rest, only for the Reds to fall 1-0. Salah will have his vengeance, though, in this life or the next.
A few months ago, it was looking like the next, until Liverpool were drawn to face Real Madrid yet again, in the last 16 of this season's competition.
Could it be Mo's night this time? Despite their poor 2022/23 league form, the Reds are chasing a return to Istanbul's Ataturk Stadium, 18 years on from their Milan miracle.
2. Lautaro Martinez and Romelu Lukaku not being hopeless
Inter's two strikers had a personal duel at the World Cup to see who was least likely to hit a cow's backside with a banjo.
Sure, Martinez won the thing but his own performances fell off a cliff. After having two goals disallowed for offside in the surprise defeat to Saudi Arabia, he got dropped for Julian Alvarez before proceeding to stink up the place whenever he came on as a sub.
And things were even worse for Lukaku, who must have wished he hadn't bothered battling back from injury, missing so many chances against Croatia the entire planet was beginning to feel a bit sorry for him.
It's been a stop-start campaign for the Belgian in his second Nerazzurri spell, but Martinez's record has been solid – he hit eight goals before the World Cup, and added three in four upon Serie A's resumption.
3. Erling Haaland stopping Manchester City making a mess of it
Manchester City probably should have two or three Champions Leagues by now, but insist on finding new and increasingly amusing ways to screw it up every year.
Last term, it wasn't even Pep Guardiola's random tombola of tactics he generally saves for big European nights. Instead, spare a thought for Jack Grealish, who came on with City 5-3 up on aggregate in the semi-final at the Bernabeu, had a shot cleared off the line, another saved by Thibaut Courtois, then saw Real Madrid's zombie XI rise from the dead with two goals in stoppage time.
The bookmakers' favourites are now calling upon artificial intelligence – Erling Haaland snaffled five Champions League goals in his opening three City appearances, taking his tournament tally to a silly 28 in 23 games. Put the ball in the box, and the goal bot has been programmed to pounce faster than @Dave3759802 defending Brexit on Twitter.
4. Jude Bellingham back in the spotlight
Everybody has known about Bellingham's potential for some time, but this has been the 19-year-old's breakout season at the highest level, even before the World Cup.
A Champions League goalscorer aged just 17 in a quarter-final against Manchester City two seasons ago, Bellingham ensured there would be no repeat of Borussia Dortmund's surprising group-stage exit last term, netting in each of their first four fixtures in 2022/23 against FC Copenhagen, City (again), then in two matches against Sevilla. At the Ramon Sanchez Pizjuan, he even captained the side.
As a host of suitors circle, Bellingham will hope to come thundering back into the English spotlight when Dortmund take on Chelsea in the last 16.
5. A second chance for Mykhailo Mudryk and Joao Felix
Chelsea's new attacking duo were both knocked out of this season's Champions League in the group stage – now the Blues have given them another go at it.
Despite £89 million man Mudryk tearing RB Leipzig apart in Shakhtar Donetsk's first group fixture this term, using his searing pace to provide two assists and score his first ever Champions League goal in a 4-1 away win, Shakhtar lost 4-0 to Leipzig in their final group match and was consigned to third place.
Atletico Madrid didn't even manage that, finishing rock bottom of their group. Diego Simeone kept Felix on the bench for three of the six matches with coach and player not exactly getting on well, prompting the Portuguese forward's loan to west London.
Hopefully his Champions League bow for the Blues goes better than his Premier League debut against Fulham – try not to tackle someone at knee-height and get sent off, Joao...
6. Scott Parker as Bruges boss
After Bruges/Club Brugge (the world is yet to make its mind up) won one in five league games – dropping to fourth in the table – and lost 4-1 at home to Sint-Truiden in the cup in December, manager Carl Hoefkens got the heave-ho - despite guiding the Belgian champions through to the Champions League knockout stages with a couple of games to spare.
His replacement? The ex-Bournemouth and Fulham manager Scott Parker, in a rather left-field change of direction for a boss who was last seen losing 9-0 at Anfield.
Parker has presumably gone to Belgium to break free from his role as the yoyo king, before Norwich or Watford drag him kicking and screaming back to the Championship.
Parker would probably have to go some to get Bruges/Club Brugge relegated, although he did lose his first match against Genk after admitting he didn't know much about his squad, the league or the end-of-season play-off system.
7. Napoli finally making the quarter-finals
The Little Donkeys have made it beyond Christmas in each of their past 12 European campaigns, but then it always goes wrong.
Their three appearances in the last 16 of the Champions League have all ended in defeat – to Barcelona, to Real Madrid, and even to Chelsea when they were 3-1 up from the first leg, in the year the Blues went on to lift the trophy for the first time.
Napoli have never made the quarter-finals of this competition, not even back in Diego Maradona's day, and they may never get a better chance than this season.
Runaway leaders of Serie A at the halfway stage, they won their Champions League group for only the second time ever, and go into the last 16 as overwhelming favourites to beat Eintracht Frankfurt. History is the prize for victory.
8. Harry Kane's rematch with Olivier Giroud
The last time Kane and Giroud met, it didn't go very well for the Spurs man. Six minutes after Giroud headed France 2-1 up in the sides' World Cup quarter-final in Qatar, Kane blasted his penalty into the Arabian Gulf and England's hopes of glory were over.
It was probably the toughest moment of the talisman's career, but he deservedly had the sympathy of a nation. Now Kane is ready to face Giroud again in the Champions League last 16, his first knockout tie since the 2019 final against Liverpool, having missed Spurs' last 16 loss to RB Leipzig with injury two years ago.
Aged 36, the evergreen Giroud already has four Milan goals in the Champions League this term – the ex-Arsenal and Chelsea striker won't expect a particularly warm welcome for the second leg in north London on March 8.
9. Zlatan recreating Joe Jordan vs Gennaro Gattuso
Milan against Tottenham in the Champions League last 16 conjures up one image – sorry, Crouchy, it's not your San Siro goal.
At the end of that same 2011 showdown, the frontman's heroics were overshadowed by a colossal coming together of two eras: Seventies hard man vs Noughties hard man, as Joe Jordan went toe-to-toe with Gennaro Gattuso in a battle for the history books.
The Italian had already taken the risky decision to shove Jordan during the game itself, and by the final whistle the Scot was ready for a duel (taking his glasses off), only for Gattuso to headbutt the Spurs assistant and receive a four-match suspension.
Will there be similar shenanigans this time? On his way back from ACL surgery, Milan's 41-year-old forward Zlatan Ibrahimovic has vowed that, "When I come back, I'll do it with violence". Whether he's on the field or not, Spurs' backroom staff had better watch out
10. Neymar's (very ambitious) bid for the Ballon d'Or
Already, the 2023 Ballon d'Or looks likely to be contested between Lionel Messi and Kylian Mbappe, after their roles in an epic World Cup final in December.
Rivals in Doha, they've now been reunited at PSG for the French club's latest Champions League assault, which pits them against Bayern Munich in the last 16. If Messi or Mbappe wants the Ballon d'Or though, finally delivering the Champions League to Les Parisiens would certainly help, but it also involves one needing to outshine the other.
Forget it, Leo: Kylian's not passing the ball to you in a Champions League game until around late November. Don't think Neymar's given up, either: yes, he struggled with injury at the World Cup, but the Brazilian could be a man on a mission. All he needs to do is score 100 Champions League goals before season's end, wrestling Messi and Mbappe off dead balls with even greater petulance than usual, and the Ballon d'Or could be his. Even then, it'll probably still be Messi, to be honest.
11. Sebastien Haller ripping it up again upon his return
Haller smashed 11 goals in last season's Champions League – not bad, considering Ajax got eliminated in the last 16.
That secured the ex-West Ham forward a summer move to Dortmund – however just two weeks later, the 28-year-old was diagnosed with testicular cancer, requiring surgery and chemotherapy.
Given the green light to step up his training in early January, he scored an eight-minute hat-trick during a friendly against Basel. Rarely will a player be so motivated when the knockout stages start.
Thank you for reading 5 articles this month* Join now for unlimited access
Enjoy your first month for just £1 / $1 / €1
*Read 5 free articles per month without a subscription
Join now for unlimited access
Try first month for just £1 / $1 / €1
Get FourFourTwo Newsletter
The best features, fun and footballing quizzes, straight to your inbox every week.
Ryan is a staff writer for FourFourTwo, joining the team full-time in October 2022. He first joined Future in December 2020, working across FourFourTwo, Golf Monthly, Rugby World and Advnture's websites, before eventually earning himself a position with FourFourTwo permanently. After graduating from Cardiff University with a degree in Journalism and Communications, Ryan earned a NCTJ qualification to further develop as a writer while a Trainee News Writer at Future.