Chris Waddle: Perfect XI
"When I was working in a sausage factory, he was one of the first players to catch my eye"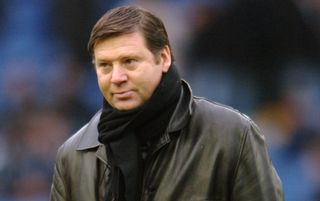 Goalkeeper
Ray Clemence
Never committed himself in one-on-ones, always stayed big and made strikers beat him. Great awareness, too – the amount of times he used to catch the ball and within seconds it would be at your feet out on the wing... he was also a good talker and had the winning mentality after playing for Liverpool.
Right-back
Roland Nilsson
At Sheffield Wednesday he was at the top of his game. People forget how good he was. Very disciplined, rarely caught out of position, rarely made mistakes. A very good reader of the game who kept it simple and never tried anything he thought he couldn't do. Also had fantastic fitness levels and would get box-to-box. Played for Sweden for many years and played club football until he was 38.
Centre-back
Carlos Mozer
A sweeper-cum-centre-half who I played with for three years at Marseille. Exactly as you'd expect from a Brazilian, he was technically out of this world, but if you wanted a fight, he'd fight you. He could lose his head at times, but I've never seen anyone as good in the air. He could have played in any position. A must.
Centre-back
Terry Butcher
Everybody associates him with the bloody bandage – and he was good in the air and strong in the tackle – but he was very cultured and had a great left foot. Great in the dressing room, always rallying the troops. While we listened to Bon Jovi, he'd be listening to confidence-boosting psychological tapes. He hated losing – he used to go around before kick-off saying "caged tigers" to us – but on off days he was as mad as Gazza and involved in most of the daft things we did.
Left-back
Kenny Sansom
Rarely gets a mention but a great player and another great man to have in the camp. Quick, had a great left foot, read the game brilliantly and his passing was excellent – never gave the ball away. Played more like a continental full-back, but was very difficult to play against. Never went to ground; he used to take the ball off you without diving in. Would wait for you to overrun it and nick it.
Right midfielder
Peter Beardsley
I'd play a 4-5-1 formation so Peter's on the right even though he didn't play there. A wonderful talent who could make and score goals, he worked so hard for the team. He had tremendous power in his right foot and great awareness. Wonderful technique but very unselfish.
Central midfielder
Bryan Robson
In this team, you need a midfielder to do some defending. A lot of people think of Captain Courageous, and he was brave and committed, but Bryan scored goals and his passing was very underrated. Brilliant at timing his runs into the box. When the going got tough, he'd be there. He'd let his players know if they weren't doing their jobs and his will to win was way above most. He'd have to be captain.
Central midfielder
Paul Gascoigne
I first saw Gazza when he was 14. He was talented, but so slow we wondered if he could get round the pitch. But he grew, lost the puppy fat and became quicker. Very strong, with the vision, flair and character to go with it. The ideal footballer, technically and socially. Great value; never a dull moment.
Central midfielder
Glenn Hoddle
When I was working in a sausage factory, he was one of the first players to catch my eye. What a talent! If he'd gone abroad sooner he'd have been regarded as one of the best players in the world. Like a quarter-back in American Football: you'd make runs and he'd just drop the ball at your feet. I've never seen such a technically gifted player with both feet. Scored some cracking goals too.
Left midfielder
John Barnes
People think he under-achieved for England but playing on the wing you're relying on service and we had to double up in defence with the full-backs, so we were making a lot of our runs from deep. What John achieved for Liverpool and the number of caps he won was fantastic. An all-round footballer with a great knowledge of the game. Technically excellent, strong, quick, a great dribbler and could score goals with both feet and his head from any angle.
Striker
Jean-Pierre Papin
I'm going for Papin, with Lineker on the bench. The only difference is he scored goals from 35 yards as well as five and could score any type of goal from any angle. We hit it off straightaway. We'd talk about runs he'd make when I got the ball. He was so dedicated. He practised his finishing religiously every day, so scoring goals became a habit.
Substitutes
There are so many to choose from, but I'll go for Peter Shilton, Manuel Amoros, Richard Gough, Abedi Pele, Ossie Ardiles and Gary Lineker.
Interview: Louis Massarella. From the December 2004 issue of FourFourTwo.
Quizzes, features and footballing fun
Get the best features, fun and footballing frolics straight to your inbox every week.