Giggs dazzles Welsh FA with presumed credentials
The former Manchester United man's imaginary coaching abilities made him the standout candidate, Back of the Net can reveal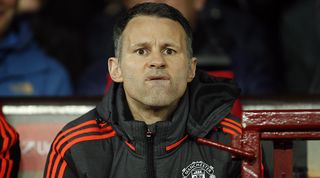 The Football Association of Wales (FAW) has opted to appoint Ryan Giggs as the next national team boss after he impressed the interview panel with a glittering array of assumptions about his ability to do the job.
While Giggs's complete lack of coaching pedigree worried naysayers, he set the FAW's minds at ease within minutes by talking confidently about the tactical nous he presumes he has, and the respect he can only imagine he will command from the players.
By the end of the interview it had become clear to the decision-makers that only Giggs had the vision required to lead Wales to a string of imaginary glories.
"Ryan pointed out that as he'd been a very good player it therefore stood to reason that he'd be a very, very good coach. It was hard to argue with that logic," an insider at the FAW told FourFourTwo.
"He spent the rest of the hour-long presentation showing us Photoshopped pictures of him lifting various trophies with the Wales squad and singing a charming chant in his honour that he'd taken the liberty of penning on behalf of Welsh fans.
"It was hard not to be impressed and even a little moved, especially when Giggsy started tearing up as he regaled us with an anecdote about a young Welsh fan who was able to see for the first time after Ryan ran his hands over his face following the 2022 World Cup final win over Germany, utilising his assumed ability to heal with touch."
Time efficiency
Members of the panel have also stressed their relief that Giggs didn't get bogged down in discussing his track record as a manager, saving everyone valuable time.
SEE ALSO
Stoke players determined to get relegated anyway
Arsenal will have to pay for Coquelin to be taken away, Valencia confirm
"When we interviewed Chris Coleman we had to overlook his stuttering spell at Coventry and his failed experiment in Greece, but with Ryan we didn't have any of those concerns – there was literally nothing to talk about," our insider recalled.
"Someone mentioned an interim spell at Manchester United but Giggsy couldn't remember it clearly and said he could only imagine it had gone swimmingly. That was good enough for us.
"Now we just have to work out a way to convince him to turn up for friendlies."
Please note: This satirical story is not real. Like, obviously.
Quizzes, features and footballing fun
Get the best features, fun and footballing frolics straight to your inbox every week.