Could MLS overtake Serie A?
Following a glut of transfers from Italy to the USA, Alex Baker examines if the gap between the two championships is narrowing...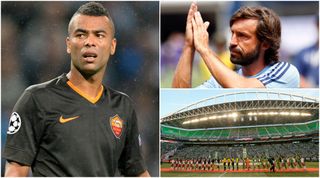 With Antonio Nocerino currently the subject of a tug-of-war between D.C. United and Orlando City, the released Milan midfielder looks set to become the latest in a growing list of players plodding the increasingly well-worn path from Serie A to Major League Soccer.
It's a list that also includes Nigel de Jong, Ashley Cole, Kaka, Andrea Pirlo, Michael Bradley and Sebastian Giovinco. So many players choosing to jump ship to MLS over joining another club in Italy begs the question: what could MLS possibly have to offer over Serie A?
A retirement league?
Unlike the big-name foreign imports we've seen MLS bring over in years past, many of these players could still be seen as being in their prime (or at least have several good years left): De Jong is 31, Nocerino 30, and Giovinco only 29.
At 36, Pirlo is a bit more 'vintage'. But we're talking about Andrea Pirlo, a midfielder who is still among the finest in the world and who contested the Champions League final against Barcelona less than a year ago. Like many of these players, the former Milan and Juventus maestro could still walk into half the top-flight teams in Italy.
Even Kaka, at the slightly more advanced age of 33, recently told FIFA TV that the door at Milan remains open for him, but that he prefers to be at Orlando City.
Think about that. Kaka, a World Cup, Champions League, Serie A, and Ballon d'Or winner, choosing to represent Orlando City – a club that only existed on paper two years ago – over Milan, a seven-time European champion, and one of the most storied clubs in the game. And Kaka is still getting call-ups for Brazil.
It's a far cry from six years ago when David Beckham, at the behest of his Italian manager Fabio Capello, went on loan from LA Galaxy to Milan in order to remain in contention for England's World Cup squad. Last year, Capello's compatriot and Italy coach, Antonio Conte, had no problems calling up Pirlo and Giovinco for Italy's Euro 2016 qualification campaign despite both plying their trade in MLS at the time.
New economic flexibility
The gap in quality between MLS and Serie A remains fairly substantial, as evidenced by Giovinco, a fringe player at Juve, coming to Toronto and storming his way to league MVP. However, MLS has clearly grown enough in stature that many Italian-based players are starting to see a Stateside move as lateral, or even preferable, to transferring to another Serie A outfit.
Part of this is down to economics. Michael Bradley, who'd impressed in stints with Chievo and Roma, was said to have had other offers in Italy, but none that would pay him the kind of salary he's earning as a Designated Player in Toronto.
But while in the past MLS teams were allowed to have only three Designated Players, the loosening of salary cap restrictions has also had a big impact in attracting players from Italy.
With new Targeted Allocation Money (TAM) that enables teams to pay players above the league's maximum annual salary of $436,250, MLS is able to make reasonable offers to players like De Jong and Cole without needing to pony up an expensive DP contract.
These types of deals were non-existent a few seasons ago. Then, there was a grand-canyon sized gap between the salaries of rank and file MLS players and the likes of Beckham, Landon Donovan and Thierry Henry.
The new flexibility in salaries has opened the door for teams to go out and acquire players from Italy who may not be the sort to fill stadiums or make shirts fly off the rack, but have the potential to bring a new level of quality and experience to the league. It's also made MLS a viable destination for players, like De Jong and Cole, whose situations with their Italian clubs have become untenable.
Not just Benjamins
But it's not just the money. Most of the stadia in Italy were built, or least renovated, for the 1990 World Cup. They are generally huge, cavernous and now-crumbling places. A stipulation at the time of Italia '90 meant many of them have running tracks around the pitches.
Consequently, fans are removed from the action. Seats meanwhile, are uncomfortable and increasingly empty. Stadium and dressing room amenities are outdated at best. MLS stadiums, by contrast, are smaller, put fans close to the action, boast modern facilities and are increasingly full.
In 2015, the average regular season attendance for MLS was 21,574, a new all-time record. In Serie A, while the number was still higher at 22,213, attendances have been in a steady state of decline for more than two decades.
A tale of two leagues
With more money to spend on players, a growing fanbase, new stadiums, new teams and players with experience of Europe's top leagues coming in, MLS is on course to continue its upward trajectory.
Across the Atlantic, however, there are few signs of an impending turnaround for Serie A. Only Juventus have managed to carve out any kind of sustainable success, after building their own stadium. Milan recently abandoned plans to follow suit.
Yet, despite of all its problems, Serie A remains one of the great leagues in the world. MLS, on the other hand, is still forced to regularly contest play-off games in stadiums with American football gridirons laid out on them (and has play-offs for that matter).
However, the gap is definitely closing. If both leagues continue on their current trajectories, it will be interesting to see where they stand in relation to each other in another three-to-five years' time.
Quizzes, features and footballing fun
Get the best features, fun and footballing frolics straight to your inbox every week.
Thank you for signing up to Four Four Two. You will receive a verification email shortly.
There was a problem. Please refresh the page and try again.