Danny Simpson: Talentspotter
"When I was 14, I wasn't growing so United held me back and made me play with the boys a year below me..."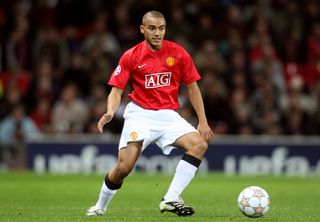 Born
Salford, 04/07/87
Position
Right-back
Nickname
At school, everyone called me Simmo, and it stuck.
Team supported
I've always supported Manchester United. When I was 11, I had trials with both United and City. I got rejected by City, but United signed me up so it couldn't have worked out better.
Strengths
My pace, defending and ability to get forward. I like joining in with the attack and getting crosses in for the forwards to score from.
Weaknesses
When I do go forward, I sometimes need to be more aware of my positioning. I need to know when to time my runs so I don't get caught out at the back.
I play a bit like...
The one player I try to base my game on is Ashley Cole. He's a great defender who always supports the attack and this is because he just doesn't stop running. Of course, here at United, there's also Gary Neville, who's been a great full-back for over 10 years.     
Highlights
That would have to be the game against Wigan earlier this year. I came on as a substitute and had a pretty good game. I set Wayne Rooney up for his goal and we won 4-0.
Lowlights My debut for United wasn't the best. We were playing Everton and my mistake led to Everton's goal. I got taken off at half-time. The gaffer said he wanted me to learn from the experience and I think I did.
Best player playedwith
There are lots of good players at United, but the best has to be Paul Scholes. He always knows where his team-mates are, never gives the ball away, and just knits everything together. I think sometimes you can only really appreciate how good he is when you see him in training.
Toughest opponent
That has to be Cristiano Ronaldo in training. All those tricks and flicks, it's impossible to tell what he's going to do next. The only way to stop him is to double up.
Biggest practical joker
There are quite a few. Gerard Pique and John O'Shea like a laugh, and then, obviously, there's Wayne Rooney. He's always playing sneaky pranks, but he keeps it quiet so often gets away with them.
Biggest influence
It would have to be my mum, my stepdad and my uncle. My uncle is the one that introduced me to football, but my mum and stepdad were there to take me to the games and training.
Tunes
I'm into R'n'B and garage. My favourite artist would probably be Bobby Valentino.
Wheels
Range Rover
Chicks
Jessica Alba
Flicks
I saw Awake with Jessica Alba recently, which wasn't bad.
TV Programme
My Wife and Kids. I think a lot of footballers like it because it's on straight after training.
Tell us something we don't know about you
When I was 14, because I wasn't growing, United held me back and made me play with the boys a year below me. It was slightly embarrassing, but it helped me develop.
Describe yourself in five words
Modest, friendly, hardworking, laid-back, and probably eager.
Best advice given
Always keep your head up and never have any regrets.
What did you buy with your first pay packet?
When I signed my first proper contract, I splashed out and bought a laptop.
Most embarrassing moment
When you break into the first-team squad, you have to appear in a play at the Christmas party, and come as one of the other players. I had to come as David Bellion, and because he always wore weird clothes, I had to dress in a purple suit and sing YMCA in front of everyone.
School report
It wasn't bad. I got one A, four Bs and four Cs.
In five years' time…
I'll be in the United first team and, hopefully, playing for England as well.        
From the June 2008 issue of FourFourTwo.
Quizzes, features and footballing fun
Get the best features, fun and footballing frolics straight to your inbox every week.