Desperate Chelsea confirm they will sign 10 short men to make Michy Batshuayi look bigger
Blues to target teeny tiny titches as deadline day dawns, Back of the Net reveal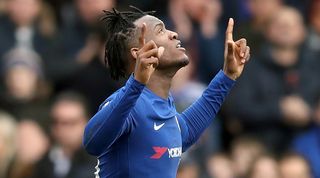 Chelsea have admitted defeat in their search for a big targetman and will instead sign 10 short players so that Michy Batshuayi appears taller by comparison.
Stamford Bridge supremo Antonio Conte had been trying to add a physical presence to his frontline, but after failing to land noted leviathans Edin Dzeko, Peter Crouch and Andy Carroll, he looks likely to settle for a crop of weedy weaklings who will make Batshuayi look like a hulking colossus when they line up together.
The move spells trouble for the likes of Thibaut Courtois, Gary Cahill and Antonio Rudiger, who will be moved on to make way for a trio of twinkle-toed dwarfs, though N'Golo Kante, Eden Hazard and Pedro are expected to stay and fight for their place in Chelsea's new-look team of bantamweight midgets.
"We wanted [Peter] Crouch[y] because every team is improved by having a striker who is a full 30 centimetres taller than every other player," Conte told FourFourTwo.
"And we weren't able to discuss terms with [Olivier Giroud] because we went red, looked at our feet and lost the power of speech the minute he walked in the room. To be perfectly honest, we still aren't able to say [Olivier Giroud]'s name.
"Anyway, I have full confidence that the Batman [Batshuayi] can fulfil that role, once we've boosted his confidence by selling anyone who can meet his gaze without getting neck pains.
"I curse the day we let Juan Mata slip under the door to Manchester United."
Conte added that if necessary, two short men could fulfil the role by standing on each other's shoulders, as had been successfully trialled in the case of young loanees Ru Loftus and Ben Cheek.
Please note: This satirical news story is not real. You'd think we didn't have to say this, wouldn't you? 
Quizzes, features and footballing fun
Get the best features, fun and footballing frolics straight to your inbox every week.
Thank you for signing up to Four Four Two. You will receive a verification email shortly.
There was a problem. Please refresh the page and try again.