European Judo Union criticise Sergio Ramos for illegal takedown of Mo Salah
By James Kilpatrick published
According to the pros, Ramos's move on the Egyptian favourite in Saturday's Champions League final would be outlawed in their martial art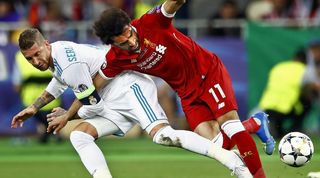 The pair locked arms during Real Madrid's 3-1 win over Liverpool in the Champions League final, which forced the Egypt international off with a shoulder injury on the half-hour mark.
Ramos, who didn't pick up a card for the foul, was roundly criticised on social media - and the European Judo Union can now be added to his list of detractors.
They condemned the Spaniard's 'waki-gatame' technique, which is forbidden in judo.
Elsewhere, fans have set up a petition which has over 300,000 signatures calling for Ramos to be punished, while Egyptian lawyer Bassem Wahba has reportedly launched a staggering €1 billion (£873m) lawsuit against the centre-back.
MMA analyst Robin Black also provided his full analysis of the takedown on Twitter.
He said: "Ramos initiates the step-across trip, creates the ledge which is the obstacle, then applies the rotational force on Salah, destabilising him and turning him.
"What is the key to this takedown? Well, it's the grip on the forearm. That's the root of the control. The arm drag from wrist control... and now let's put it all together. Wrist control to start, then hyper-extension on the elbow to force the body to follow and set the ledge to complete the trip, using the momentum created.
"It's a filthy outcome. All of Salah's weight and force come down on the radius and ulna, which are small bones. Huge impact. Nasty. Referees need to protect these athletes."
Thank you for reading 5 articles this month* Join now for unlimited access
Enjoy your first month for just £1 / $1 / €1
*Read 5 free articles per month without a subscription
Join now for unlimited access
Try your first month for just £1 / $1 / €1
Quizzes, features and footballing fun
Get the best features, fun and footballing frolics straight to your inbox every week.
Thank you for signing up to Four Four Two. You will receive a verification email shortly.
There was a problem. Please refresh the page and try again.