Exeter City season preview 2023/24: Will the Grecians be League One's surprise package?
FourFourTwo's Exeter City season preview 2023/24 – can Gary Caldwell lead City to the play-offs this term?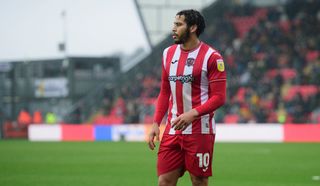 (Image credit: Getty Images)
The Exeter City season preview 2023/24 focuses on plenty of upheavals at the club.
After crucial departures, Exeter City's head of recruitment Marcus Flitcroft will be as pivotal as ever as Caldwell's side intend to build on a positive first season.
Poaching vibrant 22-year-old wing-back Vincent Harper from Eastleigh was a great move towards achieving that goal, though they may have to settle for mid-table in League One.
Exeter City season preview 2023/24, the fan's view: The Big Bank Theory (@bigbankpod)
Last season was thoroughly decent, though there was a fair bit of upheaval.
This season will be different because it's Gary Caldwell's first full season. Can we really be an effective possession-based team? Finding someone to replace Kevin McDonald, who's signed for Bradford, will also be crucial.
Look out for Pedro Borges. The kid is rangy! He's also good on the ball and looked completely unfazed last season as a 17-year-old playing against the blokes of League One.
I'm least looking forward to playing Carlisle. It's flipping miles away.
The opposition player I'd love here is Jay Stansfield. Every City fan would love him to come back for one more season. Having him return last term and topping it off with a final-day hat-trick was probably the perfect end to that story, but we'd love it to carry on for just a little longer.
Our most underrated player is Demetri Mitchell, a classic City signing: his previous clubs' fans all said he was rubbish and they were all wrong.
I won't be happy unless we bring in a decent keeper! We've had a couple of great ones in a row [on loan], but now we need another. Good feet, please.
The active player I'd love to have back is any of Ollie Watkins, Ethan Ampadu or Matt Grimes, if we're being unrealistic. On a more down-to-earth setting, David Wheeler would be ace. He's a great player and a top lad.
The one change I'd make would be to remember that, despite Cornish complaints, Devon is the home of the pasty – so we should stop stop running out of them at half-time.
Fans think our owner is... well, we're fan-owned, so what do I think of myself? A lot.
The pantomime villain will be Caldwell. After two bosses who stayed very cool, in Paul Tisdale and Matt Taylor, I'm enjoying something different from the new gaffer. He has the air of a very nice Scottish fellow who, if insulted, will pull your man bun clean off. Has leapt into the community side of things and has brought in some excellent players. I'm optimistic he can continue to help us progress.
We'll finish just outside the play-offs.
Season previews for the Premier League, League One and League Two are all available HERE
Subscribe to FourFourTwo today! Guarantee the finest football stories and interviews dropping on your doorstep every month
The FourFourTwo Season Preview issue is available in shops now. Click here to order yours with free delivery
Thank you for reading 5 articles this month* Join now for unlimited access
Enjoy your first month for just £1 / $1 / €1
*Read 5 free articles per month without a subscription
Join now for unlimited access
Try first month for just £1 / $1 / €1