Fantasy football scout: 5 bargain forwards under £6.5m
Forwards are where the big money is spent, but if you need a budget option as your third attacker for FPL 2018/19, @FantasyYIRMA has picked the best wallet-friendly choices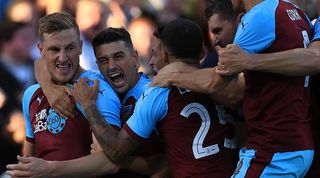 We've reached the Back to the Future Part III equivalent of this mini-series: it's forwards who are now under consideration for your squad in the official Fantasy Premier League game. You can also go back in time to our previous articles featuring potential bargain defenders (opens in new tab) and midfielders (opens in new tab).
There's a huge temptation to load up on big-name forwards such as Harry Kane (£12.5m), Pierre-Emerick Aubameyang (£11.0m) and Sergio Aguero (£11.0m) when you first log in. Yet that would eat up £34.5m of your £100m budget and leave you struggling to fill 12 other squad slots.
@FantasyYIRMA
The consensus on a strategic approach tends to be having one or two premium strikers supplemented with a budget option in the third forward slot. The limit for this could have been set at £7.0m but that would be dominated by Wilfried Zaha and Marko Arnautovic, players who are already owned by a huge 31.5% and 25.3% of total players respectively.
We've set the limit at £6.5m to hopefully unearth a different option to line up alongside your main attackers. As always, game time and a regular starting berth are key criteria.
1. Chris Wood, Burnley (£6.5m)
Before last season, Wood had already proved he could score goals in the Championship. Strong returns of 13 and 27 in consecutive seasons for Leeds convinced Burney boss Sean Dyche to bring him up a division to the Premier League in 2017.
Sure enough, Burnley's gruffalo gaffer was rewarded with another double-digit goal return last season. Wood is a throwback frontman; strong in the air and a strike who provides a good focal point for the likes of Robbie Brady, Aaron Lennon and Johann Berg Gudmundsson to aim for.
A lot has been made of Burnley's potential Europa League distractions this year, but Wood will occupy the first-choice striker position to start the season. Throw into the mix that if Burnley are ever awarded a penalty in the Premier League (zero last year), Wood will likely be stepping up to take it.
2. Aleksandar Mitrovic, Fulham (£6.5m)
Still only 23, Mitrovic has returned to Craven Cottage on a permanent transfer from Newcastle after scoring once at the World Cup. The physical Serbian did an excellent job of bullying defenders to make space and opportunities for himself in Russia, and should have had more goals there. Misses against Costa Rica and Brazil will haunt him, but creating chances and being in the right places at the right time are key parts of the game.
At Fulham, Mitrovic is appreciated and has a side which play to his strengths. His 12 goals in 18 games in their promotion run back to the Premier League has made him a fan favourite.
Cottagers chief Slavisa Jokanovic has made a number of shrewd signings this year including Jean Michael Seri (Nice) and Andre Schurrle (Borussia Dortmund). Throw Ryan Sessegnon and Tom Cairney into the mix and there are a number of players who will be striving to make 'Mitro' look good.
3. Josh King, Bournemouth (£6.5m)
A frustrating season just passed for King following an incredible run of form at the back end of 2016/17 for Bournemouth. The Norwegian scored 16 league goals back then but never recaptured that form last year, and although he still chipped in with eight goals, it was a tally that he can better this season.
Originally a midfielder in FPL, he was switched to a forward for the 2017/18 season. After that – and frustratingly for fantasy managers – King was deployed as an attacking midfielder for the Cherries last term.
Not surprisingly, there have been a few grumbles from the player, who was unhappy that he didn't get to play in his favoured position last year. Expect to see him starting up top this season, and also looking to take any penalties that come Bournemouth's way.
4. Bobby Reid, Cardiff (£5.5m)
Cardiff's return to the Premier League has felt subdued compared to that of their fellow promoted sides, with Wolves and Fulham being more active on the transfer front. Yet Reid is an interesting new recruit. If your fantasy squad already features Mo Salah, Sadio Mane and a Liverpool defender so you can't get Firmino in your team, then maybe this is the Bobby for you.
Reid makes this list largely due to his £5.5m pricing. He joined Cardiff on the back of 19 goals in the Championship for Bristol City, plus seven assists for good measure. The 25-year-old also gave a good account of himself against both Manchester United and Manchester City in the League Cup.
Cardiff start the season with Bournemouth (A), Newcastle (H) and Huddersfield (A) before it really gets tough in September, so there's an opportunity to get points on the board early. The rumoured £10m+ transfer fee paid for his services should see Reid get the nod for Cardiff in Gameweek 1.
5. Danny Ings, Liverpool (£5.5m)
Warning: this is a long shot. Yet Ings is in need of a fresh start. Injuries, coupled with the dominance of the Salah-Firmino-Mane frontline, have meant that the former Burnley man has never really got going at Anfield.
The presence of Daniel Sturridge as back-up means that Ings will struggle for game time again this season. At time of writing he's being linked to both Crystal Palace and Newcastle, and with only days remaining in the transfer window, the 26-year-old is worth consideration if the move goes ahead.
With any of these bargain strikers, you want the option of starting a cheap forward if there's a good fixture, but equally they allow for you to play five in midfield should you choose (and you wouldn't be wasting a significant portion of your budget if you choose to bench him).
If Ings joins another Premier League club before the window closes, he could be a useful third striker option to fill out your squad. If he remains at Liverpool all season, block this entry from your mind.
Elsewhere...
Now read...
28 red hot fantasy football tips from old winners and experts (opens in new tab)
Southampton's Charlie Austin (£6.0m) is a strong contender within this category and certainly capable of goals, but the rotation risk of Saints manager Mark Hughes makes it a less attractive selection to start the season.
The final few days of the transfer window are sure to throw up a few more potential surprises. Lucas Perez is being strongly linked with a move from Arsenal to West Ham, and is so elusive that he's still not been added to the official FPL game yet.
Finally, Fulham's Aboubakar Kamara is selected by more than 10% of managers, as his £4.5m price tag makes him one of the cheapest strikers in the game. Yet his game time is expected to be extremely limited, so if you do go with a bargain striker, go for one who's a likely starter.
SEE ALSO 5 bargain fantasy football defenders under 4.5m to consider (opens in new tab)
AND THEN 5 bargain FPL midfielders under £6.5m to consider
FantasyYIRMA (opens in new tab) started in 2012, focused on FPL news and previews. After coverage across 228gameweeks, they are confident they could have been well on their way to becoming a qualified astronaut had the time been spent more productively
Thank you for reading 5 articles this month* Join now for unlimited access
Enjoy your first month for just £1 / $1 / €1
*Read 5 free articles per month without a subscription
Join now for unlimited access
Try first month for just £1 / $1 / €1