Farewell Ryan Giggs: Old Trafford says goodbye to a one-of-a-kind
By Republik of Mancunia published
The outgoing Manchester United assistant manager's feats are unlikely to ever be repeated, says the Republik of Mancunia. But hey, what a ride!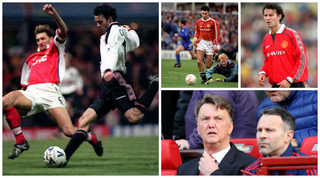 On Saturday afternoon, Manchester United fans were finally dealt the news they had been expecting for some time. Ryan Giggs had left the club.
Supporters would have to be in their thirties to have any real memory of United without Giggs, with him making his debut in 1991, which goes some way to explaining the connection this man has had with the club.
Giggs will forge his managerial career elsewhere
Sir Matt Busby was manager for 24 years, Sir Alex Ferguson for almost 27, yet Giggs' time at United spans 29 years, with him signing for the club when he was just 14.
Club legend
The journey from then to now hasn't been a smooth one though, with him reaching great heights, breaking record after record, lifting trophy after trophy, but also finding himself unpopular at Old Trafford from time to time too.
Just as England fans prefer to forget all the times they booed their most capped outfield player, David Beckham, United supporters often overlook the times when Giggs' form was poor, when the injuries mounted up, and when it even looked as though he may have left the club for Italy. Giggs denied at the time that it was possibility, and has done so repeatedly since, but Peter Kenyon didn't rule out a sale.
More recently, some sections of the support have turned on Giggs for the role he has as assistant manager. The football under Louis van Gaal was dire and the fanbase wanted Giggs to do more. The responsibility of saving the club was placed on his shoulders and he failed, as far as some are concerned, and they have no difficulty in making the distinction between Giggs pre- and post-retirement.
Manager in waiting?
Realistically, it was unfair to expect for Giggs to do more than he did, as it would have been wrong for him to publicly undermine the manager. No fan knows what went on behind the scenes though, what conversations were held, or how much responsibility Giggs had, so it's harsh to criticise him for things he ultimately had no control over.
Giggs had been led to believe he was Van Gaal's successor though and it is understandable that he has made the decision to leave following the appointment of Jose Mourinho.
Had Van Gaal achieved what he set out to do, and erased the horror of the David Moyes months and put United back on their perch, then maybe Giggs would have been a viable option when the Dutchman left. As it was, United couldn't take a gamble on Giggs being the manager Ferguson and others hoped he would be, and were forced to go with a tried and tested replacement, albeit one they had previously overlooked.
Overlooked
With Giggs' departure comes the realisation that he will likely never be United's manager now. If it was going to happen, if he was going to become the next Pep Guardiola or Zinedine Zidane, it had to happen at the very beginning of his career. If he takes charge of a Nottingham Forest or a Bolton, and is successful, that doesn't make him a good candidate for the United job, it simply shows him as less qualified than Moyes.
With that realisation then comes the end of the dream that Giggs, who has supported United all his life, could go from apprentice to boss at one of the biggest clubs in the world. If anyone could do it, Giggs could, the player who has been idolised by so many for so long.
Still, any lows Giggs has experienced at the club are outnumbered by the overwhelming highs.
When reflecting on his career, in playing and coaching, there are some obvious highlights. The goal on his debut against City; taking on half the Arsenal team in extra time to score the greatest FA Cup goal of all time; winning the Treble; overtaking Bobby Charlton's appearance record on the night he scored United's final penalty to win the Champions League in Moscow; when he walked out of the tunnel at Old Trafford wearing the manager's suit; and, most recently, when he was on the touchline at Wembley egging on the United support ahead of Jesse Lingard's extra-time stunner in the FA Cup final.
Trophies galore
That night in Moscow was tipped to be his last appearance for the club and it would have been a superb way to bow out. After John Terry blew his boyhood dream of winning the European Cup for Chelsea, Giggs showed how it was done with his sudden-death penalty.
He was 34 at the time and, having successfully reinvented himself in the centre of midfield, it looked as though he had achieved all he could. Instead, Giggs went on to play for a further six seasons, winning three more league titles and scoring another 24 more goals.
Giggs assists the equalising goal in the 1999 Champions League final
Giggs' career wasn't just about the massive occasions though, but what he did on a weekly basis in a United shirt. You have to watch footage of him in the 1990s again to remind yourself just how electrifying his pace was, leaving fullbacks for dead time and again, or with "twisted blood" as Ferguson once described, with Giggs' excellent balance allowing him to shift his weight from one foot to another, dipping his shoulder, and making even the best defenders look foolish.
Wing wonder
If it wasn't his pace that got you, it was his ability to get the ball in to the box and make it more difficult to strike wide for whoever his cross fell to. It was his perfectionism. It was his determination to win.
More than that though, Giggs represented what United is all about, a tradition put in place by Busby, and continued by Ferguson. United want young players to work hard, take their chance when it comes, help the team win trophies and stay loyal to the club. Giggs ticks all the boxes.
Jesse Lingard, who joined United when he was seven, spoke about the impact Giggs had on his career, and on the career of all the players making their way up through the academy.
"He made his debut at 17 and so paved the way for youngsters here, showing what can be achieved," he said. "He came through the ranks and I know I always looked up to him."
Giggs was the role model, the poster boy for what young players could achieve at United, so even when he hung up his boots, he could be used as an inspiration.
When he got his chance as manager, following the sacking of Moyes, Giggs immediately gave James Wilson his debut, and the youngster scored two goals. Had Van Gaal not given so many youngsters a chance, maybe there would have been a greater call from the fanbase to keep Giggs at the club, or to see him become manager.
Moving on
Giggs' career stats
As it is, supporters have allowed Giggs to go without much of a fight, accepting that for the sake of his career it makes sense for him to move on, even if it is a crushing end of an era. After seeing Ferguson move on three years ago, it feels like all change at Old Trafford, even if best mate Nicky Butt remains at the club.
On the night United won the Champions League in 1999, Giggs punched the son of Martin Edwards, who was the chairman at the time, when defending Butt's mum's honour. James Edwards was heckling Foo Foo Lammar, the entertainment brought over for the celebration, much to Mrs Butt's annoyance. James continued, before having a pop at Giggs' mum, and then chaos ensued. "We were rolling on the floor, punching each other, with Butty joining in," Giggs revealed in his autobiography. It was only when he showed up late for the team coach in the morning, with a stinking hangover, that he learnt who he had been fighting with.
Moving on…
Giggs, Butt and the rest of the class of '92 gave United fans the time of their lives, so to see yet another one move on is a sad day. In Butt though, the man in charge of the academy, United still have someone who possesses that winning mentality that Giggs has, who understands what the club is all about, and who will ensure that Giggs is still held up as the man to beat.
The only problem is, for United and any club in this country, that nobody will beat him. No player will achieve what Giggs has, winning 13 league titles, two European Cups, four FA Cups, among other trophies, for their boyhood club. They won't stay from the academy to retirement, make it as assistant manager and, briefly, manager.
Giggs is one of a kind and United fans of this generation are lucky enough to say they were there for his journey, and what a journey it's been.
Thank you for reading 5 articles this month* Join now for unlimited access
Enjoy your first month for just £1 / $1 / €1
*Read 5 free articles per month without a subscription
Join now for unlimited access
Try first month for just £1 / $1 / €1
Quizzes, features and footballing fun
Get the best features, fun and footballing frolics straight to your inbox every week.
Thank you for signing up to Four Four Two. You will receive a verification email shortly.
There was a problem. Please refresh the page and try again.