The fuss about Guus: How Hiddink turned Chelsea around the first time
With Jose Mourinho having left Stamford Bridge, the Blues look poised to draft in the former Netherlands coach for a second interim spell. FFT's Chris Flanagan evaluates how the Dutchman did first time around in February 2009...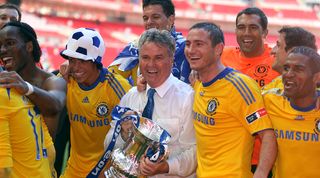 "Are you still hungry?"
That was the only question that Guus Hiddink really needed to ask when he strode into Chelsea's dressing room for the first time, on a winter's day in February 2009.
It wasn't an enquiry about the efficiency of the catering at the club's Cobham training facility. Hiddink wanted to know just what he was walking into, whether the desire for trophies was still there. Whether this was a squad unwilling to listen to instruction, or just waiting for the right ones.
The answer he got that day was a definitive yes. Chelsea's players were still hungry.
Success story
Three months later, Hiddink departed Stamford Bridge with the highest win percentage of any manager in their Premier League history, barring Ray Wilkins' one-match, one-victory spell as caretaker boss in that very same season.
Under Hiddink, the Blues played 22 games and won 16 of them, losing only once. His 73% win percentage increased to 85% in the Premier League, where he triumphed 11 times in 13, at 2.62 points per game. Not bad at all.
Chelsea progressed to a Champions League semi-final against Barcelona too, losing only to Andres Iniesta's late stunner. Hiddink's last match as boss was the FA Cup final victory over Everton at Wembley. It wasn't a bad way to finish.
Cleaning up
Chelsea had been in disarray midway through that 2009/10 campaign. Top in late November under Luiz Felipe Scolari, things fell apart at an alarming rate. There were only four wins in 12 league matches, including a 3-0 loss at Manchester United, a 2-0 defeat at Liverpool and the 0-0 draw at home to Hull City, which spelled the end.
The Blues had dropped to fourth in the Premier League table, seven points behind Manchester United and two behind Aston Villa, back in the days when the West Midlands side weren't on a fast track to the Championship. Fans and players had lost faith in Scolari, and so had Roman Abramovich. The decision was made. Scolari was out.
Seeking a man to steady the ship until the end of the season, Abramovich called for Hiddink, then the manager of the Russian national team.
The Dutchman's success at Stamford Bridge was borne out of simplicity and respect. He was the man of the moment back then, his stock high after Russia's run to the semi-finals at Euro 2008, following on from strong World Cup performances with South Korea and Australia. Even Chelsea's superstars understood that Hiddink was a man worth listening to, a man who knew what he was doing.
Straight and narrow
Once he'd established that those players were still hungry, Hiddink understood that his task really didn't need to be all that complicated. His squad was clearly good enough, his job was to keep them focused and provide them with the confidence to perform.
"We said to each other, 'We're all big men. You've played in World Cups and Champions League finals and I've had a little bit of experience too. Let's face each other, respect each other and challenge each other'," Hiddink explained at the time.
"I watched them and I didn't see any attitude problems. If I had, I would have tackled that in the first minute. But it wasn't necessary.
"If someone's too big for his boots, getting lazy or fed up, then we have big problems. But I didn't experience it. It was a case of, 'Regardless of whether your name is big, or what you've achieved in the past, let's go for it. Don't be scared to challenge for it'. The group reacts to mutual challenges."
And react they did. Didier Drogba, dropped by Scolari and rumoured to be on his way out of the club, was revitalised. The Ivorian didn't need hours of tactical advice to turn around his fortunes. All he needed was a training programme to build his match fitness and, most importantly, the opportunity to play games.
"He's said nothing to me at all," Drogba said of Hiddink, as journalists enquired about what sort of stellar pep talk he had received from the Dutchman. "He has picked me in the team. Then I know what I have to do."
RECOMMENDED Where it went wrong for Mourinho at Chelsea
Player power
Hiddink's stay as Blues boss was only ever designed to be brief. He was still continuing in his role as manager of Russia, who had agreed to let him take charge of Chelsea on the proviso that he would leave Stamford Bridge at the end of the season.
Chelsea commenced with plans to install Carlo Ancelotti as boss for the 2009/10 campaign, but as the Blues qualified for the Champions League with ease and moved towards FA Cup success, players started to suggest that they might quite like Hiddink to stick around.
"I would love for him to say he is staying for three years," said Michael Ballack. "Everybody in the club can feel he is a great manager. Even in a short time he has had a big influence on the team."
"He is a very good coach and we want him to stay," added Petr Cech.
"He's been a breath of fresh air," said John Terry, whose word carries plenty of clout around Stamford Bridge. "He's on us every day in training, he always wants to improve and be better. He lets no one get away with anything, whether it's on the pitch or off it. He's got us together on and off the pitch. We'd love him to stay."
There would be no change of heart, though. Chelsea confirmed Hiddink would leave at the end of the season, as agreed.
"Guus Hiddink came here on a temporary basis and it is thanks to the Russian FA that he was able to come here," said chairman Bruce Buck. "It is purely a temporary role. There has been a lot of speculation about him staying, particularly as he has been doing a great job. That will not be the case."
Guus's grind
Things have not gone quite so smoothly for Hiddink since he departed Chelsea that summer. Russia failed to qualify for the 2010 World Cup, and he was unable to help Turkey to Euro 2012 in his next job either.
A spell with Anzhi Makhachkala was followed by a second stint as Netherlands boss, 16 years after the first. It didn't go well. Defeats to the Czech Republic and Iceland put the Dutch well on the way to missing out on qualification for Euro 2016, and Hiddink departed in June of this year.
Not that he'd be the first manager to go from Euro 2016 qualifying embarrassment to Premier League success story, should he be confirmed as Chelsea's interim boss for a second time. Thirteen months ago, Claudio Ranieri was leading Greece to a home loss to the Faroe Islands. Now the ex-Chelsea chief is top of the Premier League table.
It was defeat to Ranieri's Leicester City that ultimately spelled the end for Jose Mourinho at Chelsea. Hiddink's task will be tougher this time around, if appointed. How he would love to be taking over a side fourth in the Premier League table now. Instead they are 16th, one point above the relegation zone and 14 points behind the Champions League spots.
But again, he will arrive to a squad that clearly has quality; a squad that has somehow lost its way but is undoubtedly capable of much, much better.
In truth, there is only one question he would need to ask. It's the very same question he asked six years ago: "Are you still hungry?"
The rest of Chelsea's season is likely to be determined by the answer.
RECOMMENDED Where it went wrong for Mourinho at Chelsea
Thank you for reading 5 articles this month* Join now for unlimited access
Enjoy your first month for just £1 / $1 / €1
*Read 5 free articles per month without a subscription
Join now for unlimited access
Try first month for just £1 / $1 / €1
Quizzes, features and footballing fun
Get daily World Cup 2022 news, updates and other football frolics to your inbox