FUTTIES FIFA 19: EVERYTHING you need to know about EA's annual promotion
One of EA's best promos of the year is underway and set to end on August 14. Here's what to expect…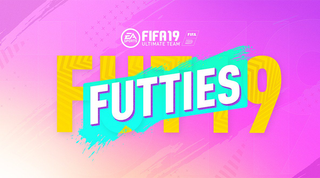 When you're done with this explanation of FIFA 19 FUTTIES, head here to find out everything we know about FIFA 20 so far – including release date and an exclusive interview with two producers from EA Canada.
What is FUTTIES in FIFA 19?
FUTTIES is an annual event on FIFA Ultimate Team which always takes place shortly before the release of a new version (in this case, FIFA 20).
It's aimed at giving some of the most popular FUT items – primarily ones that were unable to receive major boosts throughout the year – upgraded special cards for players to have fun with in the final months of the game.
FUTTIES voting
FIFA 19's FUTTIES has followed a similar direction to past versions of the event, as players are still able to vote for the FUT items they'd like to see receive an upgrade.
The FUTTIES vote is centred on different positions. Players are given an option to vote for one of three players per position – and the winner of each is then released via a Squad Building Challenge (SBC).
So far, PSV's Hirving 'Chucky' Lozano and Manchester United's Fred have been released as FUTTIES winners' SBCs, with both players being rated 92 and 91 respectively – in line with FUTTIES' TOTS-esque upgrade system.
FUTTIES rewards
FIFA 19's FUTTIES promo goes beyond fan votes, though: EA have also re-released tons of special cards back into packs, including those from the FUTBirthday and UCL Live promos.
EA have also re-released some of the most popular SBCs of the FIFA 19 cycle, including Flashback David Luiz, End of an Era Arjen Robben and TOTY Nominee Bale. These were first released months ago, and now offer players who failed to complete their SBCs a chance to do so.
FUTTIES predictions
EA still has a lot in store for FUT players in the coming weeks, but little is known about much of the content that will be released.
Going by what we've seen so far, though, more special cards are poised to be released into packs once the current 'Best of' players disappear on July 17.
We expect EA to re-release some TOTS cards back into packs, just as they did towards the end of the FIFA 18 cycle. That should give gamers a better chance at packing special cards, considering the sheer amount of TOTS players on the game
The TOTS re-release could be followed by TOTS guarantee SBCs, which will give players TOTS FUT items from selected leagues.
We could see more Flashback SBC re-releases as well, considering how popular many of them were upon their initial releases.
We expect Flashback SBCs such as Juanfran, Jonas, Zlatan Ibrahimovic and David Villa to be re-released.
EA could also unleash brand new Flashback SBCs for players such as Ricardo Quaresma, who somehow failed to receive a flashback SBC during the Superlig TOTS promo – much to the disappointment of the trivela king's fans. Javier Mascherano could also feature, and quite possibly a Flashback to Anderson Talisca's legendary 93-rated TOTS card from FIFA 18.
STICK AROUND...
FIFA 19 Career Mode ultimate guide: hints and tips from the experts
FIFA 19: the 7 best bargain strikers you need to sign
Thank you for reading 5 articles this month* Join now for unlimited access
Enjoy your first month for just £1 / $1 / €1
*Read 5 free articles per month without a subscription
Join now for unlimited access
Try first month for just £1 / $1 / €1
Phillip is a football writer from Nigeria. He's been a football writer since he was 13 and after getting his work featured on various news outlets including the Daily Mirror, Red Bull, Planet Football and Football.London over the years, he has now turned his focus from solely writing about the beautiful game, to covering the not-so-beautiful virtual game of FIFA as a brilliant excuse to spend hours on his Playstation.