FIFA 20 news: what we know so far about release date, demo, Volta and more
EA Canada duo Matt Prior and Aaron McHardy talk FourFourTwo through FIFA 20's Volta mode, plus key information and changes to defending/finishing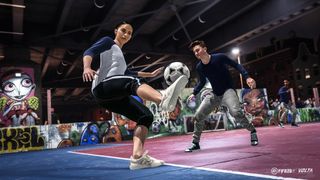 When is FIFA 20 out?
FIFA 20's release date is September 27, 2019. You can preorder now on PS4, Xbox One (both £49.99) or PC (£54.99).
Alternatively, for three days' early access and plenty more goodies, get FIFA 20 Champions Edition for PS4 or Xbox One (both £79.99).
When is the FIFA 20 demo coming out?
The demo will be yours to play on September 10.
We know so far that Zinedine Zidane, Didier Drogba, Andrea Pirlo, Ian Wright and Ronald Koeman have been confirmed so far.
What do we know about FIFA 20 Volta?
We've gone hands-on with FIFA 20's new Volta mode, and discussed its street football features with EA Sports' Matt Prior.
What's the latest with Ultimate Team?
Expect new item designs and refreshed pack animations as always, but there are some major tweaks impacting the rest of the mode this year, too. This is what we know about FIFA 20 Ultimate Team so far.
---
TESTED FIFA 20 gameplay hands-on impressions: fortune favours attackers as one-vs-ones get a revamp
FIFA Street is dead… long live FIFA Street! After more than a decade of fan clamouring, small-sided football in confined spaces is making a comeback for FIFA 20.
Playable with either custom players or both male and female pros, this new mode is called Volta – the Portuguese word for 'return'.
"It's a landmark year for the franchise," promises creative director Matt Prior. "We're taking football back to its roots. People get into football by kicking a ball about in their back yard, or down the park, or on a local pitch, or in the gym. That's the world we'll finally see represented in FIFA 20."
Prior is talking to FourFourTwo alongside Aaron McHardy, a former Sturm Graz prospect who is now executive producer for the biggest sports game around. Ultimate Team questions are off the table, but we do pick the pair's brains on some topics which have caused debate among the community over the last 12 months. First, though, we need to know more about that five-a-side mode…
Small sides
MP: "Volta allows a level of creativity that we don't have in 11-versus-11. There, we're bound by real-world kits, rules and regulations. This is more of a blank canvas. You can create yourself or any custom character, male or female – for the first time ever, we'll have both sexes on the same pitch at the same time.
"Fundamentally, street football is still about playing and winning, but fashion is also a big part of it. There's a vanity element. So [to tweak your look] we're including the most accessible and customisable mode we've ever put into FIFA: shirts, tattoos, socks, shoes and more."
Location, location, location
AM: "Locations include a park in the UK, or an underpass in Amsterdam, or a Tokyo rooftop. There are many, many environments.
"In FIFA Street, the gameplay was fantastical and not that realistic. Volta is authentic. We researched everything from adidas Tango League tournaments to kickabouts in the park. We started out with our 11-vs-11 gameplay engine, then built in features specific to the small-sided football experience in a way that gives the mode soul. Simplified flicks, skill moves that are easier to trigger, new flair animations for controlling and passing the ball, new ways to interact with walls, and so on."
"You can still play Volta with licensed players and teams in Kick-Off mode. You can play 3-vs-3, 4-vs-4, 5-vs-5, with or without goalkeepers, and so on. There's a futsal-style game as well. But we're regularly asked, 'Is this FIFA Street?', and it isn't – although it's as large of an undertaking, in that we're making this whole new world of Volta in addition to all our new main game features.
Keeping it simple
MP: "Volta has a simplified chemistry system which will help those who struggle with Ultimate Team. We see it as an opportunity to teach certain fundamental features throughout the game.
"There's a story element to it, too. The Journey was always intended to be a trilogy, and while this isn't a replacement for that, there is a narrative to Volta. The story helps teach players the new format, and gets across the culture of small-sided football."
Revamped finishing
AM: "Timed finishing in FIFA 19 was polarising at one point. A lot of the feedback was that certain goals were too easy to score because of the way our shooting system worked.
"Timed finishing was a layer on top of the shooting system that already existed, and it highlighted areas we needed to work on further. It's one of many areas we've looked at for FIFA 20 in terms of football intelligence: on the ball, off the ball, and even the ball itself.
"So we've included a new feature called composed finishing. It adds a real level of skill and split-second decision-making, and we think people will appreciate it when we get it out there.
Defensive rewards
AM: "Defensively, there's less reliance on team-mates stepping in to win back possession.
"We've changed how the 11-vs-11 game flows. There are many more one-on-one situations [across the entire pitch], and we've done a lot of work on our tackling, and defending generally. When you do the work to win back the ball, you're rewarded by getting the ball. Many times in FIFA 19, a successful tackle wouldn't necessarily give you possession."
Bring it on
AM: "We don't filter out any fan feedback. We invite it in. There's a lot of good feedback you can glean directly from our fans.
"When you have a game as big as FIFA, with 20-odd million people playing it, one size never fits all. We do our best to listen to our casual players, eSports pros, our core community, and understand what everybody is wanting from the game. For instance, every year people ask us to bring back the indoor mode from FIFA 98. Much of the impetus behind creating the world of Volta came from that."
MP: "Volta hasn't undermined the rest of the game. We've got a lot of announcements to come on the usual candidates: Career Mode, Ultimate Team, and so on. It's a hugely exciting time for us."
Then read…
FIFA 19 Expert hits, tips and advice on FourFourTwo.com
QUIZ! Can you name the 30 highest transfers OUT of the Premier League?
While you're here, why not take advantage of our brilliant subscribers' offer? Get the world's greatest football magazine for just £9.50 every quarter – the game's greatest stories and finest journalism direct to your door for less than a couple of pints. Cheers!
Thank you for reading 5 articles this month* Join now for unlimited access
Enjoy your first month for just £1 / $1 / €1
*Read 5 free articles per month without a subscription
Join now for unlimited access
Try first month for just £1 / $1 / €1