Has Gary Lineker killed a generation of English bosses?
Is the lure of the pundit's sofa denying England of a generation of top managers?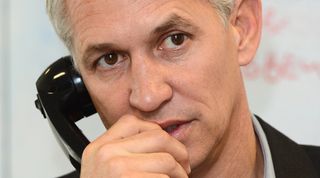 It's May 10th 2015, and this season, just like every other, the Premier League title is on its way to Manchester. As the fireworks flare and champagne sprays, one of the game's most decorated managers struts on to the pitch to lift the trophy. A smile spreads across his grizzled Scottish face – the same grin immortalised in bronze outside the stadium. The team is Manchester City. The manager: Sir Alan Hansen.
Except, that's not right, is it? Though Alan Hansen was indeed offered the manager's chair at Manchester City back in 1995, the former Liverpool stalwart declined the offer of club management out of hand, opting instead to pontificate over the week's 'diabolical' football antics on Match of the Day.
Some two decades later, as Hansen prepares to bid farewell to punditry at the end of this season, it's his seat on the MotD sofa that's amongst the most sought after in the game, rather than Manuel Pellegrini's in the Etihad dugout. More footballers than ever are turning their back on management and coaching in favour of the alluring glare of the television camera and a spot alongside Gary Lineker, or Jeff Stelling and the boys on Soccer Saturday. But why?
"I just think there's more opportunities now," Alan Shearer tells FourFourTwo. "Thirty years ago it was either BBC or ITV, but now there's BBC, ITV, Channel 5, Sky, BT, Al Jazeera. And bear in mind you're talking about pundits, commentators, co-commentators, presenters – there's that many opportunities now in TV."
A Newcastle and England icon in his playing days, Shearer is a prime example of the magnetic appeal of football analysis. Widely pegged for a managerial career when he hung up his boots in 2006, Shearer has just eight games' experience under his belt – a brief, ill-fated attempt to keep Newcastle in the Premier League at the end of the 2008/09 season.
"I loved it," the former striker says of his 54-day stint in the dugout. "I loved the pressure that it brought and everything else that went with it. It was such a small amount of time, I never saw any friends or family for those eight weeks, because I was so engrossed in it.
"I wish I could've kept them up, obviously, but it wasn't for the want of trying or hard work. Do I wish I'd stayed there? No, not really – maybe at the time, but I love what I'm doing now."
Despite returning to the BBC studio after his interim spell at St James', Shearer is still routinely linked with managerial jobs, and admitted himself in 2011 that the desire to manage was 'chewing at me inside'. But, as with many a sofa bound analyst, the role of pundit is becoming less of a stopgap or shop window for Shearer, but a bona-fide career instead.
"I'd be very surprised if I was to go into management now, I don't have a burning desire to do that anymore," admits England's former No.9. "I'm very happy in what I'm doing. It's a great lifestyle, I can spend time with the family, I watch football, so from that point of view I'm happy with the way things are."
From pub to punditry
Shearer and Hansen are by no means the only ones to opt for the warmth of a cosy studio over being exposed to the elements (not to mention abuse) on the touchline – Andy Gray famously applied for the Everton job in 1997, getting so close to the hotseat that he discussed transfer targets and backroom staff, before snubbing the club due to his commitments with Sky. Indeed, just last week, John Hartson resigned from his assistant manager's post within the Welsh national setup, owing in part to his increasing BBC obligations.
"I wouldn't necessarily say the television is better than management – there can't be a better feeling than winning a football match as a manager," says Hartson, a club record signing for Arsenal, West Ham, Wimbledon and Celtic during his career. "I've had a short stint of it with the Welsh team, and the feeling you get winning as a coach or a manager beats winning as a player.
"All I know is at the minute I'm in a fantastic place in my life. My diary is absolutely full, I've got my health, my wife is expecting our third child and I've got a contract with one of the biggest sporting broadcasters in the world in the BBC."
Whatever the individual thought processes of a player giving management or coaching a wide berth, there certainly seems to have been a sea-change in both attitude and culture. Not too long ago, if a player didn't buy a pub upon retirement, they were destined for management – as much through necessity as desire.
Now though, top-end players earn the equivalent of a nation's GDP in the space of a year, removing the fundamental need to carry on earning money after hanging up their lucratively-sponsored boots. And after two decades of spending Christmas on the training pitch and every other weekend away from their families, can you really blame players for opting out of another lifetime of isolation, stalking round the technical area at a League Two minnow?
But it's not merely a healthy bank balance that deters ageing pros. Even if a player has Fergie-esque aspirations for management, the days of creating a lasting empire like the Scotsman's at Old Trafford are seemingly long gone. Since the inception of the Premier League in 1992, over 100 managers have been relieved of their duties, with the average spell in charge of a club now just under two years.
"Alex Ferguson is a rarity with the success he's had – that's like a million to one chance nowadays," says Kevin Kilbane, Republic of Ireland winger turned Radio 5 Live pundit. "I'm good friends with David Weir and Lee Carsley; they went to Sheffield United, the first real test of their managerial career, and 10 games into the job they were sacked.
"It puts a lot of players off. What's the point in trying to implement your ideas and really go into something wholeheartedly when you could be sacked in three months? That's the danger we're finding."
Running the numbers
It's clearly a worrying trend. With the rise of the impatient, hands-on club owner, football managers appear entirely dispensable and often find themselves P45 in hand after just a few bad results.
Paolo Di Canio's recent reign at Sunderland lasted a mere 13 games, Ian Holloway was afforded less than a year at Crystal Palace despite securing their first promotion to the Premier League in eight years, and the less said the better about Roman Abramovich's revolving-door policy at Chelsea.
"The tenure of football managers across the four professional leagues remains worryingly low," says League Managers' Association chief executive Richard Bevan. "In addition to that, 50% of first-time managers never get a second opportunity, so these stats may be a factor for players towards the end of their career who are considering entering management."
Mind you, the footballing authorities don't exactly make it easy for budding managers to get started. The UEFA Pro Licence – compulsory for all managers in the top tier – often takes the best part of a decade to attain, meaning that although a fair proportion players do embark on coaching badges either during or after the career, many inevitably lose interest, especially if they're receiving regular work in the media.
"When you're a top player, the last thing you want to do is be in a classroom," admits former Derby captain and Radio 5 Live presenter Robbie Savage. "I wish I'd done it when I was playing, but it maybe takes six or seven years to get your Pro Licence. I just thought, if I was going to be a manager, I'd want be more of a man-manager and then take a fantastic coach with me. But I don't think that would be allowed, the way the rules are."
Add to this the influx of foreign managers – 100% of managers in the '92/93 Premier League hailed from the British Isles, compared with just 60% today – and with odds like that, it's little wonder players seek the comparatively cosy bosom of analysis. But whatever you do, don't call it a cop out…
"People say punditry's easier," says Savage, "I don't think it is. For a one-hour show on Match of the Day, you'll be there from 12 in the afternoon until 12 at night, so it's very hard work.
"When you retire at 35, 36, you can't for 30 or 40 years sit at home and do nothing. It's extremely hard – I have my own room in my house with a football library in it, I watch game after game after game. Even though I'm in my house with my family, I don't see them as I'm researching and reading and watching games, so it's very difficult."
Did Gary Lineker kill the English coaches?
Aside from the relative rigours of in-depth analysis versus the tactical chess game of the dugout, the dearth of players going into coaching roles could definitely be seen as a problem for the future, and you may need look no futher than Sky Sports' Monday Night Football to see why. Both Jamie Carragher and Gary Neville were high-calibre England internationals, synonymous with their respective football clubs and are insightful, erudite, students of the game. This in turn makes them great value for punditry, but are Liverpool and Man United being robbed of another Shankly, another Busby, without ever finding out?
Match of the Day host Gary Lineker, whose post-playing career path from pundit to anchorman might be seen as the biggest example of a former player turned media face, decries the notion that television is robbing football of top-class coaches.
"I don't think that's ever really been the case: it's exception more than the rule that great players make good managers," says Match of the Day host Gary Lineker. "Apart from [Johan] Cruyff, I'm struggling to think of a top player that's been successful in management.
"There are a lot of big-name failures in management – it's not just about understanding what good football is, a lot of people can do that, there's more to it. It's about man-management. Does being a great player necessarily mean you can man manage? No. It's about running a football club – does being a great player contribute towards that? No. Getting the respect of the players is the only real place that it'll make that much difference."
Although we don't need to add to list of English football's shortcomings, it could be argued the lack of experienced players turning their hand to management may hurt the game in this country for generations to come. Besides, what's the use in producing the next Bobby Moore, if there's no Alf Ramsey to coach him? Danny Mills, who has been on punditry duties for the BBC since chronic knee injuries saw him retire at 32, thinks the opposite may in fact be true.
"To be a coach now, it has to be a desire. It's not necessarily a job, it's a vocation," affirms Mills. "Look at David Moyes: his career finished very early as a player. Sir Alex Ferguson, Jose Mourinho, Andre Villas Boas – all these people weren't great players, but have gone on to be fantastic managers. So sometimes that drive, that desire, that hunger comes from not necessarily having made it as a player."
Ultimately, we'll never know if the glare of the studio lights have roobed us of geniuses under floodlights. Perhaps it will weed out those who were merely bumbling into post-playing careers for want of anything else to do. Maybe the days of giving the doughty club captain a chance as gaffer are numbered, to be replaced by an era dominated by lesser names who demand careers in management, meticulous thinkers in the vein of Mourinho, AVB and Brendan Rodgers. Besides, there's bound to be a lengthy debate about it on Match of the Day at some point. Or the Monday Night Club, or Goals on Sunday...
Lineker, Shearer, Hartson, Savage, Kilbane & Mills are football pundits across BBC TV and BBC Radio 5 live.
Killa: The Autobiography of Kevin Kilbane is out now, all proceeds go to The Down's Syndrome Association.
Quizzes, features and footballing fun
Get the best features, fun and footballing frolics straight to your inbox every week.
Thank you for signing up to Four Four Two. You will receive a verification email shortly.
There was a problem. Please refresh the page and try again.