Higher or lower? Take our stadium capacity quiz
By Gregor MacGregor published
Is it a 42,000 job or a whopping 57k? Stand out from the crowd by proving your football stadium knowledge!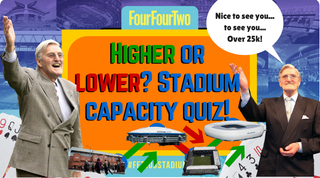 OK, you may know your stadiums, but how well do you know their capacities? Eh, not so easy now, right?
Simply choose whether the next stadium has a higher or lower capacity in our exacting football stadium quiz. Put your football knowledge to the test before checking out the facts and much more in our list of the top 100 stadiums.
We begin by asking you if Goodison Park has a higher or lower capacity than the neighbouring Anfield...
Thank you for reading 5 articles this month* Join now for unlimited access
Enjoy your first month for just £1 / $1 / €1
*Read 5 free articles per month without a subscription
Join now for unlimited access
Try first month for just £1 / $1 / €1