How Brendan Rodgers moved with the times to transform Liverpool from the new Barca into the new Dortmund
Hassan Cheema assesses how European football has changed tactically over the last decade, and how Liverpool are morphing with it....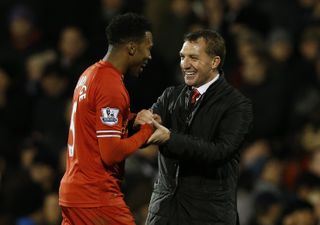 A couple of months into Brendan Rodgers' tenure at Liverpool, left-back Jose Enrique said he should be given backing as he wanted "to bring a style of play like Barca's to the club", and that it wouldn't be achieved overnight. And, over the course of Rodgers' first season, that was the vision he had for the team.
Much was made of the progress that Liverpool made; philosophy became the most overused word when referenced by the fans or people related to the team. Liverpool were going to rely on their youth teams and produce the British version of Barcelona – Rodgers had done it Swansea and now he was going to take it to a bigger stage. After all, tiki-taka was the way to play football.
This is the 'correct' way to play football, we've been told. The term 'tiki-taka' was coined by Javier Clemente – the godfather of up-and-at-'em style in Iberia – and it was supposed to be disparaging. Instead it became, much like Total Football, a term to define the style that brought you moral high ground. Its rise came about in the second half of the noughties, as crises affected all the major clubs in Europe; the exceptions to that being the English Big Four and Barcelona.
Myth busters
The Bosman ruling resulted in the rise of player power and superclubs, the result of which was that you never had a squad together long enough to enact philosophies. That led to broken teams – attackers attacked and defenders defended, and that was that. But the increasing turn away from football as a contact sport meant that you could no longer rely on reducers and scary defenders to protect yourself, and thus we saw the rise of pressing by the late noughties. Barcelona's style was ideological as much as practical – theirs was descended from the Dutch school.
The English too relied on that, except in their cases it was a British style where you harried opponents and closed them down, like you always had. It was still pressing, but without the hipster glasses and ideological paeans it wouldn't receive the attention it deserved. It was something the British were stereotypically capable of, but the structure brought by the best coaches in the game meant that their huffing and puffing was now part of a system.
Some of the greatest wins of that era were the result not of s**t-on-a-stick bus parking, but the sort of pressing that would make Rinus Michels proud: Liverpool destroyed Real Madrid at Anfield by pressing them high; Chelsea were up 3-0 within 20 minutes against Barcelona in 2005 because they started the match like a pack of hungry wolves. And the longest stretch of excellence on the continent by Sir Alex Ferguson came about as he often lined up with two, if not all three, of Carlos Tevez, Wayne Rooney and Park Ji-Sung as part of the front four.
Ferguson was never credited as the greatest of tacticians but he never fell behind the latest tactical trends, and his deployment of Park (much like Benitez's deployment of Dirk Kuyt) was a quiet revolution: you defended from the front, often with players whose main job was to win the ball as high up the pitch as possible. You couldn't ask for a better trio to press than Park, Rooney and Tevez, and Ferguson realised this even as the continental giants kept acquiring attackers who only attacked.
But for all three of these teams, as well as Barca, pressing was a secondary tactic, a way to regain possession and hold onto it as long as possible. As contact in football reduced, possession became the greatest defensive tactic (for you could not concede without losing the ball) and the greatest attacking tactic (as the opposition got tired chasing the ball around, unable to apply the reducer they could have two decades earlier). But what they did with the ball remained their primary focus.
Hard-pressed
Enter Jürgen Klopp and the next age of pressing, with a team that relied so completely on it that their work without the ball was secondary to their work with it. As Borussia Dortmund fought their way to a surprise Bundesliga title in 2010/11 the doubters kept asking when they were going to collapse - after all, they were young, too young in fact. When they won the title they were the youngest team to have done it in Germany's history – but what was considered a weakness turned out to be a strength; young minds malleable and egoless enough to listen, and young legs fresh enough to follow up on those instructions. They became that rarest of teams, one that became completely reliant on their work out of possession.
They pressed up high, and broke immediately until they had a chance or lost the ball; and then they did it again, and then again. Over the years their style has become more nuanced, gegenpressing if you will, but they are still a team that relies on pressing and verticality (two rather hipster terms but easier to elaborate than most). In a way, they are the team that has come closest to perfecting the English style, or rather the style the English think they do (or ought to) play.
Perhaps the greatest compliment to them was paid earlier this season when they took on Pep Guardiola's Bayern. Pep – one of the finest tactical minds around – decided to have his defenders lump long and pump diagonal balls for most of the game's first hour to neutralise Dortmund's pressing; he realised that if his defenders didn't have the ball long enough, Dortmund couldn't press. Pep abandoned tiki-taka because he feared Dortmund's pressing. And lo, the hipsters did weep.
Dortmund are the model now, perhaps even more Barcelona. Atletico Madrid under Diego Simeone, for instance, are evolving towards that style, combining their previous expertise in pure counter-attacking to the Dortmund style – both relying on directness; and in Diego Costa they have perhaps the best forward in the world when it comes to both styles. And it is also this style that Liverpool have increasingly adopted this season.
Barca-loners
We were told that Liverpool would become Barcelona. Through most of Rodgers' first season, the possession stats were thrown at us, as if those are the lone signifiers of the quality or entertainment of football a team plays. Dortmund, for example, finished last season's Champions League with more possession in only three of their 11 matches, yet it would be hard to find anyone who would claim that their style was boring. And Rodgers, to give him credit, has realised that the personnel that he has are built different from a style that he spent years peddling.
He may still have his Brentian moments, but Rodgers has shown the tactical flexibility (a variety of formations, all with the specific aim of maximising the opportunities of his front duo) and humility to change his team's style. Liverpool have gone from dominating possession charts (and fighting for European places) to being ninth in the possession table, but challenging for the title. The rise of Luis Suarez and Daniel Sturridge has meant that rather than trying to fit them into his system, Rodgers has adapted his own systems.
In the Premier League this season no team has a higher number of through passes per game, no team has scored more goals on the counter-attack, and no team has attempted fewer crosses per game than Liverpool. This is a team that is direct and relies on the break. They play at a tempo which means they're at their best right at the start of a match (the first half against Arsenal being perhaps the best example of this) and the energy spent at the start means that they get worse as they tire – leading to them being a pretty poor second-half team. Rodgers was hired to make Liverpool the English Barcelona, but instead he has made them the English Dortmund. Not too many Liverpool fans would mind that.
Thank you for reading 5 articles this month* Join now for unlimited access
Enjoy your first month for just £1 / $1 / €1
*Read 5 free articles per month without a subscription
Join now for unlimited access
Try first month for just £1 / $1 / €1
Quizzes, features and footballing fun
Get daily World Cup 2022 news, updates and other football frolics to your inbox
Quizzes, features and footballing fun
Get daily World Cup 2022 news, updates and other football frolics to your inbox
Thank you for signing up to Four Four Two. You will receive a verification email shortly.
There was a problem. Please refresh the page and try again.