How England missed their golden opportunity for World Cup glory
Chris Flanagan was in Qatar to see the Three Lions' World Cup hopes come to a sad end, after Harry Kane's penalty miss against France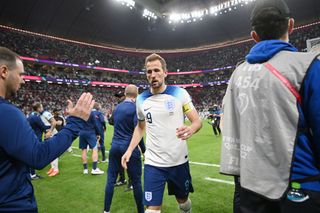 (Image credit: Getty Images)
"Inshallah, England win today."
That's the message from FourFourTwo's taxi driver, as we head along a dark deserted highway to the Al Bayt Stadium for one of the Three Lions' biggest World Cup fixtures in modern history.
"It's cold today," he remarks, despite it still being 21 degrees. At night. "I hope England win - I like English people, very nice," he adds, having ferried countless fans around Qatar for the duration of this tournament. "Argentina people, not very nice - people very rude. I don't like Argentina."
While the Argentines have the largest fanbase left in this World Cup, England have probably had the biggest support among the European nations - many of whom have been surprisingly poorly represented. Was it the cost of accommodation? Was it the bad PR that preceded this tournament? Either way, the usual numbers just haven't travelled.
Last night, the Netherlands section of the Lusail Stadium was little more than 100 people. French numbers haven't exactly been overwhelming either, but England's have been better, as fans began to dream of the previously unthinkable. FFT met one fan who'd made the trip for this quarter-final against France, having got 30 friends and family to apply for tickets on his behalf during the public ballot before the tournament. One way or another, he was determined to get in.
Outside the stadium before kick-off though, there still wasn't quite the same buzz as created by the many Argentines for their quarter-final on Friday night. Locals seemed split fairly evenly, some waving France flags, some in England colours, although there weren't the thousands that turned up in support of Lionel Messi and co.
Inside the stadium, the atmosphere wasn't quite the same either, with a surprising number of empty seats at kick-off, despite the importance of this match, and the quality of the two sides on show. The happiest man around seemed to be the one waving a Moroccan flag, shortly after their remarkable victory over Portugal - even though he'd clearly come to the wrong game.
Given the long history of the English and French national teams, it seemed extraordinary that this was the two countries' first-ever meeting in a knockout game at a major tournament. It should have been a quarter-final at Euro 2016, only for Roy Hodgson's men to somehow lose to Iceland. Under Gareth Southgate, there was never likely to be a repeat of that debacle against Senegal in the last 16 of this tournament.
As various favourites have been eliminated and the draw has opened up, not least after Morocco's win over Portugal, increasingly this game began to look like it was fitting of the final itself - two of the biggest contenders for the trophy, going head to head in the last eight. For the victor, a golden opportunity to win it all. Either would be heavy favourites against the Atlas Lions in the last four.
Statistically, it was a clash between the best team at the tournament so far, and the best individual player. The Three Lions came into the game with the best record of any side at the World Cup - won three, drew one, lost none, scored 12, conceded just two. Les Bleus had Kylian Mbappe, the World Cup top scorer with five goals. Perhaps little wonder then, that pre-match, most of the photographers lined up on the French side of the pitch, rather than the English side, keen to grab a picture of Mbappe during the national anthems.
On paper though, this France World Cup squad didn't seem quite as strong as four years previously - Paul Pogba and N'Golo Kante are injured, while Antoine Griezmann and Olivier Giroud seemed past their peak at club level.
France's injury problems have also left themselves without quite the deep squad that they enjoyed in 2018 - England's bench looked the stronger, containing a plethora of attacking options. Marcus Rashford, Raheem Sterling, Jack Grealish, Mason Mount, James Maddison, take your pick.
What England still had to prove was that they could beat a side near the top of the FIFA rankings. They'd done it only once at the World Cup - against Argentina in the group stage in 2002 - since the rankings were introduced 30 years ago.
Victory over Germany in the last 16 at Euro 2020 was impressive, and opened up their route to the final, although home advantage had made Southgate's men slight favourites for that game.
Against Brazil in 2002, victory would have given England a real chance of winning the trophy - they would have faced Turkey in the semi-finals, then a previously underwhelming Germany in the final. They led, but lost control of possession the longer the game went on, and eventually lost. Against Croatia in the semi-finals in 2018, they led, but lost control of possession the longer the game went on, and eventually lost. Against Italy in the final of Euro 2020, they led, but lost control of possession the longer the game went on, and eventually lost.
It's been a common problem, perhaps not helped by players tiring in the latter stages of games in the latter stages of tournaments, after a long hard Premier League campaign. This time, a mid-season World Cup at least provided hope that that may not happen.
England went into this game fifth in the FIFA rankings, one place behind France. Argentina, in third, were the bookmakers' favourites to win the World Cup before this game; the top two, Brazil and Belgium, have already gone.
Nearly an hour before kick-off, the crowd inside the stadium were treated to a random pitchside performance of Dancing In the Moonlight by Toploader - not that there were many people actually in their seats by then.
If possession was fairly even early in the game, it was France who looked the more likely to find a way through - for all the focus on Mbappe and his battle against fellow speedster Kyle Walker, it was actually Ousmane Dembele posing the bigger threat, crossing for Giroud to direct a header straight at Jordan Pickford.
When Walker went forward and England lost possession though - albeit Bukayo Saka felt he was fouled - Mbappe seized his opportunity for freedom. Walker attempted to sprint back in vain, but the French star narrowly evaded Declan Rice's attempt to bring him down, beginning the move that ended with Aurilien Tchouameni firing France ahead from outside the box.
England dominated the rest of the half, and created chances too, but couldn't quite take them - twice Harry Kane was denied by his Spurs team-mate Hugo Lloris, either side of what seemed a good shout for a penalty, which went to a VAR check but wasn't given.
Saka was consistently causing problems, twisting and turning on the edge of the box, but the Three Lions were struggling to get Phil Foden in the game on the other flank, something that has often been the case during Foden's England career so far, despite his obvious quality.
Southgate's side certainly weren't being outplayed - nothing was fundamentally wrong. This was always likely to be a 50/50 game between two good teams, decided on fine margins. Whoever produced a moment of supreme quality could steal the edge - Tchouameni's strike had left England chasing the game.
At the start of the second half, a brilliant Jude Bellingham strike almost levelled it, only for Lloris to deny the Three Lions once more. Soon though, the French goalkeeper was finally beaten, emphatically from the penalty spot by Kane, after Saka had been felled by Tchouameni, following a sumptuous one-two with Bellingham. It was absolutely no less than England deserved, as Kane drew level with Wayne Rooney's England goalscoring record, on 53.
Could Southgate's men go on and win it, like they'd done from behind against Denmark in the Euro 2020 semi final, a sort of Brazil 2002 or Croatia 2018 in reverse?
Saka burst through again soon afterwards, denied by Lloris. He's proved beyond any doubt in this tournament that he deserves to be at this level - he's been one of the most dangerous wide men at this World Cup. Little wonder France seemed to be trying to haul him down at every opportunity - they knew it was the best way of stopping him.
France looked highly capable at the other end too, though, particularly after Mbappe beat Walker in a scintillating foot race on the flank, but again it was England with the next clear chance, Harry Maguire heading against the outside of the post, as he sought a quarter-final goal for the third successive tournament.
With 20 minutes left, England had had 58 per cent possession, and eight shots on target to France's three. They'd been the better side, but were almost behind again when Dembele was allowed to beat Luke Shaw in the air and nod across goal for Giroud to see a header saved. It was a warning that England's defence didn't heed - a minute later, Antoine Griezmann crossed from the other side, Giroud got half a yard on Maguire and his header deflected off the defender into the net.
Immediately, Southgate introduced Mason Mount and Raheem Sterling, surprisingly taking off Saka. It paid dividends: Theo Hernandez bafflingly barging Mount in the back to concede a second penalty of the game.
"You're not fit to referee," the England fans chanted, upset that it had taken VAR to give the spot kick, after a number of controversial decisions against the Three Lions during the game.
Suddenly, Kane had an opportunity to break Rooney's record, but it turned into his worst nightmare. Trying to go to the goalkeeper's right again, Lloris went the right way, but the penalty ballooned over the bar.
Bellingham quickly ran over to encourage Kane to keep his head up, but the England skipper knew the gravity of what had just happened. No-one should ever blame him for it, given everything he's done for England during his career. He didn't deserve this. But one kick had ended the Three Lions' dream of winning this World Cup - a World Cup they really could have won, had they somehow found a way through this match. There was always a chance that this game could come down to penalties - this wasn't quite the way that most imagined it.
Back in 2013, then FA chairman Greg Dyke set England a target of winning the World Cup in 2022. That target briefly looked within reach this week, but sadly it fell by the wayside, just like at so many other tournaments in the past.
Like that defeat to Brazil in 2002, this was a golden opportunity missed - had they progressed past France, football really could have come home.
Unlike the tournaments of the past, England didn't fail to win this World Cup because they couldn't dominate possession against top teams, or because they simply weren't good enough. Really, that's the most frustrating thing of all.
Thank you for reading 5 articles this month* Join now for unlimited access
Enjoy your first month for just £1 / $1 / €1
*Read 5 free articles per month without a subscription
Join now for unlimited access
Try first month for just £1 / $1 / €1
Get the best features, fun and footballing quizzes, straight to your inbox every week.
Chris joined FourFourTwo in 2015 and has reported from 20 countries, in places as varied as Jerusalem and the Arctic Circle. He's interviewed Pele, Zlatan and Santa Claus (it's a long story), as well as covering Euro 2020 and the Clasico. He previously spent 10 years as a newspaper journalist, and completed the 92 in 2017.
Get the best features, fun and footballing quizzes, straight to your inbox every week.
Thank you for signing up to Four Four Two. You will receive a verification email shortly.
There was a problem. Please refresh the page and try again.