How Jose Mourinho lost his touch with youth – and why Ed Woodward was right to dismiss his demands
Mourinho once inspired young players, but as he increasingly leans on older heads, Richard Jolly explains why Woodward is wise to ignore his reported transfer targets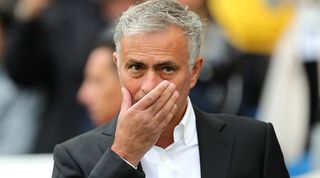 Nineteen, 22, 22, 23, 24, 25, 27, 29, 29 and 34. The numbers formed part of the case for the defence. They reflected the ages of the players signed by Manchester United under Jose Mourinho at the time they arrived at Old Trafford. Diogo Dalot is the youngest, Zlatan Ibrahimovic the oldest. It all suggested a suitable age balance to his recruitment.
An alternative list could be compiled: 32, 30, 29, 29 and 29. They are the ages of Diego Godin, Willian, Ivan Perisic, Jerome Boateng and Toby Alderweireld; five major targets to elude Mourinho this summer. Each is a sufficiently seasoned player to further the theory that a manager who has never celebrated a fourth anniversary in any job has abandoned all pretence of futuristic planning.
Instead of lining up for Mourinho, Alderweireld should instead be an opponent at Old Trafford on Monday. Perhaps the failings of the 24-year-olds at Brighton, Victor Lindelof and Eric Bailly (below), explain why Mourinho wanted a more experienced centre-half. He could argue that, for all the players he eyed enviously, he only wanted to add two more in the second half of their respective careers.
Moreover, Willian, after the most prolific season of his career, and Perisic, as one of the best players of the World Cup, feel at the peak of their powers. These are footballers with the potential to exert a decisive impact now.
A public conflict
If United's seeming reluctance to buy the ageing accounted for some of Mourinho's sullenness, his sardonic quip about the job title being downgraded from manager to head coach helped make conflict public. This became Mourinho vs the club's vice-chairman Ed Woodward: football man vs businessman; short-termism vs long-termism; serial trophy winner vs a specialist in turning profits.
If the abject showing in Sussex makes Woodward a convenient bogeyman, and a strategy that produced an official tractor partner in Thailand renders him an easy target, Woodward has a certain amount of logic on his side. It is not merely the financial wisdom of not signing too many players with a deteriorating resale value, either.
There was a scenario where United could have reached the summer of 2021 with, say, Willian, Alderweireld, Alexis Sanchez and Nemanja Matic all 32 or 33 years old; all entering decline and with a club who tend to pay inflated fees facing a £300m rebuilding project to replace them. (That's before factoring in the ages of Ashley Young and Antonio Valencia, the club's wing-backs who have already passed their 33rd birthdays.) Woodward – and the director of football United plan to appoint – would be wise to guard against such a situation.
Yet there's a broader issue beyond the fractiousness of a manager who tends to make none-too-veiled comments about Liverpool and Manchester City's spending, while ignoring his own. Mourinho has long felt like the ultimate quick-fix manager; a builder of winning teams rather than dynasties; a man whose impatience means he wants the finished article.
During his second spell at Chelsea, he granted Mohamed Salah, Kevin De Bruyne and Romelu Lukaku a mere eight league starts in total. Mourinho has become a byword for trying to win today and not caring about tomorrow.
A changing man
But perceptions have been shifted. He was not always indelibly associated with signing and favouring 29-year-olds. Take his best Premier League side, Chelsea's class of 2004/05. When that season started, Arjen Robben was 20; Petr Cech and Joe Cole 22; John Terry and Wayne Bridge 24; Damien Duff, Eidur Gudjohnsen and Paulo Ferreira 25; Frank Lampard, Didier Drogba, Ricardo Carvalho and William Gallas 26. The 31-year-old Claude Makelele was the exception.
It was a team built to last. Some left, but others provided Chelsea with a core for years. Not all were Mourinho's signings, but besides providing an enviable age profile, they suited the ethos of a manager on the rise.
Mourinho improved players. He showed a willingness to recruit those with comparatively few achievements on their CV. Their hunger to achieve matched his. Neither he nor they were part of the footballing old guard. More than a decade later, Mourinho's emphasis has changed: from younger to older, from the comparatively untried to the proven.
Maybe it's the conservatism that comes with ageing. Perhaps, though, Mourinho finds it harder to relate to a younger generation. Ibrahimovic and Cech are among the youngest of a group, mostly born in the 1970s, who idolised Mourinho with his anti-establishment shtick, quick wit and charisma. That generation comprised his greatest Chelsea team. They formed the Porto side that won the 2004 Champions League and the older Inter side who conquered Europe in 2010.
If the boys of 1974-82 were Mourinho's generation, he seems to deem the men born between 1985 and 1990 the next best thing now. Matic feels like his first lieutenant on the pitch, held up as the example for others to follow. He seeks solace in the sight of Willian. He looks to add the Serb's contemporaries. He is willing to exile or admonish younger players, from Memphis Depay and Adnan Januzaj to Luke Shaw and Anthony Martial - unless they are Scott McTominay.
It feels undeniable that Mourinho has a weaker bond with footballers three decades and more his junior. Sir Alex Ferguson felt that being around young players kept him young. Mourinho seeks out the older figures in dressing rooms. If it creates problems in recruitment with cost-conscious employers, it also suggests that this particular Cold Warrior will find managing harder when he has to rely on players born after the fall of the Berlin Wall. All of which is a bigger problem than being denied his preferred centre-back and winger.
Quizzes, features and footballing fun
Get the best features, fun and footballing frolics straight to your inbox every week.
Thank you for signing up to Four Four Two. You will receive a verification email shortly.
There was a problem. Please refresh the page and try again.