How Spain is treating G-Nev's difficult start at Valencia
Gary Neville is yet to taste La Liga victory at the Mestalla helm, and the pen-pushers are showing no mercy writes Lee Roden...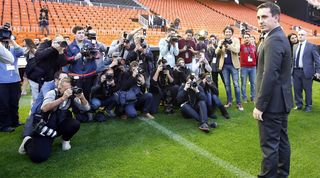 If there is such a thing as a honeymoon period in Spain's third city, then for Gary Neville it is drawing to a close.
"What could possibly go wrong with a commentator for a coach in the middle of a crisis, incapable of getting his message across to his players?" snarled reporter Vicente Bau on January 25.
The jab was delivered only four days after the same journalist wrote a column entitled "I believe in Gary Neville". The turning point that forced the change of mind? Valencia's fortunate draw against Deportivo at the Riazor, where they were rescued by a 93rd-minute Alvaro Negredo equaliser. It was los Che's seventh consecutive league match without a win under their manager.
Four weeks down
While scepticism was unavoidable due to his lack of experience, when Neville first took the job there was plenty of goodwill and desire for him to succeed. A well-rehearsed discourse of honouring the club's shirt seemed to go down particularly well.
The inescapable reality, however, is that Valencia have yet to improve in any meaningful way under their current boss: the mechanisms he wants to change are fairly clear, but putting them into practise has been a struggle. The Deportivo game only reiterated that, with Valencia starting brightly in the first 10 minutes and then descending to an almost farcical standard soon after.
STORY SO FAR
Total matches: 12
La Liga: P7 W0 D5 L2
Champions League: P1 W0 D0 L1
Copa del Rey: P4 W3 D1 L0
For his efforts in Galicia, Superdeporte gave the coach a four out of 10. Vicent Molins, writing in one of the city's other sports papers, gave him nothing short of a kicking.
"If the game demonstrates anything it's that Valencia are a complete mess whose coach, sometimes through inaction and other times action, hasn't brought anything more than a few doses of confusion," he wrote. "Oh, but four weeks aren't enough to change anything. Well, we also thought they weren't enough to make a beaten team worse…"
The "four weeks" line relates to something Neville said in his pre-match press conference before the Deportivo game. Questioned about the lack of improvement in the team's performances since he took the job, he responded: "I've been here four weeks. Give me some time. Questioning my work after four weeks doesn't make sense."
It was a big mistake. Valencia has a sizable contingent of highly opinionated sports journalists, and if there is one way to rub them the wrong way, it's to challenge their right to engage in the time-honoured local tradition of criticising the manager.
A backlash was to be expected, and it came. "Neville doesn't want to be judged even though he has been in the job for two months and continues without a win. The draw against Deportivo was more than he deserved," sneered one writer in El Mundo.
Strained
Falling into the trap of rising to the local hacks may just be a small sign that Neville is starting to feel the pressure of his job.
He had previously been exceptional in his handling of the media, impressively composed. Difficult questions were answered with considerable skill, usually by over-emphasising the small positives in performances while at the same time recognising the negatives just enough to placate the masses. In most instances, he has looked every bit a man who spent almost two decades answering to the demands of one of the biggest clubs in the world.
But the veil is now starting to drop, and his every move is analysed with a kind of curiosity over how the experiment will end. A video released by Spanish TV station Canal+, focusing on Neville's touchline behaviour during the Deportivo game, created the image of an increasingly frustrated figure. When defender Ruben Vezo took too long to warm up, he was dressed down with a derisive cry of "f***ing be ready!". As the game dragged on, the expletives and exasperated throwing of hands piled up.
It wasn't all bad. When Alvaro Negredo's equaliser finally went in, the crosser, Dani Parejo, ran over to the touchline to celebrate with his elated coach. That reflected one of the biggest positives of Neville's time at Valencia so far: despite being a clear outsider, he has swiftly gained acceptance from the people he is working with. The dressing room respect him.
What could have been a controversial decision to change the team's captaincy has resulted in zero complaints to the press, and the employees of the club are said to be enamoured with his intense work ethic. Sporting director Suso Garcia Pitarch briefed the local media that he is the most disciplined individual he has ever encountered in the game.
Life and Lim
As for Neville's top boss, all indications are that Peter Lim will stick with his man, still confident that a change in fortunes is around the corner.
Neville's friendship with the Singaporean may ensure he doesn't face the constant fear of being sacked that other coaches deal with, but that doesn't mean he has nothing to lose. In all likelihood, the Valencia gig is a short-term one for the Englishman, something he can try to use as a launching point in his career.
To do that, however, he'll need to show some demonstrable talent in his job – and while his man-managing is seemingly up to scratch already, that isn't enough. The compulsory, basic feat of achieving good performances on the pitch has so far eluded him.
Plenty of important eyes – not least those involved in naming Roy Hodgson's successor as England manager – will be watching Neville's learning experience unfold.
There was always a huge risk involved in using Valencia as an introduction to full-time coaching. Terrible squad planning means even an exceptionally talented coach would find it difficult to turn things around mid-season.
Neville may yet prove to be one such talent, but at the moment he isn't showing it. Some of the locals are getting restless. Further afield, prospective employers may be starting to lose their confidence too.
RECOMMENDED
Quizzes, features and footballing fun
Get the best features, fun and footballing frolics straight to your inbox every week.
Thank you for signing up to Four Four Two. You will receive a verification email shortly.
There was a problem. Please refresh the page and try again.