How Vitesse became Chelsea's finishing school
Elko Born looks at the Dutch team that have effectively become Chelsea's feeder club...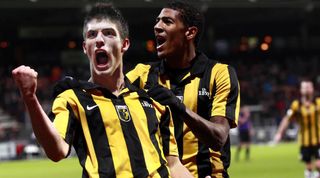 Over the past few years, Vitesse have risen from mid-table obscurity to being genuine title contenders in the Eredivisie. Currently, they sit second in the table, conceding the top spot to Ajax only on goal difference.
In no small way, the Arnhem-based side owes its Eredivisie ascent to the relatively large amount of Chelsea players they've signed on loan, among them Patrick van Aanholt, Cristian Cuevas, Lucas Piazón, Christian Atsu, Gaël Kakuta and latest addition Bertrand Traoré, who's yet to make his debut.
There's more to this than clever scouting on Vitesse's part, though. They and Chelsea are working together closely – although not exclusively. Chelsea see Vitesse as a temporary stopping-place for their youngsters, while in the other direction Vitesse give Chelsea right of way when one of their top players is poised for a move to a bigger league, as was the case when Marco van Ginkel moved to London in the summer of 2013.
The advantages to both sides are obvious: Chelsea get the opportunity to guarantee their youngsters first-team football in the Eredivisie in order to give them time to develop, while Vitesse get the chance to play a selection of the world's most promising young footballers. It's a win-win situation.
The mutually beneficial collaboration between Chelsea and Vitesse began in 2010, when Georgian former professional footballer and players' agent Merab Jordania acquired 100 per cent of Vitesse's shares. Consequently, Jordania became chairman of the Arnhem-based club – all this amid rumours of Chelsea owner Roman Abramovich's involvement.
Soon after, the influx of young Chelsea players began. Czech defender Tomás Kalas was the first to make an impression, partnering Alexander Büttner in Vitesse's defence. The two youngsters would later become pivotal to Vitesse's steady climb up the Eredivisie ladder.
Over the course of 2011/12, Kalas was joined by fellow Chelsea loanees Van Aanholt, who plays as a left-back, and midfielder Ulises Dávila. Ahead of the 2012/13 season, pacey winger Kakuta joined the pack with midfielder Cuevas, forward Piazón, left-winger Atsu and defender Sam Hutchinson following a year later.
But, much to everyone's surprise, Vitesse announced in October 2013 that owner Jordania had sold all his shares. It soon transpired that admirers of the ever-growing bond between Vitesse and Chelsea had nothing to worry about. The new owner, Russian billionaire and qualified doctor Alexander Chigirinsky, was a personal friend of Abramovich, much like Jordania. The takeover would in no way jeopardise the relationship – it would be intensified, if anything.
While Vitesse is not quite an official satellite club, it's clear to everyone that the connection they have with Chelsea is here to stay. Chelsea's technical director Michael Emenalo has publicly expressed his satisfaction with the arrangement, and judging by their recent performances Vitesse can be more than pleased as well.
Traoré, an 18-year-old attacking-midfielder from Burkina Faso, completed his signing for Chelsea on January 1 this year. The very next day, he was loaned out to Vitesse and became the latest addition to a squad full of exciting young talents.
More and more, these youngsters are showing their worth in the Eredivisie, slowly but surely taking steps towards fulfulling their potential. Indeed, getting regular time in the Eredivisie, rather than sitting on the bench in London or playing for Chelsea's reserves, is proving beneficial - not only for themselves, but for Chelsea and Vitesse as well. So who, exactly, are these young players, and how have they performed?
Tomás Kalas
Kalas moved to Chelsea in the summer of 2010 from Czech outfit Sigma Olomouc for a reported fee of £5 million. He joined Vitesse on loan in the summer of 2011. The sturdy defender impressed almost immediately, convincing fans and pundits alike of his already rocksteady defensive capabilites.
Kalas spent the 2012/13 season in Arnhem too, returning to London with an impressive total of 67 league appearances for Vitesse under his belt. Sorely missed by Vitesse, he's now fighting for his place at Chelsea.
The first proper graduate of Chelsea's Arnhem finishing school, Kalas can be sure there's a bright future ahead of him. This season, he's yet to make his first league appearance for the Blues but this can partly be chalked up to injury problems. Expect Kalas to rise to the occasion in the near future.
Lucas Piazón
Chelsea had to fight off various European top sides in order to sign Piazón in early 2011, including Juventus. In the end, they were forced to pay a whopping £6.5m. By now, Vitesse fans know exactly why. The Brazilian forward, usually deployed on the left wing so he can utilise his excellent right foot while running at the opposition's defence, has performed superbly this season. After only 18 appearances he's scored 11 goals and made 8 assists along the way. Much quicker than anyone expected, Piazón has transformed himself into the undeniable creative hub of Vitesse.
While there's no doubt Piazón is proving to be one of the most exciting talents currently active in the Eredivisie, Chelsea would be wise to keep the Brazilian in Arnhem for another year or two. That way, he'll have time to add more experience to his persona and further refine his already excellent technique. As Jose Mourinho has undoubtedly already noticed, Piazón is one for the future.
Christian Atsu
Before signing for Chelsea in September 2013, Ghanaian international Atsu had some experience under his belt already, having spent three seasons in Portugal playing for Porto and Rio Ave. He joined Vitesse on loan in the summer of 2013 and quickly made his present felt before forcing his way into the Arnhemmers' starting XI.
Originally a pacey winger, Atsu found himself deployed as a central midfielder in an offensive 4-3-3, and has risen to the occasion superbly. In an anxious win over FC Utrecht, he scored the decisive goal as Vitesse triumphed 3-1. He also bagged an assist in a 6-2 demolition of PSV in December 2013.
Atsu is able to provide width from the flanks, but he's also more than capable of utilising his technique and pace in a more central role. Over time, his multifunctionality could prove to be a great asset to Chelsea's squad. But, whether Atsu eventually ends up at Chelsea or not, spectators will surely see more of him next summer as he'll likely be part of Ghana's World Cup squad in Brazil.
Patrick van Aanholt
Right when PSV's academy realised they had a real gem in their hands, Van Aanholt, then 16 years of age, left Eindhoven to try his luck at Chelsea. Two years later, he set out for short loan stints at Newcastle United, Coventry City and Leicester City. But only after joining Vitesse on loan in January 2012 did he begin to get a proper taste of regular first team football. In Arnhem, the left-back quickly impressed. His forward surges and defensive steadfastness are now vital to Vitesse's football, leading him to make his debut for the Dutch national team in a friendly against Columbia last November.
At present the Oranje's left-back position seems to be up for grabs, so it's possible the Dutchman could secure a position in Holland manager Louis van Gaal's starting XI. Should Van Aanholt play at the World Cup he would surely learn from the experience, and in a few years time Chelsea could have a more than decent left-back available to them.
Gaël Kakuta
Before joining Vitesse on loan, the transfer of Kakuta from French outfit RC Lens to Chelsea caused a bit of an uproar. The Blues were accused by FIFA of illegally tapping up the French youth international, but the unparalleled heavy sanctions football's governing bodies had in mind were lifted after Chelsea made an appeal. Kakuta made six appearances for Chelsea, in the Premier League and the Champions League, before going on short and more or less unsuccesful loan stints at Fulham, Bolton Wanderers and French side Dijon.
In the summer of 2012, Kakuta joined Vitesse on loan. But after being pushed to the sidelines by the highly successful Piazón, the forward – mostly deployed on the left wing – voluntarily returned to London in January, expressing his desire for first team football. It's unlikely, however, that this wish will be fulfilled at Chelsea, and after yet another unsuccesful loan spell, time at Stamford Bridge seems to be running out for the Frenchman who was once compared to Zidane.
Thank you for reading 5 articles this month* Join now for unlimited access
Enjoy your first month for just £1 / $1 / €1
*Read 5 free articles per month without a subscription
Join now for unlimited access
Try first month for just £1 / $1 / €1
Get FourFourTwo Newsletter
The best features, fun and footballing quizzes, straight to your inbox every week.