In the mag: The inspirational, irritable, incendiary Roy Keane! Plus the angriest players ever, Souness at Benfica, Fabregas exclusive and a deep dive into Napoli
Get your hands on the latest issue of FourFourTwo magazine – available in print or on iPad and iPhone – from Tuesday, January 10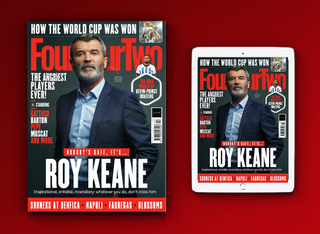 (Image credit: Future)
Order the new issue with free delivery here (opens in new tab) – just select 'February 2023'.
Subscribe to FourFourTwo today and save! You'll get 13 issues per year…
First a message from our editor, James Andrew:
Weeks since that incredible final between Argentina and France, the World Cup is now in the rear view mirror, and we're back to the hustle and bustle of domestic football.

One of the stars of the tournament was Roy Keane – OK, just like the previous World Cup in Asia, he wasn't on the field, but he was one of the standout pundits on ITV, just as he's been during Sky Sports' Premier League coverage for some time. In this issue, we look back at the career of a no-nonsense midfielder who never took any prisoners – on or off the pitch.

Cesc Fabregas sits down for a chat with FFT, explaining why Serie B side Como is likely to be his last club before he hangs up his boots and heads into coaching. Should he do that, he could do a lot worse than to give our feature on assistant managers a read. It's a vital role at any club – those who do it don't always get the credit they deserve.

Staying in Italy, we have a feature on Napoli, who are aiming to win their first scudetto since 1990, back when Diego Maradona was their star man. Argentina surged to glory after Maradona's death – will Napoli do it too?

Enjoy the mag and an action-packed 2023 ahead - there's no shortage of matches to squeeze in between now and the end of this frantic season.
Roy Keane: mentality monster
Roy Keane was the beating heart of a Manchester United side that ruled the Premier League, before he dominated the dugout and TV studio too. When he's around, though, confrontation follows...
The Angriest Footballers ever!
From burglar-busters and one-punch Chilean knock-out artists to an Australian honey badger and King Eric, we touch gloves with the players who just couldn't help getting riled up in the name of the beautiful game
The World Cup in Pictures
While Qatar 2022 cannot be separated from justifiable off-field scrutiny, the first Arabic World Cup did at least deliver on the pitch. FourFourTwo were there as Kylian Mbappe tore it up again and England burned brightly, only for King Leo to finally rule the world. We share the very best images from the 2022 World Cup, as well as our on the ground account of what it was like to be there
Touching the hand of God
Napoli were a club once trapped by the memory of Diego Maradona, but now they feel inspired by it. They're sat atop Serie A going into the New Year in the ground that bears his name. Can Napoli's new order create their own legend by winning a first scudetto since 1990?
The Joy of Cesc
While Napoli are flying high in Serie A with all of Italy's big hitters in pursuit, a Premier League legend is down in Serie B. Nearing retirement, Cesc Fabregas meets FFT to chat Arsenal, Barça, Chelsea... and Como
It's Not Easy Being Two
The assistant manager hasn't been immune to football's frantic growth spurt. A modern number two's remit has evolved from fancy dress and banter to psychology, data, book deals and even subtle Machiavellianism
Assistant Pep Talks
Liverpool assistant manager Pep Lijnders is the epitome of a modern number two. The Dutchman has an agent, a book out and the ambition to manage himself. But when it comes to assisting, it's Klopp and Klopp only, he tells FFT...
Between The Lines
Former Chelsea, Millwall and Newport County gloveman Lenny Pidgeley fell out of love with football as he tried to keep up appearances while suffering with depression – then someone else announced his retirement
Graeme Souness Loves Big Balls
And you needed them to play for Souey, especially when he took the reins at crisis club Benfica just over a quarter of a century ago. FFT recounts the Scot's 18 turbulent months in Lisbon, which included fisticuffs, fallings out and some testicular admiration…
Around The Grounds
Our dedicated section for all things EFL, non-league and Scotland brings you an interview with the longest serving manager in world football, Brent Peters became Bacup Borough boss down the boozer in 1997! Rich Fay, host of Wrexham's 'RobRyanRed' podcast talks us through the Best & Worst players, matches and managers at the Racecourse Ground, Aston Villa's Finn Azaz (on loan at Plymouth) gets the 'Boys a bit Special' profile treatment and Preston's 1994-95 away shirt gets locked away for Kit Crimes. The Scottish Cup game that birthed the famous "Super Caley Go Ballistic, Celtic Are Atrocious!" newspaper headline is revisited, to the delight of Inverness fans, and the dismay of Celtic supporters, and staying in Scotland John Robertson (not that one) goes under the microscope in Record Breakers as we look at his £750k move from Newcastle back to Hearts where he earned cult hero status.
Kevin-Prince Boateng answers YOUR questions
The Euro club journey man chats Spurs, Zlatan and Milan moonwalks
Upfront
Leading the line for us this month is an exclusive interview with Lukas Podolski, stories on Matty Cash hanging out with Ronaldinho on the beach, King Charles II visiting Wrexham's Racecourse Ground, and FourFourTwo being officially declared a work of art. With Blossom's lead singer, Tom Ogden's tales of beers with Paul Dickov and odd photos with Roberto Mancini.
Players' Lounge
Joining us in the Players' Lounge for interviews this week are: Newcastle entertainer, turned greengrocer, turned TV pundit Philippe Albert. Shearer boot-cleaner turned goal machine James Beattie. Hairstyle Queen Lioness turned pundit Sue Smith, and Rangers hunk who should've been an actor according to Sean Connery, Lorenzo Amoruso.
Subscribe to FourFourTwo today! (opens in new tab) Guarantee the finest football stories and interviews dropping on your doorstep every month.
Thank you for reading 5 articles this month* Join now for unlimited access
Enjoy your first month for just £1 / $1 / €1
*Read 5 free articles per month without a subscription
Join now for unlimited access
Try first month for just £1 / $1 / €1
Get the best features, fun and footballing quizzes, straight to your inbox every week.
Ketch joined FourFourTwo as Deputy Editor in 2022 having wracked up appearances at Reach PLC as a Northern Football Editor and BBC Match of the Day magazine as their Digital Editor and Senior Writer. During that time he has interviewed the likes of Harry Kane, Sergio Aguero, Gareth Southgate and attended World Cup and Champions League finals. He co-hosts a '90s football podcast called 'Searching For Shineys', is a Newcastle United season ticket holder and has an expensive passion for collecting classic football shirts.
Get the best features, fun and footballing quizzes, straight to your inbox every week.
Thank you for signing up to Four Four Two. You will receive a verification email shortly.
There was a problem. Please refresh the page and try again.