Interview, Giuliano Maiorana: "Fergie used to belittle me in front of people – then let me rot in the reserves"
The Cambridge-born winger made seven appearances for Manchester United after dazzling on trial while playing for 10th-tier Histon – but then it all went wrong. The 47-year-old tells Ryan Baldi his story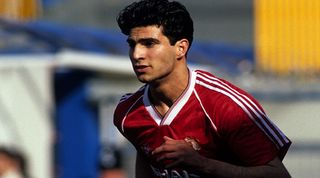 It takes more than just raw talent to forge a career in football at the highest level. It's something we hear all the time, borne out by anecdotal evidence of precocious youngsters whose path to the top becomes blocked by misfortune or missteps, bad luck or bad decisions. Once they're gone from the game, they're forgotten; no longer of use and thrown on the scrap heap.
In that regard, former Manchester United teenager Giuliano Maiorana is no different. On the surface, his story is an unfortunate one but by no means out of the ordinary. Dig a little deeper, though, and it soon becomes apparent that this particular former Red Devil enjoyed a different rise and fall to most young hopefuls.
New name
It all started with a trial. After a tip-off from Histon manager Alan Doyle, and a glowing report from a Lincoln-based scout, Maiorana was plucked from 10th-tier obscurity aged 19 and summoned to United's Cliff training ground for a trial.
"My initial thought was 'never in a million years will they sign me'," he tells FourFourTwo from his Cambridge home. "On my first day of training, Brian Kidd [United's former assistant manager] asked: 'What's your name?' I said 'Guiliano'. 'What do they call you for short?' I said 'Ju'. 'Alright then, Jules.'
"'Jules?!' It didn't matter, I thought. I'm only going to be here for a week anyway, they're not going to sign me."
Made in Histon
Maiorana's skills were raw: he'd never had any elite-level coaching, nor had the opportunity to even receive any before. Up to that point he'd tried his hand at hairdressing for eight months ("I was useless at it and didn't enjoy it – all I did was make coffee and sweep the floor for £27.50 a week"); after that, he worked in an Italian fashion shop called 'Giulios'.
"It surprised a lot of people that the county didn't even come knocking on my door though," Maiorana recalls. "I remember playing a team who were a couple of leagues above us [at youth level] and we won 3-1 – I scored two, hit the post and set the other one up. I got told after the game that there was a scout watching for the county, but I didn't get a call then."
He'd had trials with his local club, Cambridge United, and spent some time with Brentford, but nothing stuck. So, in his late teens, playing Sunday League for a team his father ran, Maiorana was content with being the best player among the amateurs.
"I was just happy playing football for my dad's Sunday team. He had an Italian team playing locally in Cambridge, and I was just happy playing for them. I got scouted by Histon playing five-a-side and it kicked off from there – I was starting to play Saturdays and semi-pro."
But during his time training among the likes of Bryan Robson, Steve Bruce and Norman Whiteside, Maiorana held his own. If anything, his street-honed dribbling skills made him stand out. He was given the chance to compete alongside his heroes against Birmingham City in Ian Handysides' testimonial.
Fergie's introduction
Wearing the No.11 shirt, Maiorana dazzled on the left wing, weaving in between experienced defenders and even winning his side a penalty. At half-time, Alex Ferguson had seen enough – Maiorana was offered a four-year contract there and then. (Ferguson would later call it "one of the best displays I have ever seen from a trialist.")
"On the Wednesday night I was playing for Histon, and after that game I got told a United scout was watching me, which I thought was a wind-up. On the Saturday, I got told they wanted to take me on trial, and I started to take it more seriously. I was hoping I wouldn't have to go up [to Manchester] soon, maybe in three or four weeks' time – I was that nervous about it.
"On the Sunday I got told they wanted me to go up the next day, on the Tuesday I played in the testimonial, and that's when they brought me off at half-time and offered me a contract. Shoot magazine did a piece on me in '89, and their headline was 'Roy of the Rovers'."
It was the stuff of comic-book lore – a "whirlwind", as Maiorana describes. He moved up to Manchester and stayed in digs along with other up-and-coming youngsters like Ryan Giggs and Adrian Doherty, whose United career was also cut short by injury. Doherty's story is the subject of Oliver Kay's book Forever Young – "he was a nice lad – we used to play the guitar together," Maiorana remembers of the Northern Irish youngster. "He was mad for Bob Dylan."
"You've got to stop those tricks"
Maiorana made a handful of appearances for United's first team that season, and drew plaudits for his performances. But the unorthodox skills that made him so unique soon became a bone of contention.
"I used to do overhead kicks from throw-ins on the halfway line, and backheels and flicks. Once, Ferguson had me in his office and said 'You've got to stop doing those tricks'. I just replied: 'To be honest, boss, that's how I like playing football.'
Maiorana relished taking players on
"I like to get fans off their feet. I used to go to bed trying to think of mad things to do with the ball, because, to me, getting the ball and passing it five yards was boring; I used to like trying to do things that people would leave the game remembering.
"I did this thing once, playing against Sheffield Wednesday reserves. I remember the ball going out for a throw-in, and I sprinted for it and did a backheel. It went between two defenders, and as I turned around, they were still going the other way. David Meek put in the Manchester Evening News that if a Brazilian had done that in the World Cup, it'd be put in the archives.
"I was lucky to be blessed like that. People always used to tell me that what I used to do couldn't be taught. Even Paul Ince, who played for England, said to me: 'I don't know how you do it, when you're running with the ball and you've got three defenders coming at you. I just look up and pass it straight away.' And I thought, 'We're playing football, we're meant to be comfortable on the ball'."
Don't make him angry
As time wore on, Maiorana's relationship with Ferguson began to deteriorate. He found himself relegated to the reserves with no explanation, unable to see what he'd done wrong.
"Most of the players, if not all of them at that club, had gone to the Lilleshall School of Excellence at 14 and been moulded into being a player. I hadn't been moulded into a footballer – I was different. It's not as if I was rude or disrespectful – I never have been – but it gets to a stage when somebody's always having a go at you, and you think: is it worth it?
"[Ferguson] used to belittle me in front of people. Darren Ferguson would have his head in his hands, just shaking his head. Once, I went up to him and said, 'What the f*** has your dad got against me? What have I done to him?' He didn't know what to say. He was embarrassed. That happened on numerous occasions.
"I remember playing at Leicester, I'd had a great game. David Pleat, who was their first-team manager, was there watching the reserves. After the game I had a pat on the back and it was him saying 'Absolutely f***ing brilliant son'.
"I went into the changing room and the reserve team manager said well done. Ferguson came in and said, 'Well done boys, you've all got the day off tomorrow. But you, Maiorana, you'll be in running your bollocks off.' I looked at the reserve team manager and he just turned away. Darren Ferguson had his head in his hands again.
"You feel a bit singled out. I was my own man but it felt as if you had to be a bit of a yes man to play for them. It's a matter of pride. The fans were screaming, saying 'why isn't Jules playing?' David Sadler from the Manchester Evening News wrote 'Ferguson has got to give Jules a chance'.
"But I was left to rot in the reserves, and when I got injured it was game over. Initially I'd said to Ferguson that I wanted to leave the club. He wouldn't let me. I got injured in 1991, but the last game I played was in '89, so that's a long time to rot in the reserves.
"I went up to him several times to say 'You're not playing me, I want to leave'. But he kept saying 'I will never let you leave this club. We've let players like David Platt and Peter Beardsley leave before and ended up with egg on our face.'
"Even Brian Kidd said he couldn't believe I wasn't in the first team. 'If I was manager you'd be one of the first names on my teamsheet.'
"Other players who've fallen out with him – like [Ruud] Van Nistelrooy, [Jaap] Stam, [David] Beckham – at least they'd already made a name for themselves and could move on. But I hadn't made a name for myself. I was a nobody."
Trapped
Unfortunately for Maiorana, his career came and went before the advent of the Bosman ruling, which allows the free movement of players whose contracts have expired. He was trapped at United, left with no choice other than to languish in the reserves, as the notoriety he'd gained from his first-team outings slowly faded away.
There was no high-powered agent to swoop in and manufacture his Old Trafford exit; the notion of player power would have seen you laughed out of a manager's office in the late 1980s.
Asked whether he thinks it's easier to make the breakthrough as a young player at a top club today than it was in his time, Maiorana sees both sides of the coin. "I think there are a lot of average foreign footballers in the Premier League now, so it must be much harder for a young player to get in the team," the now-47-year-old says.
"But they've all got agents and if they want to leave there's the Bosman rule. What's changed now is that players can sign a contract but before the ink's even dry, they can leave. If you're at a club, not getting in the team and want to leave, you've always got that option of playing for somebody else if they want you. There's more freedom.
"For somebody at Manchester United now, it doesn't matter how hard it is to get into the first team. There's still a career there for you, and with the money they are getting, they're laughing."
Style gets scissored
Although he was never given the chance to fight for his first-team place or move on, Maiorana – almost as a point of pride – continued to show his abilities for United's second string. But it was that commitment to his footballing principles – his desire to entertain and take risks – that cruelly contributed to his demise. During a reserve game against Aston Villa in April 1991 he suffered what would ultimately prove to be his career-ending knee injury.
It wasn't the result of a horror tackle, or studs getting caught in the turf as he tried to turn, though. Instead, back in his own penalty area while fulfilling his defensive duties, Maiorana elected to clear a dropping ball by attempting an elaborate scissor kick. As his leg swung forward to meet the ball, it crashed into an onrushing Dwight Yorke.
"That split-second," he groans. "I should've headed it, but that's the way I played football."
Maiorana tried to recover and underwent surgery to repair his ruptured ligament, but was never able to get back his form nor fitness. In 1993 he was released by United.
"You're doing well for a club, getting all these accolades – people are saying how well you're doing – and then you get injured, thrown on the scrap heap and forgotten about," he says.
"I feel like my career got swept under the carpet. Even yesterday, a few people on Twitter were saying 'I always wondered what happened to you'. They didn't even know I got injured.
"I had to give up and I had to fight my demons on my own... I never used to watch football, didn't want anything to do with it, but wherever you turn there's goalposts on parks, kids with footballs, people in town with football tops on. The news, the paper – you can't get away from it and I struggled a bit at times.
"When I retired, my head was in a bad place for seven or eight years; I didn't want to watch football, didn't want to talk football, didn't even want anyone to mention United to me.
"Luckily I've got a close family around me: my wife, who I met in Salford, and my two kids. I always say that my football didn't work out up there [in Manchester] but at least I got a family out of it. You've got to look at the positives."
Cruel world
Maiorana's tale is a cautionary one for young footballers, with lessons that can also be learned by clubs and governing bodies about the disposable nature of youth football.
"I used to talk to Nobby Stiles a lot about that," the former star tells FFT. "Even back in '92, '93, '94, [clubs were] recruiting 10- and 11-year-olds. Then these kids go on to be 14 years old, still in the academy, but when they're 15-16, they get discarded and nobody gives a s*** about them.
"Now they're getting six- and seven-year-olds – it's wrong. You go to a club – especially a big club – and you're not allowed to play for your school, you're not allowed to play on Saturday and Sunday with your friends. I've always said that every game they play in the academy is like a trial for them, because they've got to perform otherwise they'll get chucked out.
"There are a lot of players that it happens to: they fall out of love with football at 16-17, and don't play anymore. If you're mad for football, and you're at a big side, you don't care about education. When you're that age you don't have a Plan B or Plan C, you only have a Plan A – and that's to play football."
Take it from a man who knows exactly what it's like to be given everything you've ever wanted, only to have it all snatched away.
Thank you for reading 5 articles this month* Join now for unlimited access
Enjoy your first month for just £1 / $1 / €1
*Read 5 free articles per month without a subscription
Join now for unlimited access
Try first month for just £1 / $1 / €1
Get FourFourTwo Newsletter
The best features, fun and footballing quizzes, straight to your inbox every week.