Introducing the blossoming Saint-Etienne winger being eyed by Wenger and Mourinho
Allan Saint-Maximin has broken into the Ligue 1 side's first team after rising through the youth ranks, writes Andrew Gibney...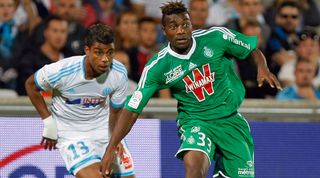 The 60-second story
FACT FILE
Date of birth: March 12, 1997
Place of birth: Châtenay-Malabry, France
Height: 5ft 8in
Position: Winger
Current club: Saint-Étienne (13 apps, 0 goals)
International: France U17 (2 caps, 1 goal)
Seven miles south-west of Paris is the quiet suburb of Châtenay-Malabry, the believed birthplace of famous French writer and philosopher Voltaire who once warned: "It is dangerous to be right in matters where established men are wrong."
Arsene Wenger changed English football when he arrived 1996, showing the established that there was a different approach to the game that could also be successful in the Premier League.
The 17-year-old Allan Saint-Maximin, also born in Châtenay-Malabry, may not go on to be as world famous as Voltaire, but he's on the verge of becoming the next sensational talent out of Ligue 1 to catch Wenger's eye. 
Last season we got the smallest glimpse of the young winger after he played just 30 minutes over three games for Saint-Etienne. Formerly, it was down in the fifth division for the second team that he was turning heads. Scoring five goals in 14 starts aged only 16, it was clear that despite his small frame, he was a big talent we would definitely see more of.
This season he has been more involved in Christophe Galtier's first team. Four of his eight appearances for les Verts have been starts, and he picked up his first assist of the season in the 2-1 defeat at Marseille.
That game showed the fearlessness that the teenager possesses. Saint-Maximin was one of the few Saint-Etienne players who could come away with any credit. He constantly troubled the l'OM defence and gave the away side hope against Marcelo Bielsa's league leaders.
Why you need to know him
Arsenal have always been linked with the bright and best talent in France, and Saint-Maximin is no exception. Former defender Gilles Grimandi is tasked with keeping tabs on any emerging prospects, and the 17-year-old is currently on his radar.
Eden Hazard and Paul-Georges Ntep may have evaded the north London club, but the rumours are that both Wenger and Galtier have already had a friendly conversation about the future of Saint-Maximin. Any move, however, is a few years off for the moment.
Arsenal won't want to stunt his immediate growth; the early signatures of Joel Campbell, Ryo Miyaichi and Carlos Vela didn't work out in the club's favour. Saint-Etienne also don't have the need or want to sell at the moment, but it is clear that Grimandi will be tasked with keeping an eye on Saint-Maximin's progress.
They'll face a fight if and when the time comes to make a move, though – reports suggest Chelsea too could be keeping tabs. 
Strengths
Comparisons will be made with that of a young Cristiano Ronaldo. Whenever Saint-Maximin receives the ball he is keen to face up to his marker and beat him down either down the wing or by cutting inside towards goal.
Still just a teenager, his game is full of stepovers and dazzling footwork rather than just simply running at defenders. When he does decide to make his move it's his explosive first step, the lightning-quick pace when he's in full flight and the rapid changes in direction, that make him difficult to stop.
It may be classed as showboating, but in a French system where players are taught to do the basics before they try to take on the world, Saint-Maximin is a breath of fresh air. Simply put, the precocious speedster is a future game changer. He has shown for both Saint-Etienne and the France youth teams that he is capable of both setting up chances for his team-mates and creating opportunities for himself.
Saint-Maximin's strength mostly comes from his right foot. He's not quite as one-footed as Arjen Robben, but the Dutchman has proved time and again that having one peg just for balance isn't always a bad thing.
Weaknesses
There is a very long way to go before we see how Saint-Maximin's game develops from this early promise, but he has been dazzling scouts and opponents since his pre-teenage years.
Where he needs to improve is in his decision making, a common area of development for most young wingers. Like back-to-back Ballon d'Or winner Ronaldo back in the day, Saint-Maximin would do well to develop his efficiency: when six stepovers can become two, or when it's better to give the ball up quickly rather than trying to take on an entire defence.
You don't want to take away that instinct to beat his opponents, of course, but you want him to learn which battles to fight and when he would be advised to look for another opportunity.
They said…
Dominique Fernandez, the man formerly in charge of recruitment at Saint-Etienne, recalls: "I've never seen it in 20 years in this job. He was 12 when I watched him for the first time in an under-13 tournament. He was always available... the thirst for the ball. It was unheard of. He had speed and individual skill outside of the norm. Even if it is my job to recognise talent."
Praise indeed from a man behind some of the best and brightest talents brought through the ranks of one of France's most successful clubs.
Did you know?
Saint-Maximin is not the only famous footballer to come from the Paris suburb of Châtenay-Malabry. Former Monaco and Paris Saint-Germain midfielder Jerome Rothen and former Newcastle United playmaker Hatem Ben Arfa were both born in the same town.
Ben Arfa played for both Marseille and Saint-Etienne's rivals Olympique Lyonnais, but fans of les Verts will be hoping the teenager will go on to greater things than what the Hull City player has achieved.
TALENTSPOTTER RATINGS
Shooting 6
Heading 5
Passing 7
Tackling 5
Pace 9
Dribbling 8
Creativity 7
Work rate 6
What happens next?
Saint-Maximin's next step is to continue increasing his minutes for Saint-Etienne; boss Galtier has been keen to slowly integrate his inclusion in the first team.
It's similar to what he did with Chelsea's Kurt Zouma, even holding off giving the centre-back a squad number so that scouts would be slower to learn his name.
Saint-Maximin has already enjoyed considerably more minutes than last season, and with his team trying to compete in both the league and Europa League plus the domestic cups, there will be plenty more opportunities for the winger to make his mark.
Should he continue doing what he does best, those conversations between Wenger and Galtier might quickly go from friendly to business.
Quizzes, features and footballing fun
Get the best features, fun and footballing frolics straight to your inbox every week.
Thank you for signing up to Four Four Two. You will receive a verification email shortly.
There was a problem. Please refresh the page and try again.