Jamie Carragher's Perfect XI: Who's "the best player I ever played or trained with"?
The Liverpool legend selects his dream line-up for FourFourTwo in October 2005. Sorry Thierry, it's the bench for you...
Goalkeeper: Neville Southall
I was an Evertonian as a kid and I stood behind him many times on the terraces so I couldn't look beyond Big Nev for my goalkeeper. He saved Everton so many times over the years and even now he's still probably the best keeper I have ever seen.
Right-back: Cafu
It has to be him by virtue of the fact that he has played in three successive World Cup finals and that takes some doing. I don't think anyone will ever do that again and to still be going at the age he is now (Cafu was 35 at the time of Carra's Perfect XI, but only left Milan a month before his 38th birthday – Ed.) shows just what a good player he is.
Centre-back: Franco Baresi
Baresi bossed simply the best club side I have ever seen – the Milan team of the late-'80s and early-'90s. They had great attacking players, not least Ruud Gullit and Marco van Basten, but they were based on being sound at the back and Baresi was obviously the one who organised them. Basically he told the rest of them what to do and he was the main man in defence.
Centre-back: Marcel Desailly
I played against him in the league and he's someone who could raise his game when he wanted to. He loved the big occasions. Whenever we used to play against him at Anfield he used to play so well that, to be honest, it was a case of men against boys.
Left-back: Paolo Maldini
It's easy to take him for granted but he's a legend in his own lifetime. Obviously Roberto Carlos is also a top player but Maldini is much better defensively – and, like Carlos, he can also get forward and provide an extra attacking option – like he did in the Champions League final.
Right midfield: Zinedine Zidane
I would play four in midfield and that would have to include Zidane, the best player of the modern era. I would select him officially on the right but give him a free role because there's no one better for such a job. He seems to have so much time on the ball and there's so much to him – dribbling, creativity, passing, scoring and he's a big lad too, powerful at set-pieces.
Central midfield: Graeme Souness
'Souey' had everything. You don't see many players who can put their foot in and also dictate a game the way he could. It's not just about tackling, it's also about passing too. Obviously Steven Gerrard is a great player and maybe in years to come he can compare to Souness, but I've seen videos of Graeme and he was probably more like Roy Keane and Glenn Hoddle rolled into one.
Central midfield: Roy Keane
And talking of Roy Keane, I'd have him alongside Souey at the heart of midfield. The Man United skipper may be a little short of Souness in the passing department but he has so much drive, he can get forward into the box to score vital goals, and he can also put his foot in. And let's be perfectly honest, the opposition would have trouble imposing their game on Souey and Keano!
Left midfield: John Barnes
Barnesey is simply the best player I've ever played with or trained with. It was a real pleasure and a privilege to be there with him. He was phenomenal. I don't think I ever saw him give the ball away, in a match or in training. He'd be on the left of the midfield, which is of course his natural position – and that's why Zidane's got to go on the right!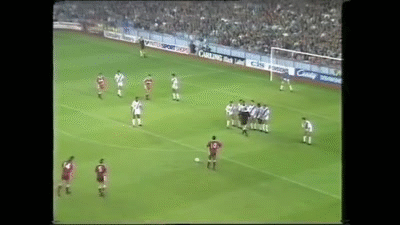 Centre-forward: Marco van Basten
Probably the best striker I've ever seen. He wasn't just a goalscorer: he could hold the ball up superbly and had great skill, which he showed in his goals. He'll always be remembered for hooking a stunning volley into the top corner in the Euro 88 final but at that time, at Milan, he was the main man in the best team in the world.
Centre-forward: Kenny Dalglish
Kenny would play just off Van Basten. Liverpool were obviously the most successful team in British football and to me, he was the best player who ever played for Liverpool. He won three European Cups and scored the winner in his first one, against Bruges at Wembley. He was a legend at Liverpool and rightly deserves to be in my Perfect XI. He was a goalscorer but he was equally proficient at setting up chances for others, notably Ian Rush – as Marco would appreciate!
Substitutes
Thierry Henry, Alan Shearer
What a great player Thierry Henry is – I'd say he's the best player ever to play in the Premiership, probably just ahead of Alan Shearer. And, as it's my team, I'd put myself on the bench as well because I can play in a number of positions – not that it would be easy to get in this team!
From the October 2005 issue of FourFourTwo. Subscribe!