John Bostock: Talentspotter
"I scored 11 goals during a school game once, but I was still subbed with 20 minutes to go..."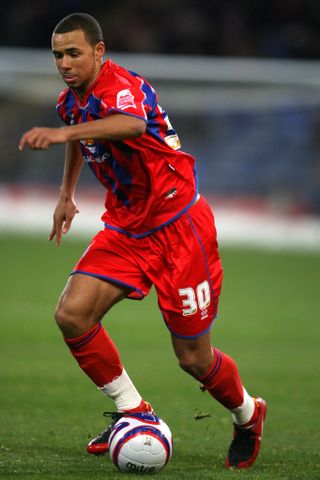 Born
Camberwell, 15/1/92
Position
Midfielder
Nicknames
It's always been Johnny or JB, but since Neil Warnock's been here, he's started calling me Bozzy.
Team supported
I've always been a Palace fan. Me and my dad have been season ticket holders since I was five. Seeing Attilio Lombardo play for Palace was a beautiful sight.
Strengths
My left foot is very strong. I have a unique style of play – no other player plays like me – which, I think, is one of my main assets. Also, I'm always willing to learn.
Weaknesses
I'm not quite a ball-hog but I like to be in possession, so I've been told that I need to move the ball quicker. My heading needs work, too.
Heroes
Ronaldinho and Zidane. Me and my friends call them aliens because they play like they're from another planet. They could do whatever they wanted on the pitch –whenever they wanted.
Highlights
Making my debut against Watford in October last year. We were winning 2-0 and I came on for the last 20 minutes and played well.
Lowlights
I've had a couple of knocks and a few knee problems when I was younger, but nothing major.
Best player played with
My U16s coach, Micky Hazard, was pretty special, even though he was getting on a bit. He taught me a few tricks, like keep an eye on the keeper in case you have the chance to score from the halfway line.
Toughest opponent
Against Cardiff, everything about Robbie Fowler just oozed class.
Biggest practical joker
It has to be Billy Crook, a youth team player at Palace. Once he came into training wearing a Bo' Selecta! mask and started talking to the gaffer in the accent. He then wore the mask on the train all the way home.
Biggest influence
My parents have always been there for me. Also, my faith has helped me massively. Any pressure I feel before big matches I just give to God, which allows me to relax and think about my game.
Tunes
Gospel rap. My favourite artist is a young rapper from South London called Jahaziel.
Car
I don't drive yet, but my ideal car would be an Aston Martin. But I'd be happy to start with a VW Golf.
Chicks
I'd love to give you a name but I've been with my girlfriend for eight months now and we're deeply in love so I'm going to have to pass.
Flicks
My favourite is The Hurricane. Denzel Washington plays a boxer convicted of a crime he didn't commit. It changed my life and made me think about things differently.
TV programme
My Wife and Kids.
If you hadn't been a footballer...
Maybe a professional tennis player. My dad was a tennis coach, so I was good when I was younger. I was London champion hurdler when I was 13, so that was another option.
Tell us something we don't know about you
I scored 11 goals during a school game once, but I was still subbed with 20 minutes to go... by the substitute keeper!
Best advice given
Live in faith and not in sight. It's a scripture from the Bible.
If I could play with any player...
It would be Cristiano Ronaldo, perhaps on a good day when he's not feeling too greedy and maybe we can share the tricks.
Most embarrassing moment
Every time we'd go to a restaurant, if music was playing, my dad would get up and start break-dancing. We were once in KFC and he started dancing. I walked out.
If I could have one superpower...
I would love to fly.
Describe yourself in five words
Humble, happy, unselfish, exciting and hungry.
School report
I'm a bright kid, but because I'm training all the time, sometimes it's hard to keep up with the schoolwork. I'm predicted all A-Cs, but whether I get that, we'll see.
In five years' time...
I'll be playing in the England first team, and happy at my club.
From the March 2008 issue of FourFourTwo.
Quizzes, features and footballing fun
Get the best features, fun and footballing frolics straight to your inbox every week.
Thank you for signing up to Four Four Two. You will receive a verification email shortly.
There was a problem. Please refresh the page and try again.