Jose Mourinho claims credit for humiliating himself
Special One responsible for giving himself a right going-over, Back of the Net report.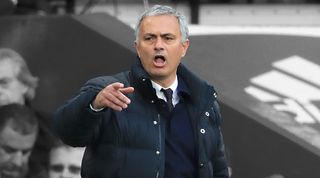 Manchester United manager Jose Mourinho has taken credit for the 4-0 defeat against his former club Chelsea, insisting that only he could have engineered such a comprehensive victory over a Jose Mourinho side.
Mourinho declared himself "immensely satisfied" after his charges were soundly beaten, and hailed Chelsea's performance as a vindication of his methods and philosophy.
"Credit to Chelsea, and everyone associated with Chelsea over the past 12 years or so," said the 53-year old. "It isn't easy to beat my Manchester United, except if you're a machine painstakingly constructed over many years by Jose Mourinho. Or Feyenoord or Watford.
"Sometimes in football, a team wins through a combination of tactical genius and inspirational coaching, and I'm proud to say I gave Chelsea that," he added.
"Nobody else would know how to out-think me, or how to get under my skin, or what tactics I was going to use – with one special exception," he continued. "On Sunday, we came up against a great competitor, a true legend of the sport, a man who bestrides our world like a colossus. That man's name? Jose Mourinho."
Mourinho dismissed the changes Antonio Conte had made since taking over, describing them as "rearranging the deckchairs on a luxury cruise liner armed with surface-to-air missiles".
He added that one day, if he was given time and backing in the transfer market, Manchester United would win comfortably over PSG or whatever team he mooched up at next.
Please note: This fictional news story is not real. Obviously.
More Back of the Net • More features you'd like on FourFourTwo.com
Quizzes, features and footballing fun
Get the best features, fun and footballing frolics straight to your inbox every week.
Thank you for signing up to Four Four Two. You will receive a verification email shortly.
There was a problem. Please refresh the page and try again.