UEFA refusing to rule out holding Champions League final in US, on Moon
UEFA's president is looking to explore new markets, Back of the Net reveals.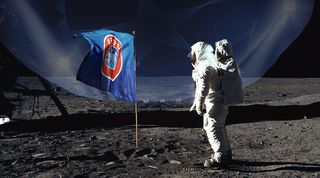 The new UEFA president Aleksander Ceferin has suggested that he is open to the idea of the Champions League final being held in the USA, on the Moon or under the sea if it brings the tournament to a new audience.
So far all 61 finals of the European club competition have been held in Europe, but Ceferin has stressed that he can see no reason why the showpiece event couldn't be played in New York, or in the Moon's Copernicus Crater.
"It [hosting European football's biggest annual match on the surface of the Moon] might be an idea we have to speak about," Ceferin told FourFourTwo.
"So far we have held all the Champions League finals in Europe, but why is this? Is it just because it's a European competition and the clubs are from Europe and the fans are primarily based in Europe?"
When asked by journalists whether fans would be willing to make the 250,000-mile trip to the Moon for the final, Ceferin insisted it wouldn't affect supporter numbers.
"Fans will travel, for them it is not a problem," said Ceferin.
"Of course if it's in New York some will need a visa, and if it's on the Moon they will need to undergo between 12 and 36 months of arduous and physically taxing training – costs will run into the hundreds of thousands of pounds per person and some may burn up in re-entry – but wherever it is held there will be some logistical issues.
"It can be pretty hard getting a hotel room in Lisbon, for example."
Alternative solutions
Ceferin insists that the Moon's Copernicus Crater would be able to meet FIFA's requirements within the next decade but in the meantime he reluctantly admitted we may be better off looking for locations on planet Earth.
"How about the bottom of the sea?" Ceferin asked. "It seems strange to me that we've never yet had a tournament beneath the ocean.
"Why is that? Is it just because the sea is water and football is played on land?
"Or maybe atop a mountain, or in the middle of a desert. These are all markets that we need to explore."
Ceferin's proposals are likely to be considered at the same meetings as those for an extended World Cup format with either 40, 48 or 262 teams.
Please note: This fictional news story is not real. Obviously.
More Back of the Net • Other features you'd like on FourFourTwo.com
Thank you for reading 5 articles this month* Join now for unlimited access
Enjoy your first month for just £1 / $1 / €1
*Read 5 free articles per month without a subscription
Join now for unlimited access
Try first month for just £1 / $1 / €1