Jose Mourinho's five-step plan to making Chelsea even better
By Aanu Adeoye published
The Blues may have wiped the floor with England's offerings, but Aanu Adeoye says there's room for improvement...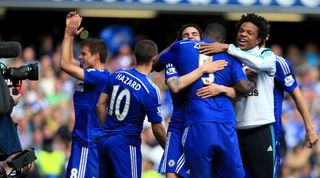 Like him or loathe him, you can't deny that Jose Mourinho is a serial winner. His eighth title in 12 seasons is remarkable by any standards, but despite the obvious reservations about his pragmatic brand of football, his critics often cite one supposed flaw of his: Mourinho has never built a winning machine that has dominated an era, say in the manner of Pep Guardiola's Barcelona side which won two Champions League crowns.
At Stamford Bridge there's already groundwork for sustained success and in Eden Hazard, Mourinho has a genuine top-tier footballer around whom a side can be built upon. Without further ado, here's five ways Jose can make Chelsea Champions League challengers once again next season...
1) Buy another striker
Here is an indisputable fact: Diego Costa is an absolutely brilliant footballer. In the era of false nines and polished ball-playing centre-forwards, the Brazil-born Spain international is a throwback to the classic No.9: no thrills or frills, just ruthless brute force and predatory effectiveness. He is also a typical Mourinho player: part-time genuis, part-time wind-up merchant and never far away from controversy.
ALSO ON FFT.COM
Nineteen goals in 24 appearances emphasises his seamless adaptation to the Premier League, where he has stamped his authority on many matches (and Emre Can).
But there's one fairly big downside to Costa: his hamstrings are unreliable. He's been troubled by them all season (in fact, since the latter stages of the 2013/14 season at Atletico) and those naughty muscles of his have finally given way, ruling him out for a huge chunk of Chelsea's run-in. Loic Remy and Didier Drogba have both filled the role in his absence, but for all their efforts the Chelsea attack is much better with Costa's blood-and-thunder approach. There's the feeling that Remy isn't of the standard required at Chelsea and Drogba, for all his past achievements, is 37.
Counting on Costa's hamstrings isn't good enough for a team that will surely hope to compete on all four fronts next season. By contrast, Manchester City have four strikers in their squad, and although their effectiveness is definitely up for debate, the argument here is that they aren't wholly reliant on Sergio Aguero (even if the Argentine does make them infinitely better).
2) Learn how to kill off opponents
The hallmark of a Mourinho side, perhaps with the exception of his Real Madrid one, is its resoluteness in the face of attacking threats. His Inter Milan team will be forever remembered for their exploits in the second leg of the 2009/10 Champions League semi-final at the Camp Nou and, although they conceded late on, it was a masterful display of defensive doggedness made even more noteworthy when you consider Barca played with an extra man for most of it after Thiago Motta's dismissal.
It's therefore bewildering that Chelsea have lost points from winning positions this term. In fairness, it's an issue Mourinho has been grappling with since last year when he claimed even trained dummies could score against the Blues. John Terry's performances in central defence have rightfully earned him plaudits, but there's still an obvious flaw to the Blues this season: they've lost the lead 11 times; eight in 22 games in 2015. The 5-3 loss at White Hart Lane proved the first of many, when Harry Kane played like a man possessed. Sometimes even the most organised defences can't deal with players in 'the zone'.
ALSO ON FFT.COM
Two other games stick out as sore points. The 4-2 home reverse to Bradford in the FA Cup fourth round was a spectacular implosion, and uncharacteristic by Chelsea standards. Their hopes of Champions League progress was also crushed thanks to to their inability to close out the second leg against PSG at Stamford Bridge. Despite playing against 10 men for well over 90 minutes, the Blues relinquished their lead not once but twice, to similar headers from Thiago Silva and David Luiz. There are a number of factors contributing to this anomaly, but chief among them are the momentary lapses in concentration. It's highly unlikely they will see out games by passing their opponents into submission like Spain once did, but there's more than one way to skin a cat. Mourinho has introduced Kurt Zouma to shore things up in the closing stages of games, and while it hasn't completely solved the issue, it's an indication that he acknowledges there's a problem.
3) Don't trust your fringe men, Jose? Well then sign some you do
ALSO ON FFT.COM
It's an open secret that Mourinho, more than any manager, has a small circle of players he heavily relies on to get the job done. It's reflected by the fact that Chelsea have fielded only 22 players in the Premier League this term – the least of any side. While having a close-knit group is in itself an admirable quality – it gives stability to the team and improves understanding – it also inevitably leads to weariness of legs and minds over the course of a season.
Rafael Benitez, though not everyone's cup of tea, is excellent at rotating players at his disposal, as was evident in his short spell as Chelsea boss. Mourinho may argue that there is a lack of quality outside his first-choice players, but that raises questions about their transfer business both in the summer and winter.
Filipe Luis, brought in from Atletico Madrid for a substantial fee, has only featured 23 times this season and it is imperative for Mourinho to decide what to do with him in the summer.
Most likely, he'll be sold to raise funds for a player Mourinho will show faith in. Another centre-back will be required as Terry's advancing years means he could struggle with the demands of a weekend-midweek-weekend schedule, while Gary Cahill is prone to a loss of concentration.
Andre Schurrle's sale to Wolfsburg was helpful in comfortably meeting FFP requirements, but from a footballing perspective it is pertinent to question if replacement Juan Cuadrado has been an upgrade on the German. The Colombian has struggled so far to fit into the Chelsea side, meaning players like Willian and Hazard rarely get days off, although the smart money is on him making more of an impact next year.
Cesc Fabregas and Nemanja Matic, meanwhile, both played through indifferent runs of form but weren't ever in danger of dropping out of the side with a lack of quality replacements in reserve.
4) Start promoting some kids
FA Chairman Greg Dyke's assertion that there are several Harry Kanes wasting away in youth squads may be facile at best, but the point is clear: there's certainly a reasonable amount of talent at youth level.
The Blues' under-19s won the UEFA Youth League with a 3-2 victory over Shakhtar Donetsk in Nyon featuring highly-rated youngsters such as captain Izzy Brown, Dominic Solanke, Andreas Christensen and Ola Aina. The club's under-18s also won the FA Youth Cup for the fourth time in six years.
So there's plenty of cause for optimism, but a look at the winners from previous title-winning squads tempers it somewhat – Josh McEachran in particular has found game time hard to come by ever since.
ALSO ON FFT.COM
It's a situation Mourinho is keen to avoid moving forward, saying in December that: "if you don't bring kids through the academy, the best thing is to close the academy. If the kids are not good enough or the work is not good enough and you don't bring kids up, then close the door and use the money to buy players."
Mourinho declared that he will have failed if one or more of Solanke, Brown and Lewis Baker don't become regular fixtures in the Chelsea side. "They will be Chelsea players," said the Portuguese. "And when they become Chelsea players, they will become England players, almost for sure." There is also hope that emerging midfielder Ruben Loftus-Cheek, 19, will be more involved next season. "Loftus-Cheek is to stay and I think to stay and to play... you don't have this kind of talent every couple of years."
There's a strong case to be made that these youngsters aren't quite ready for the high-pressure exposure of the Premier League, but in Patrick Bamford, Mourinho has a young player who looks ready to make the step up. Currently on loan at Middlesbrough, the 21-year-old has scored 17 goals in 37 games and was recently named the Championship's player of the year. With Diego Costa's well-documented injury worries, the solution in finding an able deputy may lie in affording Bamford the opportunity to impress next term.
5) Formulate a Plan B
As the debate rages on about the merits of Chelsea's preference for substance over style, an issue of more pertinent concern for Mourinho will surely be his team's inability to find a way past packed and organised defences – in essence, Chelsea's struggles against pound shop immitations of themselves.
The Blues' major game plan involves ceding a large portion of possession while they patiently await the window of opportunity to hit on the counter. This has proved to be particularly effective against teams willing to attack and leave themselves susceptible as Chelsea pour forward on the break, but it falls flat when their opponents adopt a similar approach. Space is tight in games like these with their opponents crammed into their own half, forcing Chelsea to take the initiative, which in truth isn't a strength of theirs.
At the Stadium of Light in late November, Sunderland stifled the west Londoners' attacking threat, with Lee Cattermole providing an excellent Matic-like shield in front of the back four. Mourinho's men had plenty of the ball but were unable to find the vital breakthrough thanks to some inspired defending.
Fabregas' attempts to thread passes through were repeatedly repelled, and with the lively front three denied of the high-end service they're normally used to, Chelsea were frustrated. "Sunderland defended very well, very well," grumbled Mourinho.
Their first league defeat a week later at Newcastle also came in similar circumstances, all sterile domination and no penetration. Moussa Sissoko served as an important conduit, linking defence to attack, and victory was secured through two identical breakaways that Papiss Cisse converted.
It's not an entirely new problem for Chelsea since Mourinho's return, and crucial points were dropped last year in their unsuccessful title pursuit when Crystal Palace, Aston Villa, West Ham and Sunderland all proved difficult opponents to break down. Mourinho is undoubtedly best at securing smash-and-grab victories, but now he must find a way to beat teams content to be the poor man's version of his side.
Thank you for reading 5 articles this month* Join now for unlimited access
Enjoy your first month for just £1 / $1 / €1
*Read 5 free articles per month without a subscription
Join now for unlimited access
Try first month for just £1 / $1 / €1
Quizzes, features and footballing fun
Get the best features, fun and footballing frolics straight to your inbox every week.
Thank you for signing up to Four Four Two. You will receive a verification email shortly.
There was a problem. Please refresh the page and try again.